By Xie Liangbin and Tian Peng (谢良兵, 田鹏)
Nation, page 9, Issue No. 538, Sept 26, 2011
Translated By Zhu Na
Original article: [Chinese]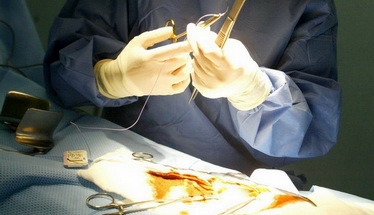 Just before four o'clock on the afternoon of Sept 15 in Beijing Tongren(同仁)Hospital, Doctor Xu Wen (徐文) was stabbed repeatedly in the back by a bearded man with a kitchen knife. Xu fell to the ground, blood gushing onto the floor. When she got to her feet and ran into her ward, her attacker followed.
Having stabbed her 21 times, the man dropped the knife and made his escape calmly through the stairwells. He has since been identified by police as Wang Baoming (王宝洺), a 54-year-old calligrapher from Beijing. Doctor Xu, 43, is a departmental director at Tongren Hospital, and a well-known expert on throat cancer.
After Wang left the hospital, he called his wife Gong Meihua and told her to meet him at Beiyuan subway station. At 5.50 p.m., when Gong had just arrived and was unaware of what had happened, she and her husband were arrested by plainclothes policemen.
"Don't hold his neck, if you grab his neck, he'll suffocate," Gong told the policemen.
Wang's neck has a "hole" to help him breathe. It had been there since Aug 2006, when he had an operation for throat cancer in Tongren Hospital, where he had been treated by Dr Xu, the woman that he had just stabbed.
"It had never left his mind - he wanted a full explanation from Tongren Hospital," said his wife Gong.
However, these 21 stab wounds were hardly going to give him peace of mind. Why would a respectable calligrapher stab a doctor who had once treated him? What "resentment" and "human urge" caused this terrible attack?
"He's a person who takes things seriously."
Gong Meihua had been very satisfied with her life married to Wang Baoming, a well-known calligrapher in the capital. In 1998, they were running a painting and calligraphy training centre with an average annual income of 300,000 to 400,000 yuan in addition to Wang's own studios.
Her husband was good humored, with a bright and cheerful personality. He took care of all things in the family – so much so that Gong said she didn't even know how to do housework. Wang's sister once joked "Gong is spoiled by Wang." However, all that came to an end after Wang's operation in 2006.
In Aug 2006, Wang felt discomfort in his throat. Tongren Hospital is the best in China for treating ear, nose and throat conditions, and Wang got to know the department's director Dr. Xu through friends that worked there.
According to the account on Wang's blog, Xu's attitude to him was very good at first, but became indifferent over time.
This indifference made Wang a little concerned about his upcoming surgery. He considered checking himself out of the hospital. But in the end he went ahead with Dr. Xu's operation at Tongren Hospital on Oct 19, 2006. Afterwards, he was asked to transfer to another hospital as there was no radiation treatment equipment in Tongren Hospital. There he had a second round of treatment.
That wasn't enough to save his voice for teaching calligraphy, as Wang had hoped. He believed he had made this clear to Dr. Xu, who, he thought, had promised his voice would be fine.
So it seemed to Wang that Dr. Xu's operation had been a failure, and that she had deceived him. In response, he wrote many letters to the Beijing Municipal Bureau of Health, and the Ministry of Health. After Tongren Hospital found out, they called him and asked him to come in for a talk.
"They said: go ahead and sue us," Gong recalls.
Gong said her husband is someone who takes things seriously and wants an explanation for everything. After several unsuccessful negotiations, Wang's mood deteriorated, and sometimes he would beat her.
Gong said that he was suffering from depression, but that he didn't go to see a psychiatrist because he "was afraid of hospital since the operation." Prior to that, he had thought well of hospitals and doctors from the time that he spent in a union with staff from Hepingli Hospital (和平里医院).
Now every time that the surgery was mentioned, he became upset. He also became a recluse, going out only at night and only in a hat. He grew his beard to conceal the scar from the surgery.
His depression reached a nadir in 2009 when he wrote that the operation had "brought me huge loss and harm psychologically, physically and economically. I would rather be dead than alive, and I want to take revenge every day."
Vulnerable Doctor and Patient Relationship
In Aug 2008, he sued both Tongren Hospital and Doctor Xu, making a list of claims for a total of 18 million yuan. But until now, the case still hasn't had a formal trial, with the court saying that time is needed for medical appraisals.
"The procedure went on for three years – a very long time indeed that made Wang almost feel despair," said Wang's lawyer Yang Chunxiang.
The dispute centered on the authenticity of medical records. Wang insisted that Tongren Hospital had given the court falsified medical records, while the hospital argued that, although some of Doctor Xu's signatures were added later, this didn't affect the records' validity.
On the morning of September 15, Wang called his lawyer and asked him to urge the court to open session as soon as possible. The lawyer called Wang back after speaking to the court, and told him that the hearing still hadn't been scheduled. According to Yang's recollection, Wang was very calm after hearing the news. "Thank you for taking the trouble," said the calligrapher, and hung up.
He then put on a hat and went out alone. Usually Gong followed him everywhere, but not this time.
"I thought he was just going for a walk, I never thought he would go to Tongren Hospital," she said later.
But no one imagined that Wang who had once been so cheerful and kind would use the same hand with which he had held a brush to wield a knife and stab Dr. Xu.
Dr. Xu's colleagues speak highly of her reputation and personality, as do some of the online comments from her former patients "She examined very carefully, and she is very friendly and kind, not arrogant at all," reads one of them.
Although her life is no longer in danger, Xu is severely injured, with gashes on her head, face, arms, leg and back, according to one of her colleagues, "the knife went into her bones, her body was covered all over with wounds." the colleague said, it is too terrible to look at.
New Doctor-Patient Relationship
Shortly after the attack in Tongren Hospital, there was another serious incident between a patient and doctor at Xiehe (协和) Hospital in Wuhan. More than 10 conflicts between doctors and patients have been publicly reported this year.
The data shows that in recent years in Beijing, disputes between doctors and patients have increased at a rate of 35% per year, with almost three quarters of hospitals reporting angry visits from patients and their families demanding compensation, occasionally violently.
According to a survey conducted by the Chinese Medical Doctor Association, due to the recent spike in the number of disputes, 49% of medical staff are not satisfied with their working environment. The biggest pressure is borne by the senior doctors. It explains why only 7% of doctors want their children to be doctors.
Four fifths of doctors who took part in the survey blame "the medical system" for the current strains in doctor-patient relationships. That system includes hospital management systems, compensation mechanisms, health care security, laws and regulations.
Zhang Xinqing, an associate professor from Bioethics Research Centre in Peking Union Medical College (中国协和医科大学) said that in the last ten years patients' medical awareness and their inclination to take part in medical decisions have increased substantially, which is a positive development.
But he also stressed that with patients' greater awareness, doctors need to be clear about potential benefits and risks, and patients need to understand the dangers; expectations are high, which can only increase the likelihood of conflicts.
According to the Tort Liability Law of the People's Republic of China, which came into effect in July 2010, "there should be compensation if there is any medical mistake." Professor Zhang Zanning, from Southeast University believes that the provision violates the laws of medicine, adding that "there was a problem in the legislation, which has, no doubt, intensified conflicts between doctors and patients."
Cost and Yields
Under the current system, cost and yield are the most important metrics for both patients and doctors.
According to Cui Xiaobo, a professor from the Capital Medical University, in western countries, doctors are highly paid, and receiving red envelopes(红包) [with cash inside] is equal to murdering for money. While in China, although it's forbidden to take red envelopes, doctors' salaries have not been increased, "making honest girls into prostitutes."
The survey found that 19 out of 20 doctors believe that their income doesn't match the effort that they put into their work. According to Cui, one million doctors in China have changed their career in recent years due to high risk, huge pressure and less pay.
In addition, lower government investment leads to relatively high investment by patients themselves. When patients' earnings are insufficient to cover the costs, it aggravates tensions with doctors. Wang spent 170,000 yuan in total for surgery and treatment in Tongren Hospital, and, after his voice was ruined, his training school had to be closed and he could only survive on social security, this huge economic contrast was also an important factor changing his outlook.
Zheng Xueqian, a lawyer, who is a member of the Rights Committee of the Chinese Medical Association, said currently there is no compensation mechanism in China for medical risks. "What can they [patients] do? The only course of action is to cause trouble with the hospital; the patients have their own problems," Zheng said.
Currently there are three ways to settle conflicts between doctors and patients: legal action, administrative mediation, or negotiation, and they're often ineffective.
For patients, lawsuits are time-consuming, expensive and full of problems. Lawyer Liu Gexin said if the law was more effective, patients wouldn't go to make trouble at the hospitals.
Litigation requires medical accident appraisal, and if the appraisers deem that there was no mistake, patients cannot get compensation, so 80% of them chose to seek a private settlement with the hospital, which often involves confronting the doctors.
Therefore, it takes a relatively independent third party organization with consistent standards to deal with disputes. So far, China has 1,001 medical dispute mediation panels.
Zheng believes that the third party organization should be set up by the government, because Chinese people have more trust in government than in private ventures.
But Zhang, the university professor, disagrees. He believes that third party mediation organizations struggle to make professional judgments. Instead, he recommends setting up a "medical case Arbitration Committee, whose members must be legally and medically qualified to deal with the issues".
Cui, from Capital Medical University, believes in "social medicine", with social workers based in hospitals who can counsel patients and become a channel of dialogue for patients and doctors.
He blames the government's neglect of the issue for the rise in conflicts.