By Liu Weixun (刘伟勋)
Translated and expanded by Li Meng (李萌)
Corporation, Page No.32
Issue No. 540 Oct. 17, 2011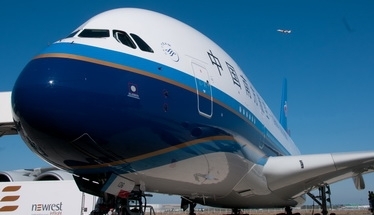 On Oct, 14th 2011, China's biggest carrier, China Southern Airlines received its first Airbus A380 superjumbo from European plane maker's delivery center in Toulouse, France. CSA chairman, Si Xianmin received the first of his airline's five planes from Airbus Chief Executive Tom Enders.
The double-decker A380 superjumbo is the world biggest wide-bodied aircraft, with 506 seats; 8 luxury first-class suites, 70 fully-reclining business-class seats and 428 seats in coach class.
The other six international airlines operating A380 use the superjumbo over long haul routes, where Airbus says it can achieve fuel economies of 20% compared to smaller planes, but China Southern Airlines,or CSA, will be using its new plane to ply domestic routes over the next few months. This has raised concerns about the airline's ability to operate the plane efficiently.
CSA, which is the world's sixth largest airline by passenger numbers, is still waiting for approval to operate the aircraft on select international routes. Meanwhile, there's doubt about whether A380s will help the Guangzhou-headquartered carrier gain ground over its rivals operating from Beijing and Shanghai.
Landing in China
CSA's A380 touched ground at the Beijing Capital International Airport on Oct.15th after an eleven and a half hour flight from Toulouse. It will fly between Beijing and Guangzhou from 17th. Oct to 26th Oct, and operate the Beijing-Shanghai route from 27th to 29th. Beyond that, CSA hasn't announced its plans for the plane, except to say that it won't make any international trips in 2011.
CSA submitted its 10 billion yuan for the five A380s in April 2005, and had planned to start using the planes in time for the 2008 Beijing Olympics, but the date was put back because of the global financial crisis and manufacturing delays.
The airline is now scheduled to receive its second plane in December this year, two more in 2012 and the final one in 2013.
Flying between Chinese cities that are only a few thousand kilometers apart, clearly won't allow CSA to take full advantage of the A380, which has a range of 15,000 kilometers, but aside from airline's wish to improve service for domestic passengers, the airline also has to comply with a regulation that China's aviation authority introduced last year. In an attempt to address the growing problem of flight delays, the Civil Aviation Administration of China required the country's biggest airlines to have backup planes.
Profitability Challenge
CSA's new planes are seen as a major boost for the company's competitiveness on the domestic and international markets. However, in the short-term, returns on the airline's A380 investment will be under pressure.
CSA wants to boost the share of its revenue earned from international routes to 30%, from 16.2% in 2010.
The biggest challenge for CSA's long-haul operations lies in its route network and flight times. To take full advantage of its A380s, CSA will need to deploy the planes on routes to Europe and America, and here it's at a disadvantage versus Beijing-based Air China and Shanghai-headquartered China Eastern Airlines. Some industry experts say the only journeys popular enough to fill the A380 from either the Chinese capital or Shanghai, with Hong Kong-based airlines catering for much of the international traffic into CSA's southern heartland. Air China has had preferential treatment from lawmakers in Beijing, and CSA would face an uphill battle getting reversing its dominance there.
Airbus top executive in China Laurence Barron says that airlines can turn a profit on the standard version of the A380 whenever the plane is more than 65% full, adding that the Passenger Load Factor on A380 routes has "increased by an average of 2% to 3% over the past 4 years." CSA's load factor for international flights between January and September was 75%, down 1% from the same period of 2010.
Airbus's A380 sales team also targeted China's two other major state-owned carriers, Air China and China Eastern. However, neither of them has yet showed interest in the plane. Nor have any Hong Kong and U.S airlines.
This translation was edited by Will Bland.