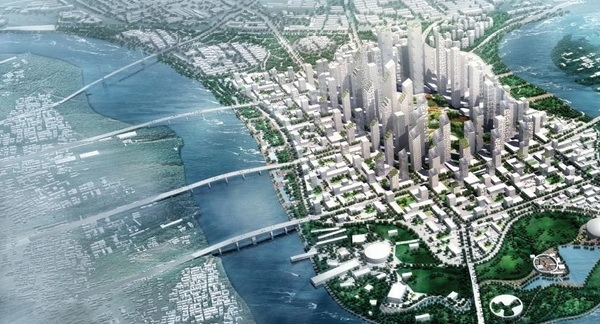 An artists impression of the Yujiapu financial district in Tianjin, which is modelled on Manhattan and emblematic of the ambitious developments that local governments are financing with huge loans. Source: Tianjin government

One of investors' biggest concerns about China is the debt that local governments have taken on to pay for huge infrastructure projects with long payback periods.
The National Audit Office last June said that the total borrowed stood at 10.7 trillion yuan at the end of 2010. That figure represents 27 percent of gross domestic product for the year. Just under half of the funds were borrowed by local government financing companies using bank loans, bonds and credit lines.
The central bank estimates that there are 10,000 of these companies, whereas the audit office's June report put the number at 6,576.
The office's report also estimated the companies' total debt at 4.97 trillion yuan and it didn't include borrowing that was collateralized by land or guaranteed by another company.
However, a later tally by Bloomberg suggested this might be a serious underestimate since the financial news service found that the total borrowings of just 231 financing companies – only those that raised bonds, notes or commercial paper from Jan. 1 to Dec. 10 – amounted to 3.96 trillion yuan.
Ratings agency Standard & Poor's estimated in January that 30 percent of loans to financing companies might turn sour unless they're supported by local governments.
In recent weeks, the media has focused on government finances in Chongqing, where the removal of party boss Bo Xilai has heightened concerns about the debt level. However, the Economic Observer's attention was drawn to Tianjin, another of the four Chinese cities that operate as municipalities directly below the central government and the region that finished joint top of the country's GDP growth table, alongside Chongqing.

By Chen Xu (陈旭), Hu Rongping (胡蓉萍)
Cover
Issue No 566
April 23, 2012
Translated by Tang Xiangyang
Original article: [Chinese]

A financing company owned by the municipality of Tianjin, which last year recorded 16.5 percent growth, may be about to sell control of a major securities firm to a large state-owned bank in order to reduce its debts, people close to the company, Bohai Securities, and the unnamed bank told the Economic Observer.

Tianjin Investment Holding Co. Ltd., one of the local financing platforms that Chinese local government use to secure infrastructure loans, controls Bohai through one of its units, Teda International Holding (Group) Co.

Closely-held Bohai is worth around 6 billion yuan based on the price of shares issued in a recent secondary offering. Tianjin's government had previously hoped to make the securities firm part of a larger financial powerhouse, and five years ago officials approached U.S. investment bank JP Morgan about buying a stake in the firm.

Teda declined to discuss the latest proposal because of its sensitivity, but the EO understands that that the parties might be waiting for the State Council to approve the deal.

Tianjin Investment Holding serves as the municipality's investment arm - it owns 24 subsidiaries outright and has controlling stakes in another 23 businesses – with assets ranging from a top division football team to pharmaceuticals firms and pipe factories. Together they were worth 161 billion yuan at the end of 2010,

The holding ended 2011 with 137.8 billion yuan in debt, representing a debt-to-assets ratio of 78 percent.

As well as the Bohai stake that it holds through its Teda International unit, the financing platform around 25 percent of the securities firm's shares through another business under its control, Tianjin Teda Co. Ltd.

Bohai made the decision last summer to issue new shares. Afterwards, Tianjin Teda, which is listed in Shenzhen, complained that it needed to focus cash on its existing businesses and could ill afford the extra stock.

Then, in November, Teda made a disclosure to the Shenzhen stock exchange saying it would spend up to 450 million yuan on new Bohai shares to raise its stake to 27.74 percent from 27.04 percent.

On April 12, Teda made another disclosure to the exchange saying that it had lowered its planned purchase in the secondary share offering to 267 million yuan.

Tianjin's local financing platform holds its stake in Teda through Tianjin Teda Group Co.

Teda Group's cash flow has been under pressure from rising fuel prices and the weakening real estate market and recently had to resort to a private bond placement to raise 3 billion yuan because the ratio of outstanding bonds to assets was greater than 40 percent, the maximum allowed for public placements.

Shanghai Brilliance Credit Rating & Investor Service Co Ltd, a ratings agency, has said that Teda Group's large debts and operating cash flow will make it hard for the firm to keep borrowing.

The group's debts grew by 1.52 billion yuan in the first nine months of 2011, the most recent period for which figures are available, with the company posting a net loss of 45 million yuan for the period.

The local government financing platform that controls Teda Group isn't the only one in Tianjin with problems; Tianjin Infrastructure Investment Group has total borrowing of 305.33 billion yuan for assets of 442.82 billion yuan and has had a negative operating cash-flow for the last five years.

It has been relying on governmental financial support to bridge the gaps - absorbing 1.20 billion yuan, 997 million yuan, 1.18 billion yuan and 682 million yuan in each of the four years through 2010.

The underwriters of its bonds, China Everbright Bank and China CITIC Bank, could only get people to lend to the company by combining the bonds with them more creditworthy assets, and even that didn't work. The underwriters made a loss of 19 basis points on the sale in March.

Companies mentioned:
泰达控股:Tianjin Investment Holding Co. Ltd
泰达集团:Tianjin Teda Group Co.
泰达股份:Tianjin Teda Co. Ltd
天津0泰达国际控股: Tianjin Teda International Holding (Group) Co. Ltd.

Links and Sources
On Tianjin
Tianjin Investment Holding Co. Ltd
Tianjin Investment Holding Co. Ltd's group scheme

On China
People's Bank of China 2010 China Regional Financial Operation Report [Chinese]
National Audit Office Audit Findings on China's Local Government Debts
Bloomberg China Debts Dwarf Official Data With Too-Big-to-Finish Alarm
Reuters Chongqing looks to sell distressed assets after Bo scandal - source
Standard & Poor's Chinese Local Government Debt Is In The Spotlight Once Again
S&P assesses risks for China banks from regulatory forbearance
Carnegie Endowment China\'s Explosive Debt Growth Can\'t Continue Much Longer
Reuters China\'s own account of local government debts
Financial Times Guest post: China's local debt problem is bigger than it looks
Peterson Institute for International Economics Chinese Local Government Debt Primer



In Figures
China
10.7 trillion yuan Total Chinese local government debt at end of 2010
(National Audit Office estimate, June 2011)
4.97 trillion yuan Total debt of local government financing platforms at end of 2010. Excludes borrowing collateralized by land or guaranteed by another company.
(National Audit Office estimate, June 2011)
39.5 trillion yuan China's gross domestic product in 2010