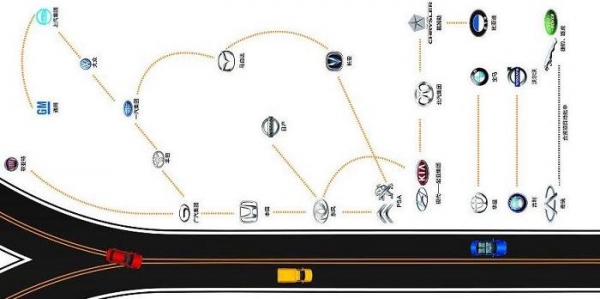 A chart showing Chinese automakers alliances' with foreign firms.

By Zhang Yaodong (张耀东)
Special Automobile Section, page 50
Issue No. 566
April 23, 2012
Translated by Li Meng (李萌)
Original article: [Chinese]

One of the highlights of the 2012 Beijing Auto Show was the chance to see the car models unveiled by homegrown car manufacturers, such as FAW (Yiqi), SAIC (Shangqi) and Dongfeng Motor Group. However, behind these Chinese brands, there are always foreign partners along with their retired models and technologies.

It's a reminder of the situation 150 years ago, when, following a series of military defeats and the constant threat of mass uprisings, the Qing government turned to Western technologies and weapons to suppress the rebel forces, triggering a 33-year program of modernization.

The Westernization Movement sought national regeneration and the strengthening of China's military power. Arsenals, factories, and shipyards were established according to Western models, and foreign advisers were hired to train workers. However, without fundamental changes and reforms to the political system and institutions, the movement was doomed to failure.

The Qing government and those modern-thinking officials may not have realized that their rapid solution for modernizing the military would prevent the country from mastering advanced science and technology.

In the context of the auto show, it might seem inappropriate to recall this humiliating part of history. But even for today's car manufacturing industry, relying on technology imports to beat competitors at home or abroad could be the domestic firms' undoing.

We have seen more Chinese homegrown auto manufacturers form strategic partnerships with global car makers. A growing number of new native Chinese brands were born of their proud joint venture parents. The homegrown companies appear to have had access to foreign technologies and, in return, these foreign partners have been able to gain more favorable treatment in building new factories and expanding manufacturing capacity. On the surface, it would seem that the strengthened relationship gives the Chinese side a bigger say, and for global brands it's a way of quietly getting a share of the world's largest auto market.

However the market response hasn't been encouraging. In 2011, sales of indigenous Chinese brands fell 2.6 percent and market share shrank by 3.4 percentage points from the previous year, according to statistics from the China Association of Automobile Manufacturers (CAAM).

The growth of joint ventures' local brands has actually put further pressure on some of the privately run auto manufacturers, such Chang'an and Chery. Although FAW, Dongfeng and other state-owned auto groups intended to compete with joint ventures, they have, in fact, taken more market share from those domestic players. That's one of the reasons why international car makers are happily pushing for technology transfer. Those luxury brands and Western automakers have been showing more interest because they realize that old models sold under a local badge will be competitive in the Chinese auto market.

Although we're reluctant to admit it, the rivalry between Chinese homegrown auto manufacturers is far fiercer than the competition between their international joint ventures - foreign allies are considered more important than ever.

Of course, it seems unfair to criticize Chinese manufacturers for building their brands based on foreign partners' old platforms. Given their weak technological base and the government's mission to strengthen local brands, indigenous auto makers had no other option than "standing on the shoulders of giants".

Homegrown car manufactures rose to prominence around ten years ago. Privately run upstarts such as Chery, Geely, Great Wall and BYD started out as copycats. While state auto groups, such as FAW and SAIC, wouldn't risk the reputational damage of knowingly turning out imitations.

In order to gain technologies for its own brand, SAIC opted to buy UK's MG Rover Group and Korea's SsangYong Motor (although this bid failed). Beijing Auto (BAIC) also followed this path and later became a staunch proponent of the strategy.

Another state automaker, FAW, launched the Besturn (Benteng) brand in 2006. Its first Besturn B70 model was produced on Mazda's assembly line and based on Mazda's core technology. Seeing how the new model stood out from other local brands in terms of quality, technology and market reaction, FAW, with Toyota's help, launched Hongqi(Red Flag) HQ3 in the same year. The model was almost a duplicate of the Toyota Crown Majesta. The price of HQ3 once peaked at 688,800 yuan and it was said that Toyota received a technology transfer fee of 50,000 yuan for each car sold.

The situation suddenly changed after 2008. Other major state-owned auto groups such as Dongfeng, BAIC and GAC (Guangqi) all joined in and followed policy makers' calls for local research and development and bolstering indigenous auto brands. A few local car makers, lead by BYD and Great Wall, saw their sales surge with help from copies of foreign vehicles , which set back the steady progress that Chery, Geely and other independent players had been making towards technological innovation. Low-cost copycat models began to re-emerge.

Even though the market conditions for native Chinese brands have deteriorated over the last two years, state auto makers remain committed to investments and claim to have spent tens of billions of yuan on nurturing their local brands. For them, buying JV partners' mature technological platforms seem to be the least risky way of building a new Chinese brand because they don't have to start from scratch but can take retired models and make a few tweaks.

The Ministry of Industry and Information Technology this year changed the list of car models that can be bought with government funds - the new version was made up exclusively of Chinese brands. This extra demand ought to give Chinese automakers a bigger imcentive to cultivate their native brands and introduce high-end models.

Even China's privately run manufacturers have started to give up on domestic innovation: Chang'an intends to bring in Ford Mondeo's platform for its high-end brands, and Chery is in talks with Jaguar Land Rover to collaborate on R&D for new lineups. An executive with a major state-owned car group privately admitted that negotiations over technology transfer with foreign automakers have become much easier than before.

Now the question is, where should China's numerous homegrown car manufacturers look in the future? Perhaps Japan's auto industry can be taken as a guide. A highly concentrated industrial pattern has formed - with Toyota, Honda and Nissan as the three major leading brands, followed by Mazda, Suzuki and Mitsubishi as second-tier competitors. Each of these manufacturers has established a distinct brand identity through years of relentless innovation rather than buying technology and expertise. By contrast, China's car makers are still long way from creating its brand identity.

The bustle of the auto show is fading away, and we must constantly remind ourselves to watch out for the pitfalls of pursuing quick success. After all, innovation can't be cloned.