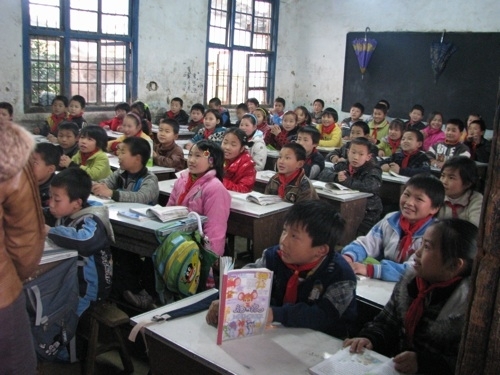 By EO Editorial Board
Issue 588, Sept 24, 2012
Cover
Original article: [Chinese]

Ninteen parents in Shenzhen City recently signed a letter persuading their children's school to force out a fifth grade boy. Why do people hate the boy so much?

Since he suffers from autism, he has less self-control than his peers and can't strictly obey class rules. So the parents are worried that he'll affect their children's studies. The boy once studied in a special children's school, but he had relatively higher capabilities could even play piano well. He never attacked others so his mother transferred him to a normal school in the hopes he'd be better accepted in society.

But the other parents couldn't stand it. After one term, they said they "wouldn't be friendly" if the school didn't persuade him to quit. He wanted to enter the school, but it forbade him. So he slipped in and sat in the last row, but the school took his desk away. Finally, he stood at the back of the classroom. Leaning against the wall, he stood like a mushroom.

Sigh…not only for the boy, but for his classmates. What a primary student sees and hears has a great influence on their personality and value system. What will be left with them now that the boy has come and gone? What kind of example has this set? Should the world be tolerant or narrow-minded? To those special or less privileged people, should we show our love or separate them; or even hate them?

Those 19 parents, in showing love for their children, have gained a better environment for them. But in the process they missed a chance to teach them how to love. They may teach their children love and tolerance all the time, but their actions have spoken to the contrary. They've shown that it's reasonable to hurt people for even a tiny self-benefit.

Parents aren't the only group to be blamed. The whole society has ignored love in education for so long. We don't lack publicity and slogans, but we never make our actions match our words. The 19 parents all have fifth grade children. They've been so exhausted by the pressure to get their children accepted to a good middle-school that they've been left with no time to nurture their souls. It's the fault of the deeply problematic education system and the whole society.

Education is worthless if we only focus on marks. It's more important to cultivate children to understand love. While translating The Education of Love by Italian writer Edmondo De Amicis, Mr. Xia Zun (夏尊) said, "Education without emotion or love is just like a pool without water. A waterless pool is not a pool while a loveless education is not education."

Indeed, only a man knowing how to love will be tolerant, kind and honest. A man without love has no heart; a society without love has no soul.

Recently, American Lisa Goring from the group "Autism Speaks" helped produce an episode of ABC's "What Would You Do?" The video aimed to test public acceptance of an autistic child behaving badly in public.

At a New Jersey restaurant, actors played a family with an autistic boy. Not long after they were seated, the boy began to talk to himself, move around and even took food from others' plates. As expected, the public gave no response, so another actor scolded the boy's parents and told them to take the boy home.

At that moment people around them gave up their silence and began to criticize the man who had confronted the family. Finally, after the whole restaurant turned against him, he was forced to leave. Finally, the restaurant-goers were informed it was all an act. The hostess randomly asked a customer why she had stood up. She answered: "It was for the boy."

Envious? This is the result of education from childhood. For example, educational institutions encourage kids to do volunteer work. This is a very important experience in the path to adulthood. Only when people see the suffering of the world will they understand to better love and tolerate.

Don't be too pessimistic. Despite the joint-letter by 19 parents, there are parents who do volunteer work for children with autism. One autistic child was aided by his school and classmates throughout his six-year primary education. When he entered middle school, he was arranged to share the same class as his best friend. Then during the standard student military training, his friends held his hand and encouraged him. On his first day of school, his friends' mothers accompanied his own mother to see him off.

China is slowly progressing.