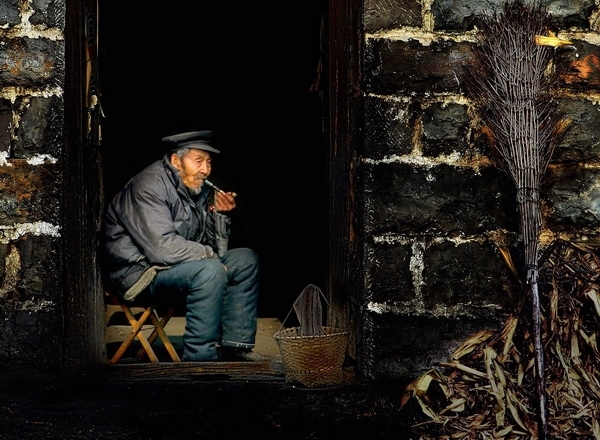 By Jiang Yunzhang (降蕴彰)
Issue 591, Oct 22, 2012Z
News, page 2
Translated by Pang Lei
Original article: [Chinese]

This is a translation of a story from this week's edition of The Economic Observer, for more highlights from the EO print edition, click here.

A pilot reform that would have allowed a portion of the pension funds collected in China's most heavily-populated province to be invested in the local stock market has been put on hold in a move that may have broader repercussions for reform of China's social security system.

In recent months, China's Ministry of Human Resources and Social Security (MOHRSS) and the Ministry of Finance (MOF) have failed to mention a previously announced plan to reform the system that governs how pension funds across the country can be invested.

The NSFF is supposed to be working with MOHRSS and MOF on putting out a plan to reform the system before the end of the year.

According to what one source has told the Economic Observer, as the amount of opposition to the plan to allow local pension funds to invest in the stock market is still large, the plan to reform the way that pension funds around the country invest has been shelved. Similarly, steps to allow local pension funds to invest in the market have also been halted.

As reforms to the investment options of local pension funds is a major part of broader reforms to China's social security system, some say that the halting of the plan to allow investment in the stock market has also impacted on moves to push ahead with reforms to the broader system.

Investing Local Pension Funds in the Stock Market

Over recent years there has been constant talk about allowing local pension funds to invest in the stock market, but it was only after this year's meeting of the National People's Congress in March that any substantial progress was made. On Mar 19, the National Council for Social Security Fund (NSSF) announced that the State Council had approved their application to invest 100 billion yuan of funds from Guangdong's urban pension funds. Many analysts interpreted this as a sign that more and more regional pension funds would soon begin to "open up" to the possibility of investing into the local stock market.

However, a spokesperson from the NSSF soon emerged and said that media reports about the fund's plans to invest in the market had misinterpreted the plan as a move to invest billions of yuan in the stock market. The spokesperson said investments would instead focus on fixed-income products such as government bonds, bank deposits, financial bonds and corporate bonds.

Up until now the NSSF has been unwilling to reveal what proportion of the Guangdong funds have been invested in the stock market. The EO repeatedly contacted the Guangdong Provincial Department of Human Resources and Social Security for details, but our request was repeatedly denied, with officials saying it was "too sensitive" to discuss the issue of local pension funds investing in the stock market.

The Social Security Fund

China's NSSF has been investing in equity markets since 2003, though investments in the domestic and Hong Kong stock markets cannot exceed 40 percent of their total investments. Assets under NSSF management had reached almost 870 billion yuan by the end of 2011. Just over 50 percent of assets had been invested in fixed-income products, 32 percent in stocks; 16 percent in industry and less than 1 percent in cash and equivalents.

Official data from NSSF revealed that from 2001 to 2010, China's national social security fund earned 284.7 billion yuan in returns, which equates to an annualized rate of return of 9.17 percent, 7 percentage points above the average rate of inflation over the same period.

In contrast, the majority of China's pension funds are still controlled by local governments, and according to current regulations, local levels of government can only deposit their funds in the bank or use them to purchase government bonds. Currently, approximately 90 percent of all local pension funds are deposited with banks, earning slim or even negative returns. Over the past 10 years, the average rate of return on these funds has been less than 2 percent. Given that the average rate of inflation over the 2001 to 2010 period was 2.14 percent, local pension funds appear to be actually losing money.

Zheng Bingwen (郑秉文), the head of the Center for International Social Security Studies at China's Academy of Social Sciences, has long been an advocate for investing pension funds in the market. In response to arguments that China's stock market is not mature enough and that the risks are too high, Zheng says the solution to allaying these fears is to emphasize that pension funds will invest with a long-term outlook and by capping investment. Zheng noted that capping investment in the stock market at "30 percent is reasonable, we should not go over 40 percent."