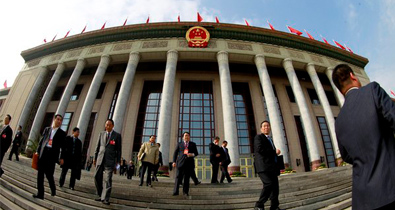 By Zhang Xiangdong and Chen Yong (张向东 陈勇)
No. 594, Nov 12, 2012
News, cover
Translated by Ji Menghui
Original article: [Chinese]

The turning point for Wang Dong (王栋) to becoming a delegate at the 18th National Congress of the Communist Party of China (CPC) was in 2007.

At that time he was busy trying to list his Gansu Dayu Water-saving Co., Ltd (大禹节水) on Shenzhen's Small & Medium Enterprise (SME) Board. One day, a member of the Gansu Provincial Committee asked Wang why a private company like his had established a Communist Party organization.

"Dong Cunrui [a civil war soldier who blew himself up to destroy an enemy bunker] didn't consider money when he bombed the bunker, he just did it," Wang joked. "This is the power of faith. And it's similar with a corporation. When a private company is growing larger, common values should be shared within the structure."

Five years later on the night of Nov 7, 2012, after finishing the preparatory meeting for the 18th CPC National Congress, Wang said, "Studying the principles and policies of the party can prevent companies from going the wrong way and making mistakes."

34 out of the 2,270 delegates at the recent 18th CPC National Congress in Beijing were private entrepreneurs like Wang. Ten years ago the 16th CPC National Congress was the first time that private entrepreneurs appeared as delegates, when seven were in attendance. Five years later at the 17th congress, 17 made an appearance.

"Looking at the numbers, the delegates from private enterprises have been increasing," Wang said. "This is the party's recognition of the development of private enterprises in recent years, and also that the party allows private enterprises to take part in the decision-making of the state's fundamental policies."

Currently, there are more than 9 million registered private enterprises in China and 36 million individually-owned businesses. Altogether they have 180 million employees and a total registered capital of 24.3 trillion yuan. Non-public sectors of the economy now make up more than half of the national gross domestic product. This has been the largest channel for expanding employment. Naturally, these enterprises expect representation at the Communist Party's National Congress.

Participation

At the 16th CPC National Congress in 2002, the policy to "Encourage, support and guide the development of non-public sectors of the economy" was proposed. That year, the proportion of private capital investment (48.7 percent) surpassed state-owned capital investment for the first time.

Professor Zhou Tianyong (周天勇) of the Central Party School said that prior to the congress, special research was conducted by his school and the Chinese Academy of Social Sciences exploring self-employment and other private business development during China's economic reform.

The research concluded that, with the perspective of long-term development, urban and rural residents should be encouraged to start businesses and invest actively.

A constitutional amendment was approved in 2004 which said that citizens' legal private property would not be infringed upon. Some private entrepreneurs said that it "eased many problems."

In February of 2005, "Several Opinions of the State Council on Encouraging, Supporting and Guiding the Development of Individual and Private Economy and Other Non-Public Sectors of the Economy" (also known as 36 Guidelines) was issued. In May, Huang Meng (黄孟), President of the China Federation of Industry (全国工商联), said that it was an important measure for the central government to guide the development of the private sector and eliminate the impediments to non-public economic development.

These rules not only solved the "bottleneck" that occurred in the development of non-state-owned enterprises, but also created a legal environment for the non-public enterprises to compete equally.

Encouraged by new policies and laws, private enterprises flourished in 2006. This was the year that privately-listed companies increased the most sharply, accounting for 39.4 percent of newly listed companies nationwide.

At the 17th CPC National Congress in 2007, the proposal to "Provide Equal Protection to Property Under all Ownerships so that they can Promote Each Other by Equal Competition" was made. Zhou Haijiang (周海江), chairman of Jiangsu Hongdou Group Co., Ltd. (江苏红豆集团) and Chen Ailian (陈爱莲), chairman and party secretary of Zhejiang Wanfeng Aote Holding Group Co., Ltd (浙江万丰奥特控股集团) were two of the 17 delegates that year.

"It showed trust and encouragement to me and other entrepreneurs," Chen said of the policy. "I believe that more private entrepreneurs will be at the 18th CPC National Congress. It fully shows the party's concern for us."

Chen then established a party committee organizational system in her company, which consisted of 12 party branches and 284 party members. In her eyes, the party needs the active involvement of private entrepreneurs.

Zhou Haijiang is head of the Hongdou Group - a private enterprise with 22,000 employees and 1,269 party members. What initially started as a clothing company has now developed into an international enterprise dabbling in garments, car tires, real estate and pharmaceuticals.

Zhou hopes not only be a good Communist Party member and a good private entrepreneur, but also perform responsibly as a representative and reflect the voices of the grassroots level.

Shifting Policy

From Wang Dong's point of view, since the 16th Party Congress, the country has started to attach greater importance to private enterprises. The original monopoly areas have been gradually opened up, giving private enterprises more and more room for development.

In May, 2010, the State Council issued a new set of "36 Guidelines" to encourage healthy development of private investment and provide new policies for private enterprises to enter government monopoly industries.

Now, the problem for private enterprises is how to implement the two "36 Guidelines" and actually enter monopoly fields.

Private enterprises are still mostly confined to industries that the state-owned enterprises aren't willing to try. They face an invisible "glass door" when trying to access highly profitable industries. Wang Dong still confronts many of these glass doors in his business. He contends that the central government should continue to increase the vitality of the private economy. "Only when there's small government and a big society, and when the market economy dominates in China, can this nation maintain stable and sustainable development," he says.

Wang understands that the implementation of needed policies requires a process. The identity of delegate at the National Congress makes Wang feel pressured and constrained. "We can't do as other enterprises," he says. "We should be self-disciplined. Regardless of corporate image or business operation, we should do better than other enterprises. In this sense, we take more responsibility upon our shoulders and bear a lot more pressure. We have become a representative of private enterprises."

Chen Ailian says that the title of party delegate is one of the best business cards for entrepreneurs. "After being a party delegate, the contact level is not the same, and the thinking level is also not the same," she said. She hopes that more and more people can attend the Party Congress at all levels.

Expectation

Chen says that the state-owned economy should keep the leading position. In order to realize the comprehensive development of China, the state must command enough resources.

However, she also says that enlivening the economy depends on private enterprises. A mixed ownership economy can maximize the vitality of the private economy. "When state-owned enterprises perform well, private enterprises can take shares, and vice-versa."

Currently, Chen's Wanfeng Group has a subsidiary that's attempting this kind of mixed ownership. The goal is to strengthen the market adaptability of enterprises while ensuring stability. Chen says, "Such ownership can solve both control issues and serve the economy at the same time."

In Zhou Haijiang's view, the terms "public economy" and "non-public economy" can be eliminated. Instead, state-owned enterprises and private enterprises that exclude foreign investment can be classified as "Domestic Chinese Enterprises." This would be more conducive to establishing an equal economic environment for competition and healthy economic development.

As both public and non-public enterprises are parts of the socialist economy with Chinese characteristics, entrepreneurs should aware that they are members of a socialist family, Zhou says. On the other hand, people ought to take a fair view on private enterprises, acknowledging that they're indispensable and important in China's economy.

Zhou has been looking forward to the 18th CPC National Congress and more "good policies" that are open, promote development, improve democracy and guarantee people's livelihood. "No matter whether it's in regards to party construction, intra-party democracy promotion or strengthening purity, we hope that better measures and methods will be brought out from this meeting," he says.

Wang Dong says that the political status of private enterprises improving is an inevitable trend, since it's they that can best represent the interests of the overwhelming majority of the people. Only when such private entrepreneurs are involved can the party increase its power.

Wang mentioned the issue of emigration and capital outflow among private entrepreneurs. He holds that this will do harm to Chinese society and the economy. The loss of these elites is more severe than taking away the wealth.

"This shows that our living environment still has some problems," Wang says. "The central government has realized this issue. From the 16th to the 18th CPC National Congress, the increase of private entrepreneur delegates has indicated the concerns and the confidence the central government shows toward private enterprises."

Chen Ailian says, "With private economic status continuously improving, there is no sense in flip-flopping. The emigration tide will naturally recede. Those who've left will miss another development period of China's economy."

Professor Zhou Tianyong says that a private economy based on small and medium enterprises is the widest path for employment growth. The party and the government have affirmed this. Meanwhile, the legal system has begun to gradually improve and a legal framework for private enterprises is shaping up.

Zhou forecasts that the private economy will develop in a more liberal environment.