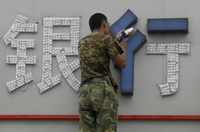 By Chen Zhe and Ye Jingyu (陈哲, 叶静宇)
Market, page 17
Issue No. 581
Aug 6, 2012
Translated by Zhu Na
Original article: [Chinese]

Since last summer, signs of Wenzhou's private lending crisis have emerged one after another. Many small & medium enterprises (SMEs) have gone broke and the private economy is facing its most critical situation to date.

On March 28 this year, the State Council decided to set Wenzhou as an experimental financial reform zone to legalize much of the already flourishing private lending sector. It was a shot of adrenaline for the city. Private investors enthusiastically prepared to set up banks and establish loan companies.

But after four months, that enthusiasm has started to wane as many entrepreneurs are starting to say the reform has been too slow and not enough.

"Someone asked me what has improved during Wenzhou's financial reform over the past over 100 days," said Zhou Dewen (周德文), president of Wenzhou Promotion Association for SMEs at a July 31 forum on Wenzhou financial reform. "What are the achievements? What are the real benefits for SMEs and private companies? Honestly, I couldn't answer these questions."

Yang Jaxing (杨加兴), an old hand in Wenzhou's private finance field, told the EO that "according to the current trend, financial reform isn't easy."

In 1986, a Zhejing government report said, "Further deepen financial system reform." Based solely on this line, Yang and his associate Cai Zhaoqing (蔡兆清) set up the first privately owned joint-stock bank in China: Wenzhou Lucheng City Credit Cooperative (温州鹿城城市信用社).

However, it was later incorporated into state-owned institution. Yang and his partners applied several more times to set up banks without success. When he learned that the financial reform zone had been approved in Wenzhou earlier this year, Yang, now 70, thought that Wenzhou would finally march back into the financial industry.

One of the 12 tasks mentioned for the Wenzhou financial reform zone was to accelerate the development of new kinds of financial organizations that support private capital entering local financial institutions, establish loan companies, and restructure loan companies to become banks at the village and township level.

This May, the China Banking Regulatory Commission also issued advice to encourage and guide private capital to enter the banking industry.

Encouraged by these policies, Yang and his associates prepared to set up a Wenzhou rural development bank with registered capital of 2 billion yuan. Investors in the project were all well-known local enterprises.

"I guessed that it could provide loans with 1 percent monthly interest, which is half as much as loan companies were charging," Yang said. "We're so old now that this isn't just about making money. Wenzhou doesn't lack banks, but it lacks banks that serve SMEs. Wenzhou's financial crisis last year had a huge impact. If the financial reform is successful, Wenzhou will be saved."

But after several months, Yang still hasn't received a response from the government about establishing the bank.

Private investors were also once full of enthusiasm for the plan of establishing Wenzhou Modern Commercial Holdings Bank and Overseas Chinese Bank, but there hasn't been any breakthrough there either.

The Wenzhou local government advised these private investors to form loan companies first then restructure them into banks. So for the past few months, Wenzhou entrepreneurs have become interested in starting loan companies.

Based on Wenzhou's three-year plan to accelerate the development of loan companies, this year there will be 30 more added with a total of 100 next year. The net capital of these companies will reach 80 billion yuan, with the size of lending reaching 120 billion yuan.

When businesses borrow money from banks, the monthly interest rate is 0.6 or 0.7 percent, but loan companies charge 1.7 percent, "Businesses still have big pressure in financing," said Chen Jinqiang (陈金强), general manager of Wenzhou Stationary Market Center. "Traditional enterprises in Wenzhou make very small profit. Some can't even reach 10 percent profit, so if they borrow money from loan companies, can they bear the cost?"

Well-developed loan companies are now allowed to become village and township-level banks. However, Zhou Dewen explained that even the loan companies that have become qualified still don't want to become banks. One pre-requisite is to have an official financial institution hold shares in the bank. The holdings requirement has been reduced from 20 to 15 percent, but it's not such a big difference. "For private capital to enter the financial field, it should have a certain degree of independence," Zhou said. "Otherwise, what is there to reform in Wenzhou?"

Lin Jianhai (林建海), a leather factory owner in Wenzhou, said that in the past his company borrowed some funds from banks and some from private lenders. This year however, he's having trouble getting loans through either channel. He worries that even if he gets significant orders, he won't be able to deliver them. "We originally hoped the financial reform would change the situation as soon as possible," he said. "But four months have gone and we still don't feel much change."

A company boss in Wenzhou dealing in foreign trade who spoke on the condition of anonymity said that, at least in his circles, business owners all feel that the financial reform hasn't led to any improvements to the financing difficulties faced by SMEs.

Meanwhile, the economic downturn continues. Zhejiang provincial economic data for the first half of 2012 collected by the Financial and Economic Committee of the Zhejiang' Provincial People's Congress shows that among 3,998 Wenzhou enterprises above a designated size, 140 have shut down this year and 2,276 have reduced production.

An official from the committee said the total production value for those enterprises decreased 3.1 percent compared to the same period last year while industrial demand for electricity decreased by 5.7 percent. "The pressure coming from the lack of capital is really great," he said. ""There's been an obvious fall in profits and there's a lack of orders too."

When looking back at the financial reform work over the past 100 days, the Wenzhou financial office said there were many highlights. An official with the office said that there were achievements in terms of financial products and service innovation, making private financing standardized and transparent, and also in local financial management and risk prevention.

"[The businessmen] think it has proved to be a failure by not allowing private funds to establish banks," said Zhang Zhenyu (张震宇), director of the Wenzhou financial reform office. "Could it be said that allowing private funds to establish banks means success for the financial reform? The purpose of the financial reform is not to add more financial institutions, but to establish platforms [for standardizing and making things more transparent]."

One of these platforms is Wenzhou Private Lending Registration Service Center. From the time it was founded in April to the end of July, the amount of money registered at the center as having been lent was 725 million yuan, and the total amount of borrowing was registered at 1.3 billion yuan. It was learned that in the next few months, Wenzhou will open three to four more private lending registration centers.

However, Zhou Dewen thinks the government should think more about how to attract capital. He said that he had two standards by which he would measure the success of the reforms from a business angle. The first is that after three to five years SMEs don't have difficulty finding financing. If they can't borrow from banks, they can go to private lenders and banks won't make excessive profits. The second sign is that financing costs for SMEs are reduced.

Lin, the leather company boss, said, "People all say it takes two or three years for the financial reform to see big changes, but for us, it's a struggle to survive another two or three years."