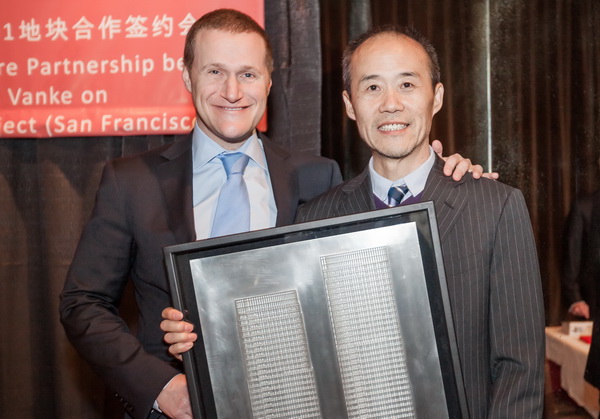 By Chen Zhe (陈哲)
Issue 608, Feb 25, 2013
Property, page 40
Original article: [Chinese]

China's largest real estate developer has teamed up with an American firm to develop a luxury apartment project in San Francisco.

Vanke Group, China's largest real estate developer, has announced its first investment in the North American market. Vanke and Tishman Speyer announced on Feb 18 that they had formed a joint venture to develop two high-rise luxury residential condominium towers at 201 Folsom Street in San Francisco.

A signing ceremony between the two was held in San Francisco on Feb 13. Attendees included Vanke's Chairman Wang Shi (王石) and his corporate strategic investment team, Tishman Speyer's President and Co-CEO Rob Speyer and other Tishman Speyer executives from China and San Francisco.

The two companies have not disclosed any financial details of the joint venture. However, according to Reuters, a person familiar with the matter said total investment in the project is approximately $620 million, with Vanke providing $175 million, Tishman Speyer providing $75 million and the rest covered by debt financing. The source also said that Vanke will hold a 70 percent stake in the joint venture with Tishman Speyer holding the other 30 percent.

Tishman Speyer will be responsible for the project's management going forward.

The joint project involves the construction of two connected high-rise residential buildings, one will be 37 stories, the other 42 stories. The two buildings will contain a total of 655 units. The buildings are across the street from the Infinity, another high-rise apartment project developed by Tishman Speyer. Apartments at the Infinity sold for between $600,000 to $6 million and it was the fastest selling project in the U.S. in 2009.

Vanke recently released a statement saying that the collaboration marks Vanke's first step into the overseas market. Wang Shi, Chairman of the Board of Vanke Group, said: "For a long time, Vanke has been a company with an international vision and an enterprise that is good at learning from peers, we are entering the United States market also with the purpose of learning. We hope to learn about mature market business models and management experience from this collaboration. We choose to invest in 201 Folsom Street mainly because Tishman Speyer is one of the world's leading real estate companies and a very trustworthy partner."

Tishman Speyer's, Co-CEO Rob Speyer said: "the joint venture established with Vanke Group in San Francisco is significant to Tishman Speyer, it is complementary with our business development in China, we are very excited to work closely with such an excellent company".

Tishman Speyer will further expand their business partnerships in China through this joint venture with Vanke. Prior to this, Tishman Speyer has already successfully raised funds among Chinese investors. Tishman Speyer has a number of real estate projects at various stages in China, covering approximately 20 million square feet (about 1.86 million square meters).