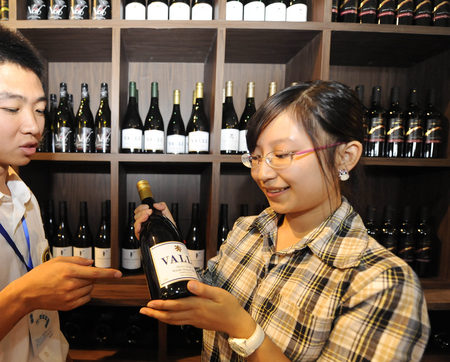 Photo: Xinhua

By Li Li
Issue 609, Mar 4, 2013
Corporation, page 29
Translated by Chen Min
Original article: [Chinese]

China's domestic red wine industry is facing a crisis.

Dynasty Fine Wines Group Ltd. (王朝酒业) issued a notice on Feb 4 that its 2012 annual financial results would show record losses. This is the first time the company has turned a loss since it went public on the Hong Kong Stock Exchange in 2005. Other famous domestic red wine brands like Great Wall Wine (长城葡萄酒) and Changyu (张裕) are also seeing profits drop.

In the first half of 2012, the growth rate of sales and profits in the domestic red wine industry dropped 12 and 37 percent respectively compared to the same period in 2011. Meanwhile, the average price of red wine fell 5.8 percent.

In its announcement, Dynasty Fine Wines Group said that increased distribution costs amid falling earnings was the major reason for its losses.

Chen Xuguang, deputy manager of Xiamen C&D Wines Group Limited (厦门建发酒业有限公司), says there's one obvious reason for falling sales: The impact of imported wines. Currently, foreign red wine sales account for 30 percent of the domestic market, while five years ago, it was less than 10 percent. Shu Guohua, a wine marketing expert, says that 100,000 brands from nearly 80 countries are flooding into China.

Many international wine companies are now gaining market share in China by moving down-market. Georges Haushalter, Chairman of the Bordeaux Wines Council in France (法国波尔多葡萄酒行业协会), says his company's major strategy in China will be the introduction of middle and low-priced wines.

International brands aren't only cutting prices, but also looking at new sales strategies. Instead of simply selling to small exclusive groups and high-end clubs like in the past, many foreign brands are entering retail for the first time in order to access ordinary consumers. They're also finding new sales channels by cooperating with domestic beverage enterprises like Liuyanghe Liquor Industry Co., Ltd. (浏阳河酒业有限公司), Wahaha Group (娃哈哈集团), Huiyuan Group (汇源集团) and even local governments.

Chen Xuguang says that domestic red wine is failing to compete with foreign brands because it lacks its own unique characteristics and enough emphasis on wine culture. He explains that different regions have different grape varieties, which gives these unique features. Yet in China, most grape varieties are imported from abroad.

He says that whether it be grape-planting, grape variety or quality control, foreign wine brands are superior to their Chinese counterparts. He also argues that Chinese consumers are ignorant about wine culture. When it comes to white liquor like baijiu, they'll only drink Chinese brands, but when it comes to red wine, they'll only drink foreign brands no matter where they come from.

Shu Benhua says that, in essence, red wine originated in China during the Western Han Dynasty (206 BC – 25 AD), yet people now only talk about French wine culture. He says if domestic companies fail to successfully market on the culture associated with their wine, they'll inevitably be defeated by foreign brands.