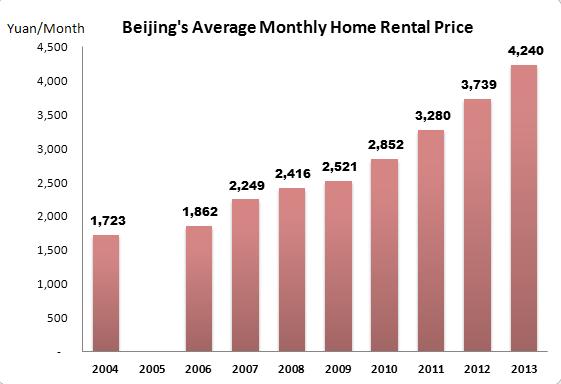 By Hu Fangjie (胡芳洁)
Issue 615, April 15, 2013
Property, page 38
Translated by Chi Yi
Original article: [Chinese]

Housing prices in Beijing have skyrocketed since 2009. As a result, many young newcomers to the city lack the means to buy their own home.

The rental market is supposedly more welcoming, but the surge in rental prices since the 2008 Beijing Olympics has made that a difficult route as well. In 2004, average rent for an apartment in the capital was 1,723 yuan per month. By March 2013 that number had shot up to 4,238 yuan - a 146 percent increase in less than 10 years.

After graduating college in July 2007, Xiao Ya (小雅) started renting an apartment. Since then she's had to face rising rent every year. At first, the one-room apartment she shared with a former classmate near the East Fourth Ring Road cost them 1,200 yuan per month. When they renewed the contract in 2008 and 2009 the landlord raised the price 400 yuan each time, which they reluctantly accepted. But when he wanted to raise it again in 2010, Xiao Ya and her roommate decided to give up and find a new place.

They found a two-bedroom apartment for 2,600 yuan per month nearby their old place through an acquaintance. They regarded this as affordable, but unfortunately, the apartment was taken off the market before they could sign the contract. When Xiao Ya went out again to look for similar places, the price had gone up to over 4,000 yuan per month. But even those outrageously expensive apartments were getting grabbed up as soon as they hit the market. Xiao Ya made several appointments with agents to see other places, but they were always rented out before she got there.

Finally, she found a three-bedroom apartment to share with two of her classmates for 4,500 yuan per month. That means within five years, the money she paid for housing went up 150 percent.

Xiao Ya's story has been a common one in Beijing over the past decade. In 2004, Beijing Yanglihang (央立行), a local real estate agency, published an annual report on the second-hand housing market. At that time, the average rent for an apartment in Beijing was 1,723 yuan per month.

"After the Beijing Olympics, rental prices in Beijing started to rise rapidly," said Hu Jinghui (胡景晖), vice president of the Beijing-based real estate sales and consulting firm Basic-5i5j. "Before that the annual rise never surpassed 5 percent."

According to their figures the average rental price in Beijing in 2006 was 1,862 yuan per month – only an 8 percent increase over 2004.

The real frenzy came in 2010. According to the real estate agency Homelink, that year the average rental price in Beijing rose 18 percent, followed by a 15 percent rise in 2011 and 14 percent in 2012.

The scale of the market also increased dramatically after 2008. Between 2004 and 2007 the annual number of apartments rented out in Beijing was a stable 500,000. But after 2008, that number grew by over 100,000 every year to reach 1 million in 2010.

There won't likely be relief for renters anytime soon. Finding roommates or renting in the suburbs are two ways renters face the ever-worsening market. But even these measures have problems. According to Homelink, the price of apartments larger than 90 square meters increased more than any other type of dwelling in 2012. And rental prices in suburban districts increased 15.6 percent last year, compared to 5.3 percent in 2011.

Housing in Beijing is still in short supply. According to China's sixth national census, 32.7 percent of Beijing residents are renting. That means 2.18 million households need to find housing through the rental market. Furthermore, in 2011 and 2012, Beijing's migrant population grew by 375,000 and 316,000 people respectively, leaving supply trailing in the dust of demand.

But as much as the rental price has gone up, the buying price has increased even faster. In March 2012, the average profit landlords yielded from renting second-hand apartments was 2.7 percent. By December, that rate had decreased to 2.5 percent.

Raising rent has become the only option for property owners trying to stay ahead of their mortgages. The question is how much they should raise rent.