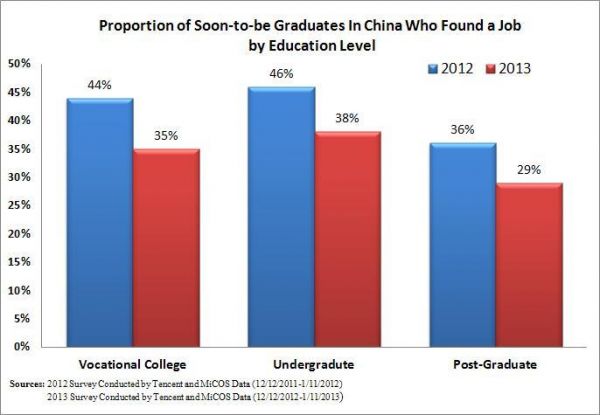 Apr 23, 2012
By Tang Mengjuan (汤梦娟)
Economic Observer Online
Translated by Zhu Na
Original article: [Chinese]

This year has been the most difficult for soon-to-be university graduates looking for a job. The number of graduates is expected to hit a record high of nearly 7 million this year, but there are many fewer job openings than in the past.

Tencent and MyCOS Data conducted a survey between Dec 12 and Jan 11 of students that will graduate in 2013. It found that the proportion of vocational college students who'd already found a job was 35 percent – a nine percentage point drop from the soon-to-be grads during the same period last year. For Bachelor's and Master's degree students, 38 and 29 percent respectively had found jobs – an 8 and 7 point drop.

Companies have been reducing staff in light of a slowing economy. University students who didn't get an appealing job offer during the autumn recruitment period last year had hoped they'd have better luck during the spring. However, the situation has become even worse. Large state-owned enterprises and foreign companies who have reliably recruited at job fairs in previous years are now nowhere to be found.

A teacher from a university career service office said that October is usually the peak time for campus recruitment. By the time March rolls around, employment opportunities are reduced by more than half.

A human resources employee in the banking industry said that his company's recruitment work in 2012 got started late, so they were worried about enough applicants turning up. But in the end, the interest from university students at job fairs was beyond their wildest expectations.

After potential applicants show interest in the company, they're mailed invitations to take a written exam and attend an interview. In previous years, the proportion of applicants who would actually show up after receiving the invitation was around 70 percent. But this year, attendance exceeded 95 percent. One student even flew back from the UK just to attend the interview.

Most recent graduates were born in the 1990s and are the only child in their family. They increasingly demand high-paying white-collar jobs at well-known enterprises and tend to show little interest in small private companies, which bring more pressure and less stability.

With the uncertain economic outlook, many young job-seekers are holding a "wait and see" attitude rather than lowering their expectations. They figure they can always just live off their parents' money until things turn around.