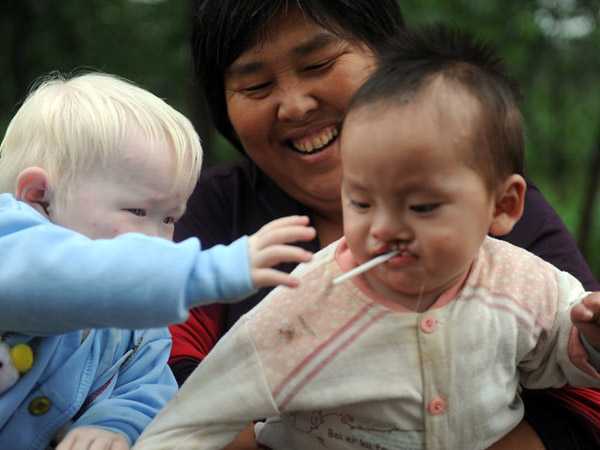 Photo: news.163.com


By Liu Jinsong (刘金松) and Zhu Ce (朱策)
Issue 603, Jan 14, 2013
Nation, page 9
Translated by Zhu Na
Original article: [Chinese]

After a fire claimed seven lives at Yuan Lihai's orphanage in Lankao County, Henan Province on Jan 4, she found herself at the center of controversy.

Because the orphanage wasn't officially licensed, it had received no government assistance and was deemed illegal in the aftermath of the fire. Some speculated that Li must have been using the facility to sell children for profit, but locals knew better. They saw her has the "benevolent mother" who for more than two decades had cared for over 100 abandoned children – many of whom had disabilities or serious health problems.

Many privately-run charity organizations across the country are sitting in the same awkward position as Yuan. While their intentions may be pure, they have a slew of regulatory and financial hurdles stacked against them.

Ambiguous Status

Zhang Shuqin (张淑琴) is the founder of Beijing Sun Village - a non-governmental institution that mainly cares for the children of prisoners. Since it was established in 1996, it's built six branches across the country and cared for more than 4,000 children.

Zhang says that after the Lankao fire incident, the pressure was intense on her organization. On the morning of Jan 10, she received a call from one of her employees asking for money to buy new cabinets. A local safety inspector had come and said the wooden cabinets in the children's bedroom were flammable and had to be replaced.

Over the past few weeks they've spent tens of thousands of yuan charging all the fire extinguishers, repairing the electrical wiring system and making other renovations.

Zhang said that the center is very careful, so it was necessary to do these things. However, fixing these problems is the easy part. What troubles Zhang most is the center's legal status. Even though Sun Village has been around for more than 16 years, it still hasn't been able to get officially registered.

Zhang was furious upon hearing how Yuan Lihai's actions had been deemed illegal by the local Lankao government after the fire. "The way it was just labeled illegal…I can't accept it," she said. "How come helping vulnerable children is illegal? She didn't traffic children, didn't abuse children and wasn't involved in corruption. Can offering love be illegal?"

"If it were possible to be registered legally, who would prefer to remain illegal?" Zhang asked.

According to Zhang, Sun Village's registration process has been held up by the units in charge. The judicial sector, civil affairs department and women's federation could all potentially be Sun Village's governing body, but none are willing to be the one to register it.

"Once they become the unit in charge, they'll need to exercise supervision, guidance and coordination," Zhang said. "If there's something wrong, they'll also have to take responsibility for it. So among these units, who will be willing to take that responsibility?"

Since it's unable to get licensed as an orphanage, Sun Village can only register as a business, which means it can't collect donations. Zhang said currently they can only rely on revenue from farming and planting fruit trees to operate.

Wang Zhenyao (王振耀), head of the China Philanthropy Research Institute of Beijing Normal University, told Economic Observer that government sectors should build contacts with these organizations and listen to their opinions. They should learn about their difficulties and provide them with guidance, training, funds and other support. "Not simply announce that they're illegal."

Aid Gap

According to the Ministry of Civil Affairs, there are currently about 615,000 orphans in China. Of those, 109,000 are raised by charity organizations affiliated with civil affairs departments. The rest are raised by individuals and non-governmental organizations.

Zhang says that besides orphans, there are other vulnerable children in need of attention from society. According to a report released in 2011 by the Ministry of Civil Affairs and UNICEF, the total number of disabled children under 18 is about 5 million, and those afflicted with AIDS number somewhere between 496,000 and 894,000. There are also 58 million rural children who are left behind when their parents go to work in urban areas.

Zhang said some children die because they fail to get necessary medical treatment. When they don't receive help, they may also turn to theft or other crimes. She says all these vulnerable children need care and love from society, but the issue can't be solved just by relying on the government. More non-governmental organizations need to help bear the burden.

Hou Yuangao (侯远高) works at Liangshan Yi Empowerment Center - a non-profit non-governmental organization that cares for women and children affected by drugs, AIDS and poverty. He says that the current child welfare protection system is lacking in many ways. According to the current national policy, children who are officially recognized as orphans by the government can receive a 600 yuan allowance each month. But more often than not, children whose parents can't care for them don't qualify and they fall through the cracks entirely. This is especially true outside of large cities, where there's rarely any kind of official shelter to take them in.

Hou says there's a lack of funds and resources, but more importantly, there's a lack of organizations that can give real love and care to children in need. Shelters take care of a child's physical well-being, but do little for their psychological and academic needs.

Gao Yurong (高玉荣), vice-director of the Child Welfare Research Center under China Philanthropy Research Institute of Beijing Normal University, has called for reforms to be launched soon so that children can be protected by laws and regulations. In this way, individuals like Yuan Lihai and the children they've adopted won't be cast out on their own.