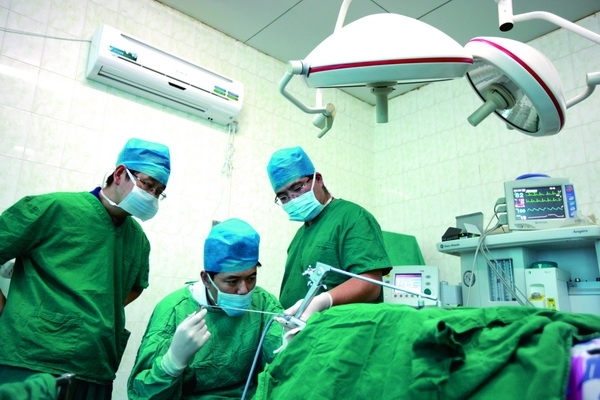 By Shen Nianzu (沈念祖) and Sun Li (孙黎)
Issue 588, Sept 24, 2012
Nation, page 10
Translated by Zhu Na
Original article: [Chinese]

Qin Xiao (秦晓) started working at a top Beijing hospital shortly after graduating medical school. But after working hard for two months, he'd only earned 5,000 yuan.

Qin met up with his old classmate Chu Tian to lament his sorrows over a drink. Chu talked about how many of his classmates had gone to foreign companies where they can pull in 500,000 yuan a year working as medical representatives.

"I definitely wouldn't want you to work as a medical representative though," Chu said. "When you do that kind of work, you aren't yourself."

Chu continued to comfort Qin. "Don't worry," he said. "Work hard at the hospital. When you become an attending physician, you'll be able to afford a car and house in Beijing within three years."

Although Chun Tian encouraged Qin, he himself had actually left the profession two years earlier to become a researcher.

Chu graduated from Peking University's medical school in 2006 and once worked at Beijing Jishuitan Hospital. Although he was already on track to become an attending physician, he ultimately chose to give it up. He said that among his Peking University classmates, many were choosing to leave hospitals after working there for five years or even longer.

The reasons they chose to leave vary: The pay was too low, the pressure too much, the hours too long, the doctor-patient relationships too tense or a feeling that what they were doing clashed with their ideals.

Chun and his colleagues are not unique - many young doctors are choosing to leave the profession.

According to a China Youth Daily interview with Li Ling (李玲), a medical reform expert and professor at the National School of Development of Peking University, of the 600,000 medical students trained in China each year, only about 100,000 go on to become doctors.

Zhang Jingxiu (张景岫), vice president of MyCOS Institute, thinks that the situation isn't as bad as the data makes it appear as this 600,000 figure also includes medical courses at vocational colleges that isn't aimed at producing doctors.

The real problem is that fewer and fewer people are willing to become doctors and that more and more qualified doctors are choosing to leave.

Under Pressure

Zhao Hu (赵慧) worked as doctor at a women's and children's hospital in Beijing for one year after graduation, but has now left the profession. After starting, she was always terrified of making any mistakes and didn't sleep well at nights. But the final straw came when she actually did make a mistake while delivering a baby.

When the baby come out it was pale and wasn't breathing. Zhao said she should have inserted a breathing tube immediately, but since she couldn't do it well, another doctor had to come perform the procedure.

"Although the baby survived, I still had a lingering fear for a long time," Zhao said.

"I felt lives were in my hands. If I made a mistake, then I could ruin a whole family."

She's since switched jobs four times and is now working as an online-business manager for a company selling bicycles.

"If you're a very sensitive person, then you can't be a doctor," She said. "I'd say my current job is also hard and often requires working overtime, but fortunately, it's not related to people's lives."

Among Zhao's 40 classmates there were people who worked at a hospital for five or six years and still eventually chose to leave.
Some went to big foreign companies like Bayer or Johnson & Johnson to work as medical representatives or in jobs related to drug control and medical equipment .

"The pay is definitely better than that of doctors," Zhao said.

"Their medical knowledge is still of great use. After all, they still need to deal with hospitals and know about their operating procedures."

Dingxiang Garden (丁香园), a medical website, completed a survey in 2008 that revealed that 89 percent of doctors have entertained the idea of quitting the profession.

Wang Hongman (王红漫), a professor at the Medical Humanities Research Institute of Peking University, recently announced results from a survey targeting undergraduates of medical schools in Beijing and their attitudes toward the medical industry. According to the results, 58.4 percent of those polled were unsatisfied and half lacked confidence about their employment prospects. In terms of salary, only 30 percent expected an annual salary of over 200,000 yuan.

"Medical students and young people who just entered a hospital easily become traitors to the profession, " said Ms. Yang, who used to work for the human resources department of Xuanwu District Chinese Medicine Hospital.

There are also less students applying for medical schools. In Guangdong, 10 out of 15 medical colleges and universities said they couldn't recruit enough students in 2010.

An EO reporter's investigation showed that average admission scores to 61 prominent medical schools have decreased each year over the past several years.

Having this decline in the number of medical students is taking place as the number of hospital patients is increasing.

Data from the 2012 China Health Statistics Yearbook shows that China's outpatient treatment in hospitals increased from 4 billion patients in 2005 to 6 billion in 2011. And the number of patients hospitalized went from 71 million in 2005 to 152 million in 2011.

However, the increase in practicing physicians has fallen well short of this new demand by adding only 170,000 new doctors between 2008 and 2011.

According to Ministry of Health, by the end of 2011, China had 2.5 million practicing physicians, meaning there is roughly one doctor for every 520 people in the country. By comparison, the U.S., which has its own worries about physician shortages, has roughly one doctor for every 413 people.

Official data also revealed that only 6.8 percent of doctors in China want their children to become doctors. So where will the next generation of doctors come from?

"Originally, it was the most intelligent, most generous and most moral who chose to become doctors," said Cui Xiaobo (崔小波), a professor at Capital Medical University. "Doctors were the rulers of social morality and social welfare. When such people do not wish to become doctors, it's a great sadness for medical education and a country's health system."