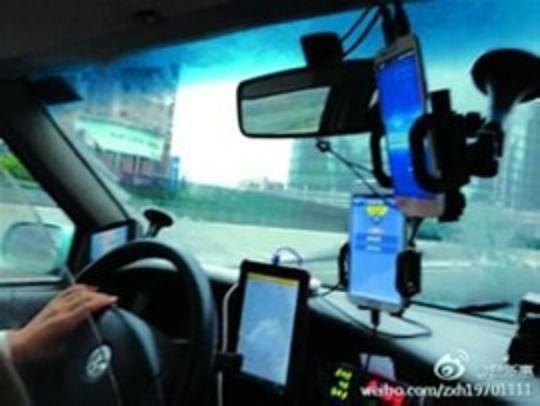 By Zhang Chunwei (张春蔚)
Issue 622, June 3, 2013
Business Review, page 41
Translated by Wong Siu Tan
Original article: [Chinese]

On June 1, Beijing began regulating software applications that allow users to hail a taxi online or by phone. Other cities like Guangzhou and Shenzhen have also recently issued new rules controlling or banning taxi-hailing apps.

An app called 1039 Yi Da Che (1039易打车) in Beijing is likely to be one of the lucky survivors under the new regulations. Launched in April, the software is already used by more than 2,000 drivers, but the fact that the company is state-owned has made many other established taxi app players a bit uncomfortable.

1039 Yi Da Che was a late-comer to the industry and spawned from the traffic radio station FM103.9. Using the station's resources, it's combined information from traffic reports and taxi booking systems while increasing "interactive recommendation (互动推荐)" on its radio programs. As a result, taxi drivers have been anxious to become members. "All the drivers who installed our devices have considered membership an honor," said Li Yang (李洋), who hosts a traffic program on the station that's popular with taxi drivers.

Taxi App Boom

Last September, Didi Da Che (滴滴打车), swept through Beijing's budding taxi app market. The company's CEO, Cheng Wei (程维), used to be in charge of Business-to-Consumer (B2C) operations at Taobao (淘宝), China's largest online retailer, and Alipay (支付宝) an online payment platform. He marketed his Didi Da Che software through cooperation with taxi companies.

The company gained more than 5,000 customers within three months. During non-peak traffic periods, it guarantees a waiting time of no longer than 90 seconds when customers use the app to hail a taxi. In December 2012, the rate of successful taxi-hails was 50 percent during peak traffic periods and 80 percent during non-peak times.

The Beijing Taxi Control Center recently announced its cooperation with Didi Da Che, making it the first collaboration between an official transport authority and taxi-hailing software company. Since May, customers using Didi Da Che have been able to order cabs that either have the company's device or a GPS tracker from the control center. This deal expanded the number of taxis the company could reach from 20,000 to 50,000.

Investment

According an official report bringing data together from many different bureaus, the electronic taxi-hailing industry in China could be worth many billions of yuan. 31 cities in the country have a fleet of more than 5,000 taxis, which altogether add up to more than 400,000. More than half of those taxis are in the four cities of Beijing, Shanghai, Guangzhou and Tianjin.

According to data from Analysys International (易观国际), the 11 major Chinese taxi apps on the Android system have been downloaded more than a million times with most users being in the first-tier cities of Beijing and Shanghai.

Internet giants have also jumped in on the market. Tencent invested $15 million in Didi Da Che, which was about 20 percent of the company's total share. And "Kuaidi Da Che (快的打车)" has received investment from Alibaba (阿里巴巴).

In order to increase their market share, taxi-hailing software companies have tended to give free devices and other subsidies to drivers. A popular picture on Weibo recently showed a taxi driver in Shanghai with four mobile devices in his car - a Lenovo 3Gpad, two Coolpad cellphones and a mobile phone from his company. He installed fifteen taxi apps in his phones along with a Wifi router and speaker. The driver said that after installing all these devices, he started earning an extra 150 yuan per day and spending 50 yuan less on gas. He also gets about 2,000 yuan in subsidies from software companies every month.

However, after a period of rapid development in the industry, local governments are now stepping in to regulate it. On May 22, the Shenzhen local government told all taxi drivers to stop using electronic hailing software and warned companies to stop marketing it.

However, a company called Hao Da Che (好打车) was exempted from the ban and approved as a pilot project. The app is made by a state-owned company called National Technology Co. Ltd. (国民技术股份有限公司).

In Nanjing, Zhao Che Bao (招车宝), a taxi app co-designed by Taicang Taxi Company (太仓出租车公司) and the state-owned Suzhou Tianze Information and Technology Ltd. (苏州天泽信息科技有限公司), also got approval from the local government.

With the help of government regulations, it appears many state-owned companies are finding it quite easy to enter the new market in-spite of being late-comers. This is changing the business structure of the entire industry.

Resistance to Change

The Hangzhou-based Kuaidi Da Che was officially launched last August. It was the first Chinese taxi-hailing app with a tipping function allowing passengers to give drivers an extra 5 to 20 yuan. It has since facilitated over a million successful taxi hails, but now it may be in trouble.

Taxi regulations have strict price controls, which critics say are keeping prices too low in many cities and causing drivers to park and save gas during rush hours. Being able to tip the driver a little extra gives them incentive to pick up passengers during these high-traffic periods.

Authorities say though that this seriously violates pricing regulations and challenges their ability to regulate the taxi industry. It appears the tipping function will be cancelled, but it raises the bigger question of how to expand the taxi-hailing business under the government's control.

As the cost of labor increases, electronic management has already helped revitalize many industries, but regulators don't tend to like taxi apps. They compete for drivers and operate outside established rules, but they also lead to more fundamental questions; like if taxi drivers can be managed electronically and be connected with passengers directly, do we really need taxi companies?