SICHUAN EARTHQUAKE
Published: 2008-05-22
An evacuation exercise to ensure "zero deaths" for villagers living downstream of a threatening landslide-dammed lake in Beichuan county has been activated.

Landslides triggered by the May 12 earthquake in Sichuan have blocked flows and formed 33 such lakes in quake areas. Three of them – in Beichuan, Anxian and Qingchuan – have been identified as having a high risk of bursting.

Evacuation for those living downstream of Beichuan's Tangjiashan – where the largest and most imminently dangerous landslide-dammed lake is – should be completed by May 24, according to a directive from the Mianyang local government.

Meanwhile, 24-hour patrols were deployed at Tangjiashan and other risky sites since May 21. Also present were hydro-geologists to perform monitoring for latest updates on ground situation. Access roads into Beichuan were blocked and manned by soldiers to prevent entry.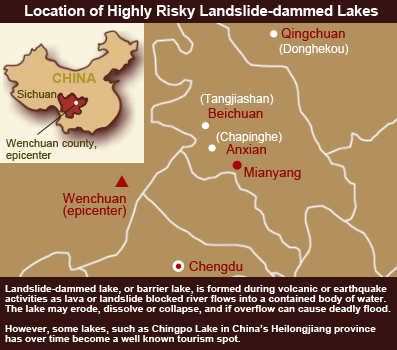 Access through Land, Water and Air
The lake in Tangjiashan holds nearly 40 million cubic meter of water, the deepest parts measuring about 40 meters. Its sheer size, coupled with frequent aftershocks and continuous rains in the region, have contributed to the danger of its bursting its banks.

In the event of such a burst, an avalanche of floodwater would threaten lives in Beichuan County, Maoba towns and villages, Jiangyou and Mianyang cities, according to information made public by the Sichuan Water Resources Administration.

"The mountain was broken; there were frequent landslides and no access road (to Tangjiashan)," Li Xuangang, deputy director of the Office of State Flood Control and Drought Relief Headquarters, was quoted as saying in a special report published on the Water Resources Ministry Website.

The report, entitled On the Ground Records: Advancing to Tangjiashan, detailed the numerous attempts by teams of experts and paramilitary men sent by the Ministry to check and collect data from the landslide-dammed lake.

The exploration started as early as May 16 but was unsuccessful until four days later.

The first attempt was by foot but blocked by landslides. The second attempt next day was by water but again halted, this time by debris flowing downstream. The third attempt by air using helicopters was also foiled due to bad weather.

Though having satellite pictures, without on-the-ground assessment and precise hydro-geologic data, experts could not provide accurate and scientific recommendations on mitigation measures to the government, said Li.

Finally, on May 20, a team of experts landed near the lake and came back with initial assessment and advices, including evacuation and having mitigation projects downstream to reduce the force of water if an avalanche occurred. The recommendations were later adopted into drafting counter-measures.

On the night of May 21, the Ministry held an emergency meeting and mapped out further strategies, including prevention measures for the landslide-dammed lakes, restoration of damaged dams and alarm system for flood alerts, securing hydropower stations and ensuring water quality.

Endangered Dams and Hydropower Plants
The lakes formed by natural phenomenon aside, dozens of man-made dams around the earthquake region were another concern.

According to information from the Water Resources Ministry, the 8-magnitude earthquake had caused damages of different degrees to hydropower plants located along Min River, which passes through the epicenter Wenchuan.

Of the 16 plants with bigger capacities there, 14 had been secured or not affected by the quake. Repair work was going at the Yingxiuwan and Dida power plants.

The Zipingpu Reservoir near Dujiangyan – one of the earliest reported by the media as showing signs of cracks – had been secured and restored power generation, according to announcement on the Ministry website.

In addition, the sluice gate for dams at Taipingyi and Yuzixi I were opened to reduce water pressure; the same was done at Xuecheng, Lixian, Hongye II dams, where the reservoirs were emptied.




Restoration work had also started at Jianxing Dam located near Deyang. Official data showed that the dam had a capacity to store 1.5 million cubic meters of water. After the quake, spills were detected in five spots with strong flows, and the security of the dam was threatened. If the dam collapsed, it could threaten some 4,000 lives living downstream. Emergency response team had arrived at the scene on May 20.

Based on information released by the State Electricity Regulatory Commission, paramilitary and emergency relief troops had headed to Dida and Chaobo villages on May 20 to strengthen the structures of Dida and Shapai dams there. Risks mitigation strategies for Yingxiuwan and Taipingyi hydro stations must be submitted by May 23.

Amidst all the alarming situations, good news emerged for the Dujiang Weir, a 2000-year-old irrigation system that was affected by the quake and caused 500 mu (1/15 hectare) of crops field dried up. However, by May 20, half of the affected areas had restored irrigation.

Researched and written by Lin Li, Liu Peng, and Ren Yujie