Published: 2008-05-22
The May 12 earthquake in Sichuan triggered landslide that block river flows and formed over 30 barrier lakes in disaster-hit areas, of which, three lakes in the county of Beichuan, Anxian, and Qingchuan, have been identified as highly risky in bursting.

The frequent aftershocks and continuous rains in the region following the quake had added pressure to the contained body of water.

Meanwhile, the quake also affected some dams and hydropower plants located upstream of the epicenter, Wenchuan county. Below are two maps showing the concerns in China for a potential second-wave disaster arising from man-made and nature-formed dams.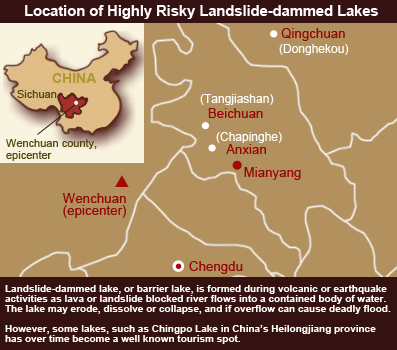 Researched and prepared by Liu Peng, Lin Li, and Ren Yujie.