Issue Wrap No. 505, January 31, 2011
Highlights from the EO print edition, No. 505, January 31, 2011

Anti-monopoly Law Cases Surge
News, page 5
~ In the past year, there have been roughly 110 mergers and acquisitions involving China that have been investigated to make sure they accord with the country's recently-introduced anti-monopoly law, this represents an increase of 20 to 30 percent over the previous year.
~ Some analysts believe the recent rise in the number of cases is a sign that China is attracting more foreign capital, that the Ministry of Commerce is gradually becoming more strict in its examination of foreign capital investment and also that more attention is being paid to the protection of domestic industry.
~ One unnamed official with the Ministry of Commerce disagreed, noting that the strength of the regulations have not been altered and argued that the recent surge in the number of cases is simply explained by the rise in the number of international merger and acquisitions
~ China's anti-monopoly law was introduced in August 2008, since then only one merger deal has been rejected. In 2009 the Commerce Ministry rejected a 2.4 billion US dollar bid by Coca-Cola Co. for Huiyuan, one of the China's largest juice makers.
~ In the past The Economic Observer expressed disappointment in the way the law had not been applied to the "monopoly" positions of various SOE in China's domestic markets.
Original article: [Chinese]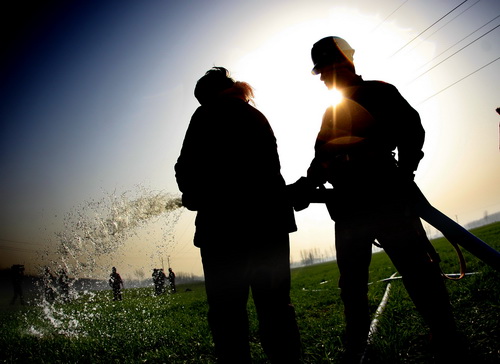 Problems with China's Grand Water Conservation Plans
News, page 6
~ Every year the Central Committee of the Communist Party of China and the State Council jointly issue a "No.1 Document" which outlines how the government and CPC plan to tackle a certain issue over the coming year - in recent years, the document has focused on a variety of rurual issues.
~ This year's "No.1 Document" is focused on improving the country's water conservation infrastructure.
~ China plans to invest over two trillion yuan on water projects during the 12th Five-Year Plan period which runs from 2011 to 2015.
~ The central government also plans to issue supporting policies that they hope will strengthen the management of small-scale water conservation infrastructure in rural areas.
~ The "No.1 Document" says 10 percent of land grant fees will be used to develop water conservancy infrastructure. However, this is an unfair policy; eastern cities have abundant land grant fees while central and western provinces generate less revenue from land transfers, so it's likely they will continue to lack the money to finance local water conservation facilities.
Original article: [Chinese]

Two Trillion Yuan Investment in Water Projects Far From Enough
News, page 6
~ Although the central government plans to invest two trillion yuan in water conservancy projects in rural areas during the 12th Five-Year Plan period, that's far from enough. ~ It's estimated that the actual investment required is three trillion yuan, due to local governments' reluctance to invest in water conservancy infrastructure as well as the likelihood for low returns for any commercial players who choose to invest in the sector.
~ A study conducted by Renmin University showed that over 70 percent of Chinese villages lack water conservancy infrastructure investment, but only 9.56 percent of them will be covered by the planned government investment outlined in the central government document.
~ Exacerbating the situation, much of the money that had previously been set aside for water conservancy projects by the central government has been embezzled.
Original article: [Chinese]

The Foreigner Who Gave his Opinions on the 12th Five-Year Plan
News, page 8
~ Last November, the National Development and Reform Commission (NDRC) posted on their website a call for suggestions on the 12th Five-year Plan, which elicited a great response from foreign businessmen, private and state enterprises and ordinary citizens.
~ Adam Dunnet, a member of the European Chamber of Commerce who has worked in China for over five years, was one of those who submitted suggestions, but this was not the first time he provided suggestions to the Chinese government.
~ Throughout 2010, he was called upon by various departments and government agencies to provide suggestions on parts of the 12th Five-year Plan.
~ "This shows that the Chinese government has started to become more transparent in its planning process, but we are not overly excited about a complete change, as this is the correct direction the government should be taking," Dunnet said.
~ Dunnett along with fourteen other businessmen submitted 60 pages of suggestions over two months. Their suggestions included ideas for adjusting the economic structure, how best to address the problem of inequality, soliciting opinion from the public on the legal system, implementing laws in a non-discriminatory manner, improving the effectiveness and transparency of the tax system and improving fair market access to foreign investment.
~ An unnamed official with the NDRC said that the NDRC department responsible for planning has begun to make preliminary responses to the foreigner's suggestions and that the NDRC will research the suggestions and take them into deep consideration.
Original Article: [Chinese]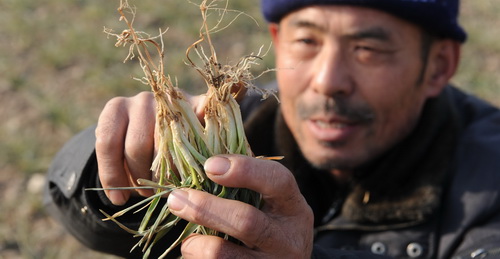 The Deeper Causes of Drought
Nation, Page 9

~ Some of China's major grain-producing provinces - including Shandong and Henan - have suffered from severe drought in recent years.
~ The drought has affected over 60 million mu of farm land nationwide. A mu is a Chinese measure of land area equal to approximately 667 square meters.
~ Given the drop in rainfall, current agricultural production methods appear unsustainable.
~ According to a report by Han Hongyun (
韩洪云
) - an academic at Zhejiang University) and Zhao Liange (
赵连阁
) published in the
Journal of Economics of Water Resources
titled "Issues and Challenges in the Development of Agricultural Irrigation," agriculture has been overly reliant on irrigation facilities, many of which are inefficient or out of date.
~ In Henan, underground water is pumped into fields using electricity. Surface irrigation from the Yellow River would be cheaper and yield better results, but the supply is limited.
~ Water levels in the Yellow River Basin have decreased due to the demands of irrigation.
~ The overreliance on irrigation systems also increases costs for farmers, especially since profit margins for grain are relatively slim.
Original Article:
[
Chinese
]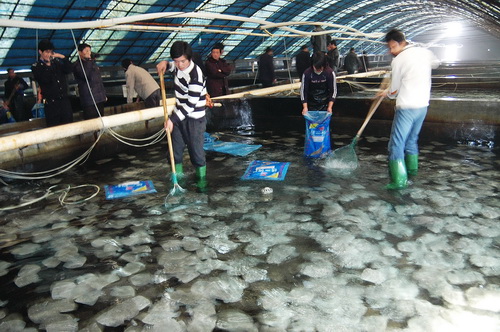 Abuse of Antibiotics Common in China's Aquaculture Industry
Nation, Page 10
~ Mr Gong is the forty year-old owner of a seafood farm in the city of Yantai in Shandong. According to Mr Gong, the practice of using antibiotics in the cultivation of seafood has already become common place.
~ Xiao Yonghong (肖永红), a professor at Zhejiang University's school of medicine estimated that China produces about 20,000 thousand tons of antibiotics each year, of this total she estimates that "half are for humans and half are for animals."
~ Most farmers know which antibiotics to use and are trained in how to use them, but when a disease breaks out among seafood that is being cultivated in a high-density farming situation, it's easy for aquafarmers to slip into a vicious circle of heavy antibiotics usage.
~ Lacking the clear legal provisions and more importantly adequate supervision of existing regilations, the situation in relation to the abuse of antibiotics in aquacultural production is not likely to change any time in the near future.
Original article: [Chinese]
Beijing Pilot Project Evaluates Planned Government Spending

Nation, page 12

~ The Beijing government has piloted a project to conduct a preliminary evaluation of government spending projects. Beijing collected over 230 billion yuan in fiscal revenue in 2010 and budgeted to spend 113.5 billion yuan.
~ The first batch of projects covered by the pilot looked at the costings of seven city-level projects that had been earmarked for inclusion in the budget for 2011. The Beijing government hired a third-party consultant company to evaluate all the projects.
~ After the evaluation process was completed, one of the projects - a plan to promote a hotline that had been set up by the Beijing Civil Affairs Bureau - was cancelled. The other six projects were criticized for either being insufficiently detailed or too risky.
Original article:
[
Chinese
]
International Hedge Funds Bet Against China's Real Estate Sector
Market, Page 17
~ Famous American hedge fund investor James Chanos, or 詹姆斯 查诺斯 Zhānmǔsī Chánuòsī in Chinese, is trying to profit by betting against China and particularly the continued strength of the country's real estate sector. In January last year, Chanos was quoted as saying that China's surging real estate sector looked like "Dubai times 1,000 — or worse."
~ Chanos through his New York-based hedge fund, Kynikos Associates makes use of companies listed on the Hong Kong and American share markets, commodities and financial derivatives to bet against the continued steady rise of China's property market.
~ One unnamed employee of a Wall Street investment bank told the EO, "it's quite normal, in the past there have been investors from even more famous hedge funds who also tried to short China, but none of them have ever suceeded, normally after losing a lot, they make a quick escape." This source believed that shorting China was quite common among hedge funds, however, after so many years, no-one has ever succeeded in profiting from it.
~ Independent economic commentator Andy Xie (谢国忠) thinks the so-called shorting by these large and influential investors won't threaten China's economy. Xie argues that these investors don't really understand China, especially the fact that the economy is not a total market economy and that the Chinese government will not let a crisis take place.
~ Ben Shenglin (贲圣林) the CEO of JPMorgan Chase Bank (China) seems to express the mainstream opinion among large overseas banks when he said, "although there are many challenges, we are still optimistic about China's overall economic fundamentals."
Original article: [Chinese]


Why Do Some Companies Disappear?

Corporation, page 25

~ The EO has done a special feature on how some companies that have slipped from their dominant positions or have otherwise been marginalised over the past decade.
~ Kodak, a traditional film producer, was once determined to monopolize China's photographic film market. But now, with the emergence of digital cameras, film manufacturing has all but disappeared.
~ Gome and Suning, two of China's largest home appliance retailers, could never have predicted that one day they would be defeated and even perhaps replaced by online shopping platforms, such as 360buy.
~ Another sector at risk is the property industry. It's predicted that China's large-scale urbanization will be complete in 2013, bringing an end to the high growth rate of the country's property sector.
~ The EO has attributed their fall from dominance to constant technological improvements and changing habits of consumption.
Original article:
[
Chinese
]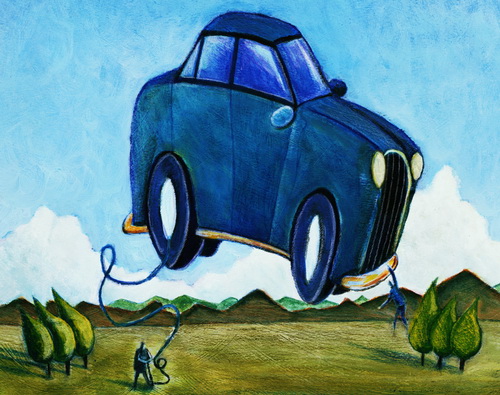 Eight Predictions for China's Car Industry

Automobile, page 33

~ With the spread of vehicle purchase restriction policies throughout China, China's car industry is facing a turning point in 2011. But where it is headed is the question.
~ On the one hand, the Chinese government has ceased stimulus policies targeted at car industries; instead, some cities including Beijing are imposing restrictions on potential car buyers, pushing the China Association of Automobile to decrease its prediction for the growth rate of China's car industry in 2011 by 10 percent.
~ On the other hand, the Chinese government has started to promote alternative energy vehicles and there are still a huge number of potential car buyers across the country.
~ That's why the China Association of Automobile Manufacturers predicts that the growth rate of the industry will be somewhere between 10 percent and 15 percent in 2011.
~ The EO has made eight predictions concerning China's car industry in 2011:
*Prudent development
*Joint-venture car manufacturers to develop their own brands
*Multiple brands will be developed
*Alternative energy car, a new player
*Car-makers to be listed on the stock market
*Diversion between big car makers and their smaller counterparts
*Products with unique characteristics will be viewed favorably.
*Severe competition between domestic car makers and their foreign counterparts
Original article:
[
Chinese
]