By Tian Peng (田鹏), Sun Lichao ( 孙丽朝)
Nation, page 12
Issue No. 543, Nov 07, 2011
Translated by Caitlin Coyle
Original article: [Chinese]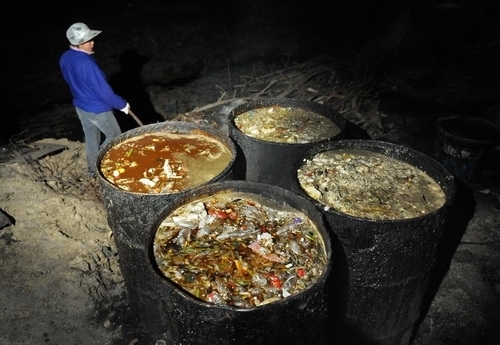 A recent crackdown by authorities on illegal "gutter oil" (地沟油) collection, resale, and usage has brought the issue to the limelight in recent months. New regulations that are likely to be introduced in Beijing this month could force many large restaurants to install new machinery in a bid to deal with the growing problem of "gutter oil" and to strengthen food waste management in general.
"Gutter oil" refers to old cooking oil and food waste, that is collected and resold as regular cooking oil. The issue of gutter oil has led to a greater analysis of sanitary conditions related to restaurant waste and legislation to increase processing.
A restaurant close to Guanyin Temple in Beijing's Daxing district, recently acquired a machine that processes food waste. The machine is 2.4 meters long, 1.4 meters high, and 1.4 meters wide. As the machine turns on, it produces a buzzing sound and steam comes out of the top air vent. Due to limited kitchen space, the machine has to be put outside. Food processing machines are given to some restaurants free of charge, as an initiative to stop the production of "gutter oil" and improve waste management. The restaurant only covers the electricity cost. The machine can process 300 kilograms of food waste a day.
Food waste accounts for around half of China's garbage. In Beijing, the percentage is even higher at 62 percent. Disposing of garbage with such a high content of food waste can be complicated. High water content makes collection difficult. Improper handling can lead to serious environmental problems. According to Beijing Municipal Government advisor Wang Weiping (王维平), "Beijing collects about 17,400 tons of garbage a day, 10,000 tons of which is food waste." The shear amount of food waste provides plenty of ingredients for "gutter oil".
This food waste often does not make it to the processing plants. In 2010, official statistics said that 78 percent of the country's non-toxic domestic waste was treated. However, an offical from a bureau under the Ministry of Housing and Urban-Rural Development who didn't want to be named, told the EO at a recent conference that "on the contrary the quality of waste disposal is not very high."
In September, Beijing's People's Congress adopted the second trial of waste legislation titled, "Beijing Municipal Solid Waste Regulations." Once it's enforced in November, Beijing will be the first city in China to have passed solid waste management legislation.
The legislation specifically deals with "gutter oil" by targeting the sources: food waste and discarded cooking oil.
To improve the situation there are several goals to be met by 2015. On the national level, the harmless waste treatment capacity should reach a level that exceeds 80%. Municipalities, provincial capitals, and cities are given the responsibility of coming up with their own plans to help reach this goal.
In August, Beijing passed legislation "On Accelerating the City's Food Waste and Waste Oil Recycling Program." Its target is to increase the daily food waste daily processing capacity to 2,200 tons by 2012. For 2015 the target is 2,900 tons. There should be a unified, standardized, and orderly processing of waste oil collection and improvement of the transportation system.
An official from the Solid Waste Management Committee of the Beijing Municipal Office, who asked not to be named, said, "It will take 2 to 3 years to solve the problem of waste management," and that, in order to strengthen the policies, "we suggested that establishments should be shut down if they don't have any clear method for handling their waste or if they're found to have illegally disposed of their kitchen waste."
According to the the regulations, dining establishments that hold more than 1,000 people or exceed 1,000 square meters, as well as canteens at schools, colleges, and large institutions should establish their own canteen waste treatment facilities. According to estimates, there are over 26,000 establishments that match this description.
The goals are lofty, and according to Chai Huiying (柴影辉), marketing director for an engineering company in Beijing, "even if the food and drink establishments do not have to have the equipment in place, the government policy says what to do, but how do you do it at such an intense rate?" There are several problems that must be overcome in order to meet these goals.
Four major food waste treatment plants were built before the Olympic Games. None of them are running now. For many food waste treatment plants, the problem is that not enough food is being sent their way. Only 40% of food waste is actually being collected. Also, restaurants often do not send their food waste to a plant, instead some sell it to be processed into gutter oil.
The other problem for waste treatment plants is inconsistent demand for their final products. These can be divided into four categories: organic fertilizer, feed, biogas, and biodiesel. China has already built a biodiesel plant with the capacity of over 1 million tons, but the actual output is only 30,000 tons. "For example, Shanghai should be collecting 40 or 50 thousand tons of waste oil, but those who collect only received between 6,000 and 7,000 tons," explained Tan Tianwei, Vice President of Beijing University of Chemical Technology.
Treatment goals for 2011 include the improvement of food waste collection and transportation standards, the increase of food waste daily collection to 1,000 tons, getting large institutions to process waste on site, and increasing waste oil processing to 10,000 tons. One can only hope that the goals encourage more legislation, since there's little incentive for change at the moment. Beijing may have even noisier streets to look forward to, but at least they won't have to watch for grease under their feet.