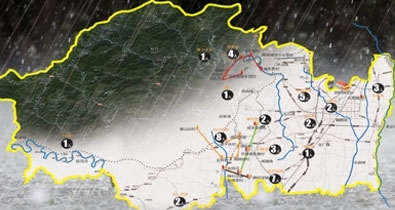 By: Feng Jun (冯军), Chen Wenya(陈文雅), Xie Liangbing(谢良兵), Hu Fangjie(胡芳洁), Xiong Xuan(熊玄), and Wang Jinbo(王进波)
News, page 1
Issue 580
July 27, 2012
Translated by Wang Fan
Original article: [Chinese]

On July 21, the heaviest rainstorm to hit Beijing in 61 years caused unexpected flooding and landslides, exposing flaws in urban planning and disaster management.

As of July 26, the official death toll had been raised to 77 - 42 of which were reported in Fangshan District. Hancunhe, Zhoukoudian, Qinglonghu towns were listed as the most seriously affected in the district.

An investigation of those areas revealed that a poor warning system, the blockage of rivers resulting from poorly-managed economic projects, and side-effects of coal mining were crucial factors aggravating the disaster. Concerns have especially risen over Changyang Town of Fangshan district, which has built extensively in what was once a flood diversion zone.

Poor Warning Services

There were flood warnings on the morning of the downpour which were first sent out to towns in Fangshan district, and then passed on to villages via phone and text message.

"Warnings were released in the sub-districts and towns. After finishing a meeting at 4 pm, we soon informed villagers of potential flooding," said An Limin, an officer in Wajing village of Zhoukoudian town. "A rescue team of 100 members was assembled that evening and saved more than 130 people in Wajing village."

Xiao Shuqing, secretary of Xinjie village in Zhoukoudian town, also said that information was broadcast to his village and over 200 villagers were successfully evacuated. However, warnings didn't reach all villagers.

"No, there was no flood warning," said one Fangshan resident. "We didn't know that rivers would be swelling."

Villages in the hilly parts of Fangshan generally had adequate emergency procedures for flooding and public evacuations were effective. However, awareness in downstream plains, where droughts have been common in recent years, was much lower. According to information released by the Beijing flood control headquarters, almost all of the towns with large death tolls were in low-lying plains.

Manmade Disaster

The 17-kilometer Jiakuo River was the source of many casualties. Floods surges that swept down the river through several villages left a huge pit of standing water at the entrance of Dongdanzhang village. Six bodies were discovered in this pit. According to An Limin, an officer in Wajing village, another "six or seven bodies" were discovered in the mid-section of the river.

Blockages were found to have been impeding the normal discharge of floodwaters. According to residents along the river, waste discarded by local stone processing plants and improperly disposed garbage had piled up on the riverbed.

"The river had been silted. Otherwise the floods wouldn't have been so devastating," said one villager.

After the rainstorm, several excavators were trying to clear the river at the gate of Nanhanji village. The river stretched about 20 meters wide with waste clearly visible in the riverbed. Residents said that it was less than 10 meters wide before the disaster. A 49-year-old local man surnamed Wang said it used to be 30 to 40 meters wide when he was a child.

More than 10 stone processing plants lined the river bank within 200 meters of Wajing village's entrance. According to Village Secretary Zhou Yucheng, there are over 100 such plants in Wajing village alone. He estimated more than 1,000 line the entire Jiakuo River.

Rich in dolomites and white marble, Fangshan has had a stone processing industry since the Qing Dynasty. The industry developed from the cradle of Dashiwo town and has peaked along the Jiakuo River over the last three to five years, according to Zhao Min, who's operated his "Xinminjingshi" plant for over 10 years.

"Garbage trucks to transport waste materials were only introduced two or three years ago," Zhao said. "Before that, waste was directly thrown into the river by some stone processing plants."

Secretary Zhou said that investment in the stone processing industry was encouraged by the local governments to boost the economy. It was only in recent years that the industry was restricted in order to benefit local tourism. However, government restrictions did little but encourage secret illegal processing.

The debris flow resulting from the heavy rains was also attributed to coal mining in the region. With 2.1 billion tons of coal reserves, Fangshan is regarded as the "coal storehouse" of suburban Beijing. According to statistics published by the Beijing Municipal Bureau of Land and Resources, coal mining in Fangshan has resulted about 14-square kilometers of unstable land very susceptible to flooding.

Temptations of the Drought

Since floods haven't occurred for so long, flood control has been off the radar of villages throughout Fangshan. As a result, dried out riverbeds have been harnessed for promoting local economies.

Similar to Jiakuo, other river systems like Juma have been strained by human activities. Among the five major river systems, the Yongding River and the Juma River both run through Fangshan.

According to a staff member at the Office of Water Administration and Supervision in Fangshan, sand and gravel extraction was originally concentrated along the Yongding River in the 1980s, but restrictions were imposed in 1998. After that, sand quarries were relocated to the Juma River where dried out areas became the focus of mining.

Apart from sand quarries, some houses and dumps were also established in dried riverbeds. "There are three spillways in the village; the Jiakuo River, the North Ditch and the East Ditch," said Wajing Secretary Zhou Yucheng. "Houses have been built in all these spillways."

Long periods of drought have lulled Fangshan into a false sense of security that's enabled several risky projects. Changyang Town is perhaps the best example. What was once a flood-diversion zone became a booming real-estate market.

Fangshan New Town in Changyang, which was established over the past six years, is on the Yongding River plain. Throughout history, this region has been part of Xiaoqinghe flood-diversion zone, which serves as a reservoir where excess water from the Yongding River is discharged to ensure the safety of downstream areas and Beijing. But the rarity of floods over the past several decades led many to believe keeping the area empty was pointless.

Flooding was once frequent in the Yongding River basin but there hasn't been a serious deluge for more than 50 years. "My grandpa told me that we were on the low-lying region and it would be destructive should floods occur," said a lifelong Changyang resident named Guo. "But many years have seen only dry riverbeds where even golf courses have been established."

Changyang started to rent out land in the Xiaoqinghe flood-diversion zone to businesses as building material trade centers in 1999. In 2003, China Water Resources Beifang Investigation, Design & Research company (BIDR), authorized by the Fangshan District government, composed The Planning Report for the Construction of Xiaoqinghe Flood-Diversion Zone in Beijing (hereafter referred to as The Report). It was approved by the Ministry of Water Resources in January 2006.

The Report adjusted the boundaries of the Xiaoqinghe flood detention basin, adding three safety zones for the development of Fangshan New Town, which, as The Report outlined, was in line with economic and social sustainability in the region. It allowed for 102 square kilometers of land for urban construction.

"This is a good opportunity for Fangshan to harness its land for economic development," said Gu Qun, a designer in the planning department of BIDR who helped compose The Report. "The special terrain of Fangshan leaves very little space for its development. The district is equally comprised of mountainous regions and plains, and even half of the flat area is reserved for flood diversion."

Upon approval of The Report in 2006, the Southern Town project and the Fangshan Central Shopping District (CSD) were started. The value of Fangshan's land skyrocketed almost overnight. It was originally valued at less than 1 million RMB per mu (1 mu = 0.16 acre). However, after the approval of the CSD plan the first piece of land was sold for over 10 million RMB per mu, according to Peng Song, senior manager at the Beijing Dayue Consulting Company.

Apart from an increase in land finance, the construction of the New Town has also given rise to government revenue. Statistics show that taxes received by the Changyang government reached 1.04 billion RMB in 2011, rising 65 percent year-on-year.

However, new concerns have arisen from the July 21 rainstorm.

The Zhenbiguiyuan Residential Area in Changyang was hit hard by the downpour. Submerged basements, a five-day cut to the water and electricity supply, and two deaths resulting from electrocution have prompted a reconsideration of Changyang's urban planning.

Flood control exercises are conducted every few years along the Yongding River. The latest occurred in July of 2010.

"I've heard that Changyang used to be a flood-diversion zone for the Yongding River," said a man named Li living in the Zhenbiguiyuan Residential Area. "I'm not sure whether or not flood discharge facilities have actually been established here though."

Correction: An earlier version of this article stated that run-off from coal mining and 14 square kilometers of coal reserves aggravated the disaster. Unstable land resulting from coal mining covering 14 kilometers was in fact what aggravated the disaster.