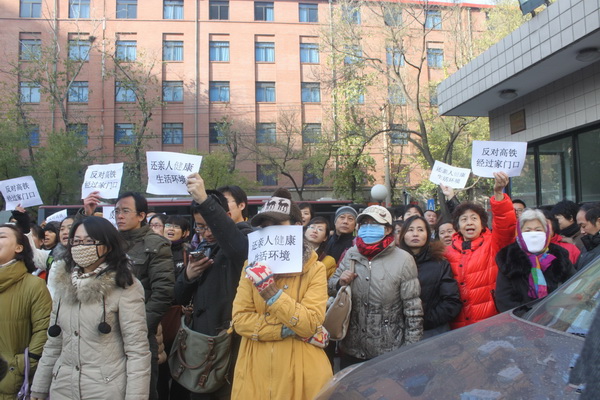 Economic Observer Online
By Xie Liangbin (谢良兵)
Dec 14, 2012
Translated by Zhu Na
Original article: [Chinese]

On the morning of Dec 12, representatives of residents living on both sides of a proposed new Beijing to Shenyang high-speed railway line submitted a petition with the Letters and Visits Office of the Ministry of Railways.

The petition asked that a new route be considered and representatives also questioned the environmental impact assessment report that was completed by the Third Railway Survey and Design Institute (TRSDI).

Cheng Yaoxuan (程耀萱) and other representatives of the residents told the EO that they received the following replies from Ministry of Railway employees: Firstly, construction hasn't yet begun on the Beijing-Shenyang high-speed railway line. Secondly, a feasibility study is currently being carried out. Thirdly, in order for construction to begin, the project must win the approval of residents close to the proposed line.

The Beijing to Shenyang high-speed railway project was given the green light by the National Development and Reform Commission (NDRC) in 2009.

However, the first two environmental impact assessments of the project failed to be approved by the Ministry of Environmental Protection (MEP) in 2009 and in 2010.

On Nov 16, 2012, the ministry received the project's third environmental impact assessment report.

The report showed that the planned Beijing-Shenyang high speed rail will pass a "close distance" from the residential block in which Cheng and other residents live. The MEP will make a decision within 60 days of receipt of the report.

On Oct 26, the project's soil and water conservation plan was approved by the Ministry of Water Resources.

According to China's railway construction process, once the environment impact assessment report has been passed, then NDRC then needs to approve the project's feasibility study. Construction of the railway line will begin shortly after approval of the feasibility study.

On the day of Nov 29, which was the last day on which the environment impact assessment was required to be made public, several hundred residents of went to the Beijing Municipal Commission of Urban Planning to seek a hearing with the planning body. Vice director of the Commission Zhou Nansen (周楠森) said he hoped that everyone could work together to meet both the national interest and personal interests

Zhou emphasised that what he wasn't spouting "empty words".

The environment impact assessment reveals that the line will be just over 700 km long and require about 121 billion yuan of investment to construct.