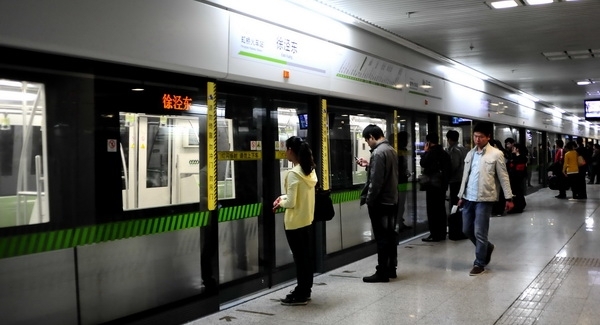 By Ye Jingyu (叶静宇)
Nation, Page 10
Issue No. 582
Aug 13, 2012
Translated by Tang Xiangyang
Original article: [Chinese]

This is an abstract of the front page story from this week's edition of The Economic Observer, for more highlights from the EO print edition, click here.

On Aug 3, Hangzhou's Municpal Pricing Authority held a public hearing into the proposed ticket prices for the city's No. 1 subway line, that is set to begin operation on Oct 1 this year.

As the metro line will connect the downtown area of Hangzhou with the outer suburbs, the city has decided to implement a pricing system that takes distance travelled into account.

Two pricing systems were put forward at the hearing, the first charges passengers 2 yuan for trips that are under 4 kilometers and then has a peak price of 9 yuan for the longest possible travel route. The second pricing system proposal would see passengers pay 3 yuan for any trip below 6 kilometers and a maximum 8 yuan ticket charge for a single ride.

Despite the fact that these two pricing plans had been published 15 days ahead of the price hearing, most of those taking part in the hearing could not restrain their anger - the way they saw it, both of these proposals meant that the price of a ride on Hangzhou's subway would be more than in Beijing, Shanghai and Guangdong, making it the most expensive in the country.

The representative of the subway operator wasn't happy either. According to Tang Zhinong (唐志侬), the general manager of the Hangzhou Metro Group Operating Company (杭州市地铁集团运营公司), "the costs of constructing the Hangzhou Metro were high, the production costs are high, there were a lot of problems, yet no matter which of the two pricing proposals we adopt, the subway company is going to make huge losses."

The difficulties of making subway lines run at a profit have existed for over ten years and, up until now, no solution has been found.

It's obvious that simply relying on revenue from ticket sales is not enough to cover the sizable operating costs.

Attempts to replicate the Hong Kong model have also proved unsuccessful, with most city governments instead being forced to pay out billions of yuan each year to subsidize operations.

Profits and Losses

There are currently 12 cities in China that have operating subway systems. All of these cities use one of three types of ticketing system.

The Beijing model which charges passengers one flat ticket price for all travel - i.e in Beijing you pay 2 yuan for a ticket no matter whether you're only going one stop or all the way to the otherside of town. Then there is the Nanjing or Chengdu model which has different prices for different zones of travel - so for example on Nanjing's Line 1, you can travel the first 8 stations for 2 yuan and then for each 4 additional stations you pay and extra 1 yuan. Then there is the Shanghai and Guangzhou model which calculates the ticket price according to distance travelled.

Hangzhou plans to implement the same kind of system that is used in Shanghai and Guangzhou.

According to estimates prepared by the Hangzhou Metro Group, the new subway line will see about 80 million passenger trips in 2013 and this means that revenue from ticket sales should come to about 330 million yuan.

However, according to the cost estimates produced by the Hangzhou Pricing Bureau, investment in the Line 1 project came to a total of 23.6 billion yuan and total costs for 2013, 2014 and 2015 would come to 1.86 billion, 1.92 billion and 1.98 billion yuan respectively, of these costs, opertaing costs for the three years will come to 578 million, 639 million and 700 million yuan respectively.

If we calculate this according to the number of individual trips, operating costs work out at 7.2 yuan per passenger-trip in 2013, 6.92 yuan in 2014 and 6.07 yuan in 2015.

According to the two pricing systems that have been put forward, revenue from ticket sales would only cover close to 18 percent of total annual costs and almost 57 percent of total annual operating costs.

The city will not be able to rely on ticket revenue alone to cover the costs of operating the subway line.

"Even if we don't take any depreciation into account and only consider the operating costs and fiscal expenditure, each year we'll need to pay about 1 billion yuan in subsidies," an official from the Hangzhou Price Bureau told the EO by phone.

Hangzhou isn't the only city that relies on government subsidies.

According to the Shenzhen Metro Group's 2010 annual report, the company's operating revenue in 2010 was 860 million yuan, once we take off the 730 million yuan in operating costs and tax and various other costs, the company had an operating loss of 204 million yuan in 2010.

However, with thanks to a one off payment of 834 million yuan of "external revenue," the company was able to report an total profit of 629 million yuan.

According to a note in the report, 831 million yuan of this non-operating income came from government subsidies.

At a press conference held to unveil the 2010 annual report, a senior representative from the Shenzhen Metro Group told the media that the subway's losses were primarily due to ticket prices. Shenzhen's average per capita subway fare is 2.8 yuan per trip, while the actual cost is as much as 5.9 yuan per passenger-trip.

Beijing is also reported to lose about one billion yuan each year running its system.

Only one of Shanghai's subway lines operates at a profit.

But there are successful cases. In Nanjing it costs two to four yuan to ride the subway, which attracts over a million passengers each day.

Nanjing's subway system also employs less people per kilometer than other subway systems in the country.

In Hong Kong, the subway company also develops property along the subway lines. Both cities have profitable subway systems.

However, Hangzhou's subway tickets can't be priced too high because the system is chiefly aimed at discouraging people from driving. The subway company isn't allowed to develop properties either.

The Difficulties in Replicating the Hong Kong Model

But there is hope. The Hangzhou Subway Group has formed an agreement with Mass Transit Railway (MTR) – Hong Kong's subway operator - to let the latter operate Hangzhou's line for 25 years. It's still not clear whether the city can replicate Hong Kong's success.

MTR was similarly invited to operate Shenzhen's subway. After some initial trouble with the National Development and Reform Commission, it bought over 200,000 square meters of land to develop subway lines and properties. However, experts doubt it will succeed. MTR was able to get cheap land in Hong Kong to develop its system, but the land it bought in Shenzhen was from auction and thus, much more expensive.

Yao Yanfang (姚艳芳), an intern with the EO, also contributed to this story.