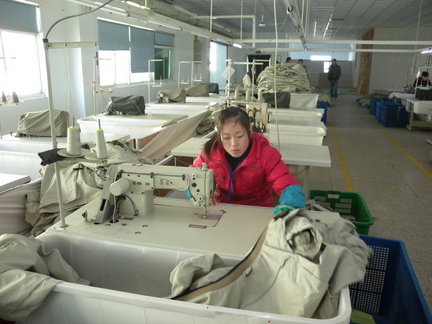 Photo: The Oregonian

By Hu zhongbin(胡中彬), Yang Xingyun (杨兴云), Zhang Bin (张斌), Peng You(彭友), Li Yian (李意安), Wan Xiaoxiao (万晓晓) and Wu Weiting (吴娓婷)
Issue 628, July 15, 2013
News, page 1
Translated by Zhu Na
Original article: [Chinese]

Recently Li Zibin (李子彬), president of the China Association of Small and Medium–sized Enterprises (中小企业协会), sent a letter to State Council Vice-Premier Ma Kai (马凯) detailing the severe difficulties faced by SMEs around the country.

One of Li's main worries was that capital chains are tightening, making it very difficult for businesses to obtain and afford financing. The risk of an economic downturn is causing many industries to face painful adjustments, but for SMEs, which are especially vulnerable, it's becoming a matter of life and death.

"I and many entrepreneurs have felt the crisis coming head on," said Zhou Dewen (周德文), chairman of the Wenzhou SME Development Association. Recently, many entrepreneurs have come to him for help saying that capital is in short supply and they have nobody to turn to.

"It's becoming more and more difficult for SMEs to get financing," Zhou continued. "The problem hasn't been eased in recent years. Personally, I think the current crisis is far worse than that of 2011."

"Fleeing boss" stories haven't appeared in the media as much as they did in the aftermath of the 2008 global financial crisis, but Zhou says that such cases are still happening frequently in Wenzhou. He believes there will be more serious cases of bankruptcy and "fleeing bosses" over the next four months.

"After the Chinese New Year, there were obviously fewer luxury cars on the roads," said Wenzhou local Hu Jun. "Many bosses ran out of money and sold their luxury cars to second-hand dealers for cash."

Hu says that since last year he's also noticed that housing prices in Wenzhou have fallen dramatically. "For a place close to downtown, the price in 2011 reached more than 40,000 yuan [per square meter], but now it's about 14,000 yuan."

These events have coincided with channels for SMEs to obtain short-term liquidity drying up.

Li Xingwen (李兴文), the boss of a hardware company in Dongguan, said that in the past his company could deliver 3 million yuan's worth of orders in a month. But now, due to the lack of liquidity, he can barely manage to utilize 50 percent of his production capacity.

Since Li's factory is rented, his only asset is his production equipment, which isn't worth much. This makes it impossible to get loans from commercial banks, so when cash is tight, he usually just asks friends for help. If he's in an especially desperate situation, he can only go to small loan companies, but the interest costs are usually prohibitively high.

Li says that even though China's overall export situation is tepid, there is still demand in the market. "Now, the largest restriction is the lack of liquidity," Li said. "If this can be solved, it's estimated that the production capacity and sales volume of many SMEs can be improved 30 to 40 percent."

Recently, Wenzhou organized a forum for banks and businesses in order to address financing problems. All 26 banks in Wenzhou attended, whereupon they were criticized by SMEs in front of the city's mayor and party secretary for not being supportive enough.

An entrepreneur speaking at the forum said that the relationship between banks and businesses should be like that of a "fish and water." Banks should support businesses' development, giving water in order to breed fish. But in fact, the relationship has become one of "water boiling fish" (水煮鱼), the entrepreneur said.

Zhou says that the relationship between banks and businesses in Wenzhou has hit a low point. He explained that in order to get loans repaid, banks "cheat" some enterprises by saying that they must pay-off loans first, then they can continue to get more loans in the future. But once businesses have repaid the loans, the banks no longer lend to them. "For this reason, many enterprises in Wenzhou now no longer pay the banks interest," Zhou said. "Banks not only fail to support enterprises going through difficult times, but they also call loans in and put pressure on repayment, which adds more tension to businesses' capital chains."

Wenzhou's Judger Group (庄吉集团) is a typical case. Since 2011, banks have called in 107 million yuan in loans from the company, leaving it on the verge of bankruptcy. Judger's capital chain hasn't broken completely yet, but its normal production and operations have been severely hampered.

Dr. Ding Li (丁力) from the Guangdong Provincial Academy of Social Sciences told the Economic Observer that although the central government and local governments have made a lot of noise about improving the situation for SMEs, the capital flow still hasn't improved much. The reason, he says, is the system. State-owned enterprises are the "son" of the government, so naturally they're given more support.

Research by the Guangdong Provincial Finance Office shows that most SMEs aren't able or have a very hard time meeting financial institutions' current credit rating requirements. "Under this financing environment, SMEs having trouble getting loans is an inevitable phenomenon," Ding said. "When there is a financial crisis or capital is in short supply, SMEs will certainly be hurt first and worst."

With the crisis of breaking capital chains coming, SMEs can only turn to the government for help. In fact, a number of local governments, including Wenzhou, have come forward to coordinate between banks and enterprises, hoping banks can help to overcome the immediate crisis. In some cases, they're requiring banks to refrain from calling in loans or putting pressure on companies. But financial experts say this kind of administrative command on commercial banks won't completely resolve the current crisis.

Ye Huisheng (叶穗生), an official from the Guangdong Provincial Financial Service Office, said that supporting SMEs will mainly fall to small loan companies. But due to these companies' small scale, their effect will be very limited. The only way to meet SMEs' capital demands is to continue increasing the number of small loan companies and strengthening them.

The advice that Li Zibin gave in his letter to the State Council included continuing to transform banks' financing mechanisms, providing more financial support to SMEs, launching small financial institutions like village, town, and community banks and allowing more private capital to enter the financial system; as well as developing and standardizing markets for securities, private equity, venture capital, property rights trading and financial leasing.

The letter was reportedly forwarded to the people in charge of the Central Bank, China Banking Regulatory Commission, China Securities Regulatory Commission and other ministries for discussion.

"We now see a ray of hope," said the head of a small enterprise in Wenzhou.