Issue Wrap No. 525, Jun 27, 2011
Issue Wrap No. 525, Jun 27, 2011
By English Edition Staff
Highlights from the EO print edition, Issue Wrap No. 525, Jun 27, 2011
Joe Zhang on Why He's Leaving UBS and the State of China's Stock Market
News, cover
~ The EO met with the former deputy head of UBS's investment banking arm in China, Joe Zhang (Zhang Huaqiao) last week, we asked this veteran analyst about why he was leaving the bank to join a Chinese micro-loan company and also his outlook for China's stock market.
~ The 50-year old Zhang told the EO that he's pessimistic about the outlook for China's A-shares and when asked about the recent series of scandals involving Chinese companies listed in the US, he noted that Chinese companies and China's stock market were "abnormal" and that everyone from senior managment, to auditors, analysts and local governments collude with each other.
~ Zhang repeatedly told the EO's reporter that he's no Lei Feng, explaining that his decision to join the microlender was also based on the judgement that he'll be able to make a lot of money from the business.
~ Zhang was motivated to enter the microfinance field because he saw that many of China's larger banks did not think it was worth their time to deal with small loans to small business.
Original article:[Chinese]
http://www.eeo.com.cn/2011/0624/204544.shtml
National Audit Office: Over 10 Trillion in Local Government Debt
News, cover
~ China's local government debts came to around CNY10 trillion at the end of 2010, according to an investigation by China's National Audit Office that was released on Monday. The EO gained early access to the report and first published the story on Friday evening.
~ The report was the result of a three-month investigation into local government debt held by provincial, municipal and county governments that was iniated in February this year on the order of China's State Council.
~ One unnamed local government financial official told the EO that "the scale of the debt was less than we had predicted."
~ The debt accounted for accounted for around 25% of last year's GDP of 39.8 trillion yuan.
Original article:[Chinese]
http://www.eeo.com.cn/2011/0624/204536.shtml
Party Members on Hurun's China Rich List
News, cover
~ With a total wealth of 80 billion yuan, Zong Qinghou from Hanghzou Wahaha Group Co., Ltd ranked first on Hurun's China Rich List in 2010. Zong is a party member. Similarly, Wang Chuanfu, the head of BYD Auto, who topped the 2009 list with personal wealth of 35 billion yuan, is also a party memeber. However, Huang Guangyu, the jailed former chairman of electrical goods chain Gome, who held the top spot in 2008 with 43 billion yuan, is not a party member.
~ Like Zhou Haijiang from Hongdou Group Co., Ltd, some of the wealthy party members are veterans who first joined the party when they were at university and then went on to have succesful business careers.
~ Other entrepreneurs are comparatively new members who joined the party after private business people were encouraged to join the party.
~ There's also been an increase in the number of children of wealth individuals who are signing up to become party members.
~ According to the statistics from Hurun's Rich list for 2006, 35% of the private entrepreneurs on that year's list were party members or came from a party background.
~ Given the "party-joining fever" among private entrepreneurs and the second generation of wealthy individuals, it's likely that the proportion of party members on this year's list will have increased.
Original article:[Chinese]
http://www.eeo.com.cn/2011/0624/204535.shtml
Special Feature: The Sanlu Melamine Milk Scandal - Three Years On
Nation, page 9 -11
~ This week the EO looks back at the Sanlu melanine scandal and, with questions about milk standards in the news again, asks whether it could happen again.
~ China's dairy regulators currently allow a bacteria count of 2,000,000 per ml of milk, much higher than the international standard of 500,000 per ml.
~ The secretary of Inner Mongolia Dairy Industry Association argued that the bar of the new standard has been set too low in an attempt to protect the Chinese dairy sector and dairy farmers, who, as small operators, would find it difficult to meet the international standard.
~ However the president of Guangzhou Dairy Industry Association, Wang Dingmian, claims the new standard as the lowest and worst in the world. In his interview with EO, Wang reveals inside stories of the dairy industry.
~ In another article the EO describes a visit to Shebiya village (舍必崖村) located on the outskitrs of the Inner Mongolian capital of Hohhot to examine the situation of private dairy farm after the Sanlu milk scandal and explores the recent push for individual farmers to join larger dairy cooperatives.
~ In another article, the EO looks at attempts by families whose children were poisened by the melamine in milk to seek compensation. On June 8 this year, the China Dairy Industry Association posted the total number of families who had accepted compensation over the past three years. According to the report, 271,869 families have accepted the one-off compensation payment by the end of 2010. Around 30,000 families out of the total 300,000 claimant families refused the government-organized compensation and chose to seek compensation via legal channels.
~ However the trial of Gong Chang, one of the 30,000 claimant families, has been postponed indefinitely.
~ Finally, the EO also take a look at the great changes have taken place for former Sanlu employees and dairy farmers after the Sanlu Melamine Milk Scandal.
~ Three months after being taken over by Sanyuan, only about 1,000 employees of Sanlu's 2,900 employees were kept on.
~ Employees who cannot retire and are not provided with a position now recieve a 400 yuan per month allowance to stay at home.
Original article: [Chinese]
http://www.eeo.com.cn/2011/0624/204534.shtml
Swimming with Sharks - Profile of Joseph Chen (Chen Yidan), CEO of Renren
Business Review, page 41
~ The EO's Zhang Jing sits down with the head of one of China's most popular social networking sites.
Original article: profile [Chinese]
http://www.eeo.com.cn/2011/0624/204615.shtml
By English Edition Staff
Highlights from the EO print edition, Issue Wrap No. 525, Jun 27, 2011

Joe Zhang on Why He's Leaving UBS and the State of China's Stock Market
News, cover
~ The EO met with the former deputy head of UBS's investment banking arm in China, Joe Zhang (Zhang Huaqiao) last week, we asked this veteran analyst about why he was leaving the bank to join a Chinese micro-loan company and also his outlook for China's stock market.
~ The 50-year old Zhang told the EO that he's pessimistic about the outlook for China's A-shares and when asked about the recent series of scandals involving Chinese companies listed in the US, he noted that Chinese companies and China's stock market were "abnormal" and that everyone from senior managment, to auditors, analysts and local governments collude with each other.
~ Zhang repeatedly told the EO's reporter that he's no Lei Feng, explaining that his decision to join the microlender was also based on the judgement that he'll be able to make a lot of money from the business.
~ Zhang was motivated to enter the microfinance field because he saw that many of China's larger banks did not think it was worth their time to deal with small loans to small business.
Original article:[Chinese]

National Audit Office: Over 10 Trillion in Local Government Debt
News, cover
~ China's local government debts came to around CNY10 trillion at the end of 2010, according to an investigation by China's National Audit Office that was released on Monday. The EO gained early access to the report and first published the story on Friday evening.
~ The report was the result of a three-month investigation into local government debt held by provincial, municipal and county governments that was iniated in February this year on the order of China's State Council.
~ One unnamed local government financial official told the EO that "the scale of the debt was less than we had predicted."
~ The debt accounted for accounted for around 25% of last year's GDP of 39.8 trillion yuan.
Original article:[Chinese]

Party Members on Hurun's China Rich List
News, cover
~ With a total wealth of 80 billion yuan, Zong Qinghou from Hanghzou Wahaha Group Co., Ltd ranked first on Hurun's China Rich List in 2010. Zong is a party member. Similarly, Wang Chuanfu, the head of BYD Auto, who topped the 2009 list with personal wealth of 35 billion yuan, is also a party memeber. However, Huang Guangyu, the jailed former chairman of electrical goods chain Gome, who held the top spot in 2008 with 43 billion yuan, is not a party member.
~ Like Zhou Haijiang from Hongdou Group Co., Ltd, some of the wealthy party members are veterans who first joined the party when they were at university and then went on to have succesful business careers.
~ Other entrepreneurs are comparatively new members who joined the party after private business people were encouraged to join the party.
~ There's also been an increase in the number of children of wealth individuals who are signing up to become party members.
~ According to the statistics from Hurun's Rich list for 2006, 35% of the private entrepreneurs on that year's list were party members or came from a party background.
~ Given the "party-joining fever" among private entrepreneurs and the second generation of wealthy individuals, it's likely that the proportion of party members on this year's list will have increased.
Original article:[Chinese]

Special Feature: The Sanlu Melamine Milk Scandal - Three Years On
Nation, page 9 -11
~ This week the EO looks back at the Sanlu melanine scandal and, with questions about milk standards in the news again, asks whether it could happen again.
~ China's dairy regulators currently allow a bacteria count of 2,000,000 per ml of milk, much higher than the international standard of 500,000 per ml.
~ The secretary of Inner Mongolia Dairy Industry Association argued that the bar of the new standard has been set too low in an attempt to protect the Chinese dairy sector and dairy farmers, who, as small operators, would find it difficult to meet the international standard.
~ However the president of Guangzhou Dairy Industry Association, Wang Dingmian, claims the new standard as the lowest and worst in the world. In his interview with EO, Wang reveals inside stories of the dairy industry.
~ In another article the EO describes a visit to Shebiya village (舍必崖村) located on the outskitrs of the Inner Mongolian capital of Hohhot to examine the situation of private dairy farm after the Sanlu milk scandal and explores the recent push for individual farmers to join larger dairy cooperatives.
~ In another article, the EO looks at attempts by families whose children were poisened by the melamine in milk to seek compensation. On June 8 this year, the China Dairy Industry Association posted the total number of families who had accepted compensation over the past three years. According to the report, 271,869 families have accepted the one-off compensation payment by the end of 2010. Around 30,000 families out of the total 300,000 claimant families refused the government-organized compensation and chose to seek compensation via legal channels.
~ However the trial of Gong Chang, one of the 30,000 claimant families, has been postponed indefinitely.~ Finally, the EO also take a look at the great changes have taken place for former Sanlu employees and dairy farmers after the Sanlu Melamine Milk Scandal.
~ Three months after being taken over by Sanyuan, only about 1,000 employees of Sanlu's 2,900 employees were kept on. ~ Employees who cannot retire and are not provided with a position now recieve a 400 yuan per month allowance to stay at home.
Original article: [Chinese]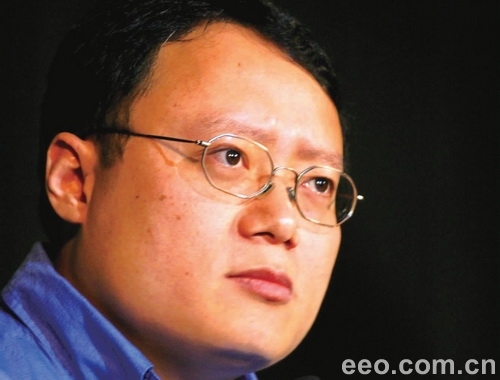 Swimming with Sharks - Profile of Joseph Chen (Chen Yidan), CEO of Renren
Business Review, page 41
~ The EO's Zhang Jing sits down with the head of one of China's most popular social networking sites.
Original article: [Chinese]