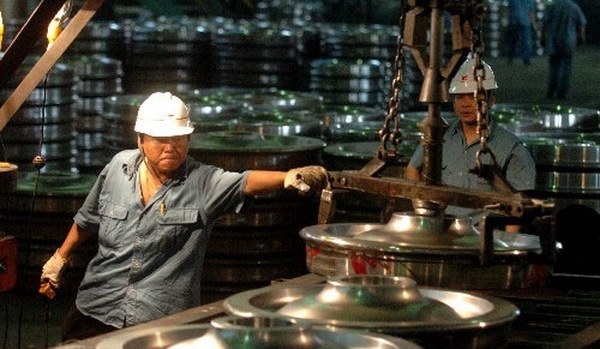 Workers at Masteel
Source: Ma\'anshan Daily
By Zhang Xiangdong (张向东)
News, page 1
Issue No. 561, Mar 19, 2012
Translated by Ma Zheng
Original article:
[
Chinese
]
This is an extended abstract of an article that appeared in this week's edition of The Economic Observer, for more highlights from the EO print edition, click here.
After steel maker and rail wheel manufacturer Masteel received an oral pledge from Liu Zhijun, who, was at that time the Minister for Railways but was later removed from his position on suspicion of "
severe violations of discipline
," the Anhui-based firm made a huge investment in machinery necessary to meet the order.
The company, which had expected to make wheels for the new trains that would run along the new high-speed lines, still isn't on the government procurement list.
The government this year plans to spend 406 billion yuan on railways, according to figures announced during the recent parliamentary sessions. Wu Xun from the railway ministry's Project Management Center, said this cash will be spent on 249 large and medium-sized projects, 41 of which are related to high-speed trains.
Masteel's president Gu Jianguo (顾建国) has repeatedly applied to the railways ministry to get his firm's wheels approved for government procurement.
"The government is pretty supportive of high-speed rail wheels and spare parts being made domesticaly. They also hope we can provide bearings and wheel-trucks in addition to high-speed rail wheels," he told the EO.
However, last year's train crash in Wenzhou has left people fearful that China had sacrificed people's safety in its rush to develop. The Ministry of Railways has become more cautious about buying domestic products for high-speed trains.
"We were fooled by Liu Zhijun at that time," Gu said, referring to his July 6, 2009 meeting with the former minister. "As long as the quality and technology of the wheels produced by Masteel meet the safety standards, no matter how many you have, we'll purchase them all," Liu told Gu during a meeting at Masteel's newly-built headquarters.
There were too many things Gu didn't know at that time. While Masteel was working hard to meet the ministry's specifications and understand the technological challenges of making high-speed train wheels, Liu Zhijun had already been bought off by
Ding Shumiao (丁书苗)
, the chief executive of Zhiqi Railway Corporation.
Just over a decade ago, more than 80 percent of China's train wheels were made by Masteel. But when Liu Zhijun was appointed Minister of Railways, the company lost its contract to Ding Shumiao almost immediately.
Masteel has suffered huge losses over the past couple of months, losing 100 million in January alone. The company's debts also grew by 15 billion yuan between September 2010 and the end of 2011.
Even if Masteel's high-speed train wheels are now certified as meeting official requirments, the company's president Gu says he won't risk embarking on any mass production of the wheels.