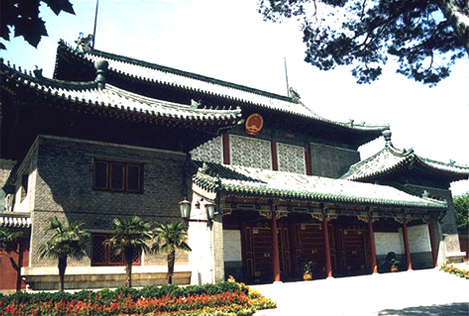 Photo: The outside of Huairentang Hall

By Shen Nianzu (沈念祖)
Issue 621, May 27, 2013
Nation, page 12
Translated by Zhu Na
Original article: [Chinese]

On Dec 26, 2002, just before a lecture was about to begin, soon-to-be-Chinese Premier Wen Jiabao walked into Huairentang Hall at the Zhongnanhai leadership compound to greet Renmin University Professor Xu Chongde (许崇德), a leading scholar in constitutional law, and Zhou Yezhong (周叶中), a Wuhan University law professor.

Zhou later said he was impressed when Premier Wen addressed Professor Xu as "Xu Lao (许老)," a respectful and deferential title. "We've come to listen to your lecture today," Wen told him. "We are all your students."

Soon-to-be-President Hu Jintao then walked towards them, shook hands with Xu, and thanked him for his contribution to the Constitution. The lecture was set to begin at 2 pm, but all nine members of the Politburo Standing Committee and over 100 other attendees were all there by 1:50 pm. Hu had proposed they start a little early so the professors could talk a little longer. This was the first such lecture for top leaders at Zhongnanhai.

Since then, top Chinese leaders have attended similar talks at the leadership compound about every six weeks on a range of different topics. So far, there have been 82 of these events with over 140 speakers.

The "Classroom"

Xu Yong (徐勇), president of the Political Science Research Institute of Central China Normal University and a former Zhongnanhai speaker, explained how the "classroom" is just a simple meeting room. "Perhaps people have wild ideas about Zhongnanhai," Xu said. "Actually Zhongnanhai is very plain and simple. The location of our lecture was at Huairentang Hall. It has many old buildings - very plain, simple and elegant."

"Classroom desks" in the meeting room are lined up in front of the speaker. Normally, about 50 to 60 people attend. Arrangements of the "students" start with the General Party Secretary (currently Xi Jinping) sitting front and center directly opposite the speaker. The lower an attendee's ranking within the Party, the further back and to the side they sit, with the leaders of various ministries usually bringing up the rear.

"The outside world might think the lectures just discuss abstract guidelines," said Chen Xuewei (陈雪薇), former professor in the Party School of the Central Committee of the CPC and one of the few females to have spoken at Zhongnanhai. "Actually, it's very practical. We have materials and real examples. We're not just making a speech or giving a work report. It's just like teachers discussing real issues. There are no reservations."

Zhou Yezhong says that leaders don't hold back during these lectures. "Leaders' perspectives are very realistic," Zhou said. "There are no sensitive topics, no forbidden zones. Most topics are hot button issues."

Lectures generally last about two hours with each of the two speakers talking for 40 minutes, followed by 30 minutes for discussion and questions. At the end, the Party Secretary will give a summary and announce that the lecture has ended. Zhou recalled though that the first lecture went more than 30 minutes longer than scheduled.

The topics covered are very diverse, including economics, law, military, science, technology, culture, education, healthcare, employment and social security. Economics and law lectures have appeared with the highest frequency.

Five lectures have so far taken place in 2013. They've begun to deviate from tradition in that three of those five lectures weren't presented by outside speakers, but by officials from central ministries. The first lectures for the 16th and 17th CPC Central Committees in 2002 and 2007 respectively began more than one month after the First Plenary Session of the Central Committee with talks from legal experts. However, the first lecture of the 18th Central Committee in 2012 was held just three days after the First Plenary Meeting and it featured no outside lecturers. Instead, Xi Jinping delivered a speech.

Wang Guixiu (王贵秀), a professor at the Party School of the Central Committee of the CPC, said this has been very rare in the past. In fact, of the previous 77 lectures, only two were given by officials, and those were during the buildup to the 2008 Olympics.

Preparing Lessons

When arranging a lecture, the Policy Research Office of the Central Committee and other ministries will negotiate a topic or let top leaders decide it personally. After the topic has been approved, the speaker is decided. "Those wanting to deliver a lecture at Zhongnanhai must be the best expert in their field," said Xu Yong. "They must also be politically reliable."

The majority of the speakers are Party members and more than half have studied or worked abroad. Among the over 140 lecturers, only six have been female. 40 to 45-years-old is the most common age bracket of speakers. The oldest has been Xu Chongde, who was 73 at the time of his lecture, and the youngest was Zhang Ximing (张西明), who was 38.

Only eight people have been invited to speak more than once. Wang Yiming (王一鸣) from the Academy of Macroeconomic Research of the National Development & Reform Commission (NDRC) gave a speech to the new leadership at the end of 2012. This was his third Zhongnanhai lecture. When subsequently receiving interview requests from the media, he stayed very low-key. "I promised to be confidential," he said. "I have to obey the discipline."

The preparation time speakers are given differs. Zhou Hong (周弘), head of the European Research Institute from the Chinese Academy of Social Sciences (CASS), said the Ministry of Human Resources and Social Security notified him by phone six months before his lecture. But Zhou Yezhong recalled he only had 15 days' notice. "Every word must be thought over carefully," Zhou said. "I revised the draft for more than ten times."

Before the formal lecture, speakers must go through three rounds of trial speeches. Members of the topic panel, relevant ministry officials and people in charge of the Policy Research Office will attend these trials. They provide guidance and advice on the content, language, pronunciation, intonation, and speed.

Li Lin (李林), director of the Law Research Institute of CASS, has given two Zhongnanhai lectures. He says this "collective study" actually began in the 1980s, but at that time it only focused on law. During Jiang Zemin's term as president, there were just one or two lectures each year with a single speaker.