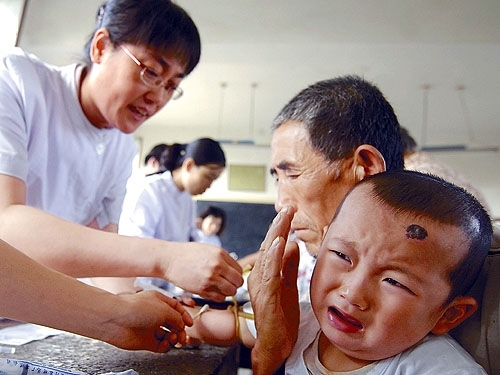 A total of 583 lead-acid battery manufacturing plants have been shut down over recent months as part of a campaign to strictly enforce environmental standards on the booming sector.

The factories were forced to close for a variety of reasons ranging from improper disposal of hazardous waste through to their small production scale and poor technical standard, according to a statement issued on Aug 2 by the Ministry of Environmental Protection (MEP).

A total of 1,930 lead-acid battery production, assembly and recycling plants had been inspected as of the end of July, as part of the nationwide investigation into the lead-acid battery industry, which was jointly initiated by nine government departments, including the National Development and Reform Commission and the MEP, in March this year.

Of the 1,930 plants inspected, 252 were given permission to continue operating and 80 others are still under construction. Operations for 1,015 of the plants were suspended, the statement said.

Details of all the lead-acid battery plants have been revealed, including plant names, addresses, line of business, production (suspended or operating), production capacity, process of production, whether they are engaged in clean production and whether their emissions meet the required standards.

According to the China Youth Daily, this is the first time that the MEP has disclosed such detailed information about pollution caused by on particular type of industry.

According to the statement, Jiangsu Province has the largest number of lead battery plants with 484 plants. Zhejiang province, with 328 plants, ranked second.

In 2010, following the swift development of the electric car and bike industries, China accounted for a quarter of global lead-acid battery production and is home to more lead-acid battery plants than any other country.

Heavy metal pollution is a serious concern in China. High lead levels were detected in the blood of more than 200 children in Anqing city, in central China's Anhui Province in Jan this year, and lead poisoning among almost 300 children was discovered in two separate cities of Hunan Province in Feb and Mar 2010.
In June, The New York Times, citing an anonymous source, reported that Premier Wen Jiabao had scolded Environmental Minister Zhou Shengxian over the lack of progress in addressing the issue of lead poisoning at a meeting of China's State Council in May.

Links and Sources
Ministry of Environmental Protection: 各地公布铅蓄电池行业企业名单
MEP: 关于2011年深入开展整治违法排污企业保障群众健康环保专项行动的通知
China Youth Daily: 请公众监督1930家铅蓄电池企业
New York Times: Lead Poisoning in China: The Hidden Scourge
Economic Observer Online: Ministries to Conduct Inspection of Lead Battery Manufacturers
Economic Observer Online: 250 Children Sickened by Lead Poisoning in Hunan Province - Mar 2010
Economic Observer Online: 10 Officials Disciplined in Anhui Lead Poisoning Case
Economic Observer Online: Lead Poisoning Sickens 45 Children in Hunan