News, page 5, issue 508
February 28, 2011
Translated by Tang Xiangyang
Original article:[Chinese]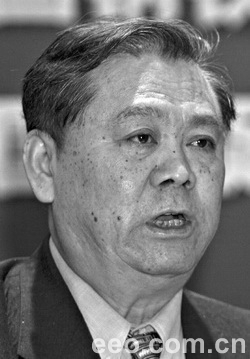 Shan Shanghua
Shan Shanghua (单尚华), resigned as general secretary of the China Iron and Steel Association (CISA) in February after three years negotiating iron ore contracts on behalf of the country's steel makers.
During his tenure at CISA, Shan accused the three global mining giants of behaving like a "monopoly" and argued that China, which accounts for two thirds of the ore trade, ought to receive ore at a discount.
Only the biggest steel companies in China have a licence to import iron ore, and Shan's position was undermined by smaller steel mills and traders, which had state-backed orders to fulfil and were prepared to buy iron ore for more than the negotiated price.
The fiasco prompted an investigation into these smaller companies and the eventual arrest of a Rio Tinto executive based in Shanghai, who was initially accused of industrial espionage but had in fact been taking Chinese bribes.
The Anglo-Australian giant, along with peers Vale and BHP Billiton, has since abandoned the benchmark pricing system. Instead, their ore delivery contracts now track prices on metals exchanges.
In this profile, the Economic Observer's Zhang Xiangdong reflects with Shan on the fragmented structure of the Chinese steel industry and the challenges of his old role.
Meeting Shan one-on-one, my first question was whether he had any regrets. He gave a glib smile and said "no regrets," but then, after a long pause, he lowered his head and said, "I do have some. Over the past few years, I wasn't able to better co-ordinate the Chinese steel industry and the iron ore price negotiations became disorganised. I had intended to encourage mergers, but the sector became more fragmented. I had planned to get rid of out-dated mills, but in fact steel capacity increased."
Shan Shanghua, 65, joined CISA in 2007 – the culmination of a 40-year career in China's steel industry. He was elected general secretary by representatives from a hundred national steel firms and thereby became head of the team negotiating iron ore import contracts.
Shan says that he wanted to use the position to reshape China's steel industry, but was taken by surprise when dramatic changes transformed the industry.
In 2008, negotiations hit an impasse because of the financial crisis and Shan gave a news briefing in June the following year to say that he was prepared for a total breakdown in the talks. A month later, Chinese police arrested Rio Tinto executive Stern Hu on charges of espionage.
That case shifted the focus of negotiations from business to politics - Chinese steel makers and the public were resentful of ore suppliers abroad, particularly the three global mining giants, while foreigners joked "You'd better not take your laptop with you to China, or you'll be sent to prison for espionage."
As well as highlighting the huge profits that mining giants could extract using commercial espionage, Hu's case also showed up problems within China's steel industry, such as the badly organised mechanism for importing iron ore and the gap between the spot prices and futures prices, which indicated expected price increases.
Shan blamed the difficult negotiations on the complicated domestic and international circumstances. China's demand was huge - over 600 million tons a year - but three international mining giants accounted for almost three quarters of the world's ore production and dominated the negotiations.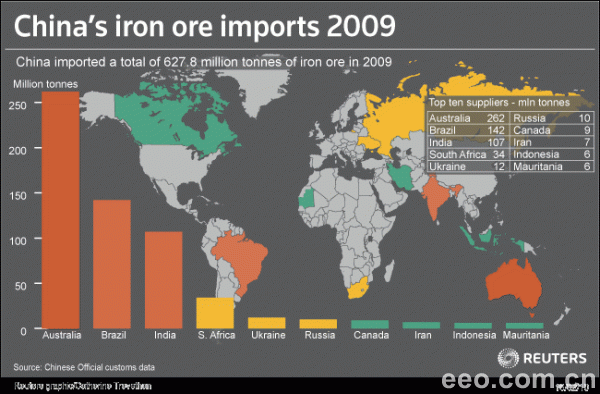 Source: Reuters
HARDLINER
During his days at CISA, Shan gained a reputation as a hardliner. That image was reinforced by episodes such as the Chinese boycott of Vale in 2008. Several Chinese steel companies took part in Shan's campaign, which was a response to the Brazilian miner's 12% price hike. CISA's tough position prompted Vale to reverse the increase.
Shan attributed this success to the small number of companies involved, and explains the failure of a subsequent face-off with Australia miners by the fact that there were "too many players". CISA urged a two-month boycott of Australian iron ore, but China's steel makers couldn't even sustain that position for a month.
TOO MANY STEEL MAKERS
"This is the disadvantage of having too many steel companies," Shan recalled, adding that in 2009 BHP was able to force Chinese steel makers to accept a quarterly pricing mechanism that has completely reshaped price negotiations.
Shan said that China's many steel makers constantly fear for their ore supplies and so try to buy the raw material in advance. "Such speculation, along with the badly-organised procedures for importing iron ore, has contributed to the current state of chaos."
Source: KPMG, industry estimates for spare capacity
Shan says he understands why small steel companies try to stock up on iron ore, but argues that, in negotiations with foreign miners, they ought to trust the country's biggest steel producers to speak on their behalf.
China's steel companies have been widely criticised for their conflicting positions and voices. In fact, it's impossible for all Chinese steel makers to speak with a single voice.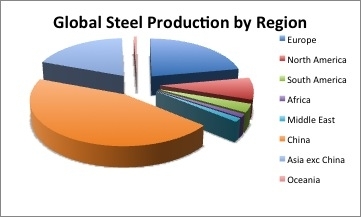 Source: World Steel Association
SMALLER STEEL PRODUCERS
The country's annual ore demand is somewhere between 600 million tons and 700 million tons, of which 400 million tons was imported, but only half of that total was purchased at the price negotiated under the benchmark system. The other 200 million tons was delivered to smaller steel companies at prices agreed separately.
No one can explain why China won't allow more steel companies to import iron ore. During the past few years, demand for iron ore has been increasing, but restrictions on its import have been growing. Both CISA and the Chinese government have sought to reduce the number of companies that are entitled to import ore and the association has been labelled as a mouthpiece for big state-owned steel makers. Currently, China has over 100 steel producers and over 10,000 traders. But most of them have no say in the iron ore negotiations.
CHINA AT THE NEGOTIATING TABLE
China joined the iron ore negotiations for the first time in 2003, the year it became the world's largest importer of iron ore. At that time, the entire Chinese steel industry was represented in the negotiations by Bao Steel, a major state-owned company that imports all of its iron ore and is among the most profitable in its sector.
CISA assumed responsibility for negotiating the iron ore price in 2008, and then people saw Shan and CISA had taken control of the negotiations. For all these years, China's iron ore negotiations were led by Bao steel, which was only looking after its own interests –it settled on a price with the major mining companies then a dozen other steel companies would work out their own contracts based on the price for Bao.
Once CISA took over from Bao, the association played the role of organizer and coordinator, conducting preliminary research and canvassing opinions, said Shan.
"Bao Steel was severely criticised for the way it handled negotiations. Everyone thought it had gained special privileges. Everyone had their own agenda. …There was a lot of mistrust. Whichever steel company led the negotiations would have been criticised," said Shan.
"I never sat down and bargained with the three mining companies. Even when I was in charge of the preliminary talks, I represented the position of all steel companies. There was no room for individual preferences in the negotiations. Though people labelled us either tough or soft, we had to follow instructions that had been drawn up collectively."
He doesn't seem to care must about criticisms that he drew as head of CISA. "It's not about whether I was unfairly treated. The real decision-maker was the group. Every decision was made by CISA's members."
As for the government's role in negotiations, Shan said there was no intervention and that only business interests were considered.
UNSHAKEABLE
Shan Shanghua has been accused of stubbornness and ignorance about business.
"In fact, I always keep up with the latest situation," he answered. He said that he 's often online and all he looks at is financial websites, adding that he's learned about futures and finance through the internet and books. But he still thinks that financial instruments used for trading iron ore trading are a tool for "speculation" devised by the mining companies.
On the subject of iron ore futures, which are becoming more widely traded, Shan is insistent. "Chinese steel companies are not supposed to play with futures because almost all of them are state-owned. If they do it well, then everything will be ok; if not, what will they say to (the government)?". On this subject, he recalls the case of Chen Jiulin, the former president of China National Aviation Fuel in Singapore, who received a four-year prison sentence after losing millions of dollars of public money by trading on the fuel market.
Background Links:
Economic Observer
A New Approach to Iron Ore Negotiations?, April 2011
Quarterly Pricing of Iron Ore Triggers Price War Among Domestic Steel Makers, July 2010
Why Chinese Steel Mills Bribed Rio Tinto Employees, April 2010
Who Bribed Stern Hu?, April 2010
The Secret of China\'s Iron Ore Negotiations, July 2009
External Links
Who Bribed Stern Hu?
http://www.eeo.com.cn/ens/2010/0408/166965.shtmWho Bribed Stern Hu?http://www.eeo.com.cn/ens/2010/0408/166965.shtmlExternal Links:
KPMG: The prospects for China\'s steel industry over the next five-year plan
Reserve Bank of Australia: A look back at the development of China's steel industry over the last two decades
Reuters: China's ten biggest steel producers
Financial Times, industry analysts: two reviews of the changes that lead to the end of benchmark pricing for iron ore.
Sydney Morning Herald: how Rio Tinto executive Wang Yong was corrupted
This article was edited by Will Bland and Paul Pennay