Democracy, Disparity, and Disgrace(1)
Published: 2008-01-17
The EO's news department takes stock of other Chinese periodicals.


Reflecting on the Era of Cheap Labor
China Fortune
(中国财富)
Cover Story, page 16 – 33, January 2008 issue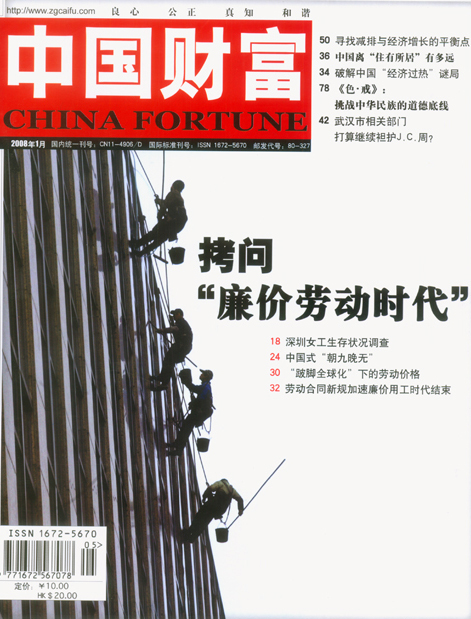 Chipping in hours of "voluntary overtime" without extra pay is a common practice among Chinese migrant workers who struggle to meet stringent production quotas set by employers. Some have literally dropped dead from exhaustion, while even more sacrifice their personal lives and family time for meager wages. They have sunk into a collective silence at a time when China is trumpeting its economic growth.
The cover story of China Fortune consists of a series of in-depth articles exploring the reality of migrant workers' life, the imbalance of power relations between labors and employers that numerous laws and regulations have failed to address, and how globalization has exacerbated the income disparity gap in China. Globalization has "liberated" capital from being rooted in one place, but laborers in developing countries remained "trapped"-- as illustrated by the outsourcing industry, which scours all corners of the globe for an ever-lower bottom line.
Editor's note: China's much-discussed new Labor Contract Law came into effect on Jan 1st 2008. Shortly afterwards, news emerged of workers begging their employers to allow them to work overtime without special compensation as required by the law, as some workers found themselves unable to meet production quotas without the extra hours. This is only one of the Law's paradoxes, and highlights the gap between the original intention of policy-makers and the reality of the situation on the ground.

Regenerating Shenzhen
Urban China (城市中国)
issue no. 24, Dec 15th 2007
This month's issue is themed around the regeneration of Shenzhen, the first city in China designated as a Special Economic Zone back in 1979, just one year after the country rallied behind market reforms and opening-up policies initiated by Deng Xiaoping. Since then, the city has served as an experimental model for the country's transition from a planned to a market economy. From trial and error to improvisations, Shenzhen was a prototype for the large-scale economic reforms adopted in other coastal Chinese cities such as Shanghai. Along the way, as the opening-up of the Chinese market broadened its reaches to other regions, Shenzhen – a migrants' city originally created on the drawing board – has started to lose some of its competitive edge.
If every city has an expiry date, then it is time to ponder "Regenerating Shenzhen". The issue features people from all walks of life, including workers, entrepreneurs, officials, architects, urban planners and economists.
Editor's note: The year 2008 marks 30 years of reform and opening up, and provides an opportune moment to reflect on the progress of China's market reforms by using Shenzhen as a case-study. In the coming months, you can expect more restrospection in the media over the past three decades of China's opening up.
The views posted here belong to the commentor, and are not representative of the Economic Observer
Briefs
The 3G-enabled Lenovo Mobile OPhone is likely to provide stiff competition to Apple's iPhone in the China market.

Source:

China Mobile
A 6.4-magnitude earthquake struck China's western Qinghai province earlier this morning.

China's tax bureau aims to collect an additional 100 billion in tax before the end of the ...
Interactive
Are state-owned enterprises playing too large a role in overseas acquisitions?
Tracking the global expansion of China's oil companies
Multimedia
A look at Nanjing local government's controversial urban reconstruction project