OPhones to Take on iPhone
Published: 2009-09-03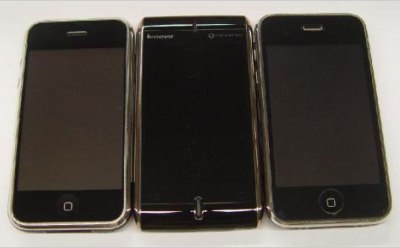 Days after China Union announced, after months of speculation and years of negotiation, that they had finally reached a three-year agreement with Apple to introduce iPhones into China, rival telecommunications carrier China Mobile held a promotional event to "introduce" a series of phones that use their new OPhone platform.

Many consider that the 3G-enabled Lenovo Mobile OPhone, which looks very similar to the iPhone, will provide stiff competition to Apple's popular phone.

It's expected that both the Ophones and the iPhone will hit the Chinese market sometime over the coming months.

On August 28, China Union posted an official announcment on their website, stating that the iPhones will be launched sometime in the fourth quarter of 2009, but they didn't provide any specific date.

As part of the China Mobile promotional event, which took place in Beijing on August 30, various models that utilize the new mobile operating system developed by the company were unveiled. They included phones developed by Dell and Lenovo Mobile.

The focus of the event, however, was on the introduction of China Mobile's new OPhone platform, the first developed by a Chinese operator. The platform is made up of a a software development tool and a communication platform for developers, known as Ophone SDK and OPhone SDN respectively.

The platform aims to make it easier for handset makers to design phones that support TD-SCDMA (Time Division Synchronous Code Division Multiple Access), a China-developed 3G mobile standard that the government has tasked China Mobile with promoting.

According to Lou Qinjian, vice minister of the Ministry of Industry and Information Technology, the OPhone platform will improve the ability of Chinese-developed smartphones to compete in the international market.

Wang Jianzhou, President of China Mobile, said the OPhone platform will make it easier for manufacturers to develop smartphones that run the TD-SCDMA standard.

Source:
China Mobile: Announcement (Chinese)
China Union: Announcement
The views posted here belong to the commentor, and are not representative of the Economic Observer
Briefs
The 3G-enabled Lenovo Mobile OPhone is likely to provide stiff competition to Apple's iPhone in the China market.

Source:

China Mobile
A 6.4-magnitude earthquake struck China's western Qinghai province earlier this morning.

China's tax bureau aims to collect an additional 100 billion in tax before the end of the ...
Interactive
Are state-owned enterprises playing too large a role in overseas acquisitions?
Tracking the global expansion of China's oil companies
Multimedia
A look at Nanjing local government's controversial urban reconstruction project