Trash, Talk, and Targeted Ads
Published: 2008-03-03
Editors of the English edition weigh in on other Chinese periodicals.
Chinese Talk Show that Speaks the "Crowds' language"
New Weekly (新周刊)
Cover story, page 22 – 57, issue no. 269, February 15th 2008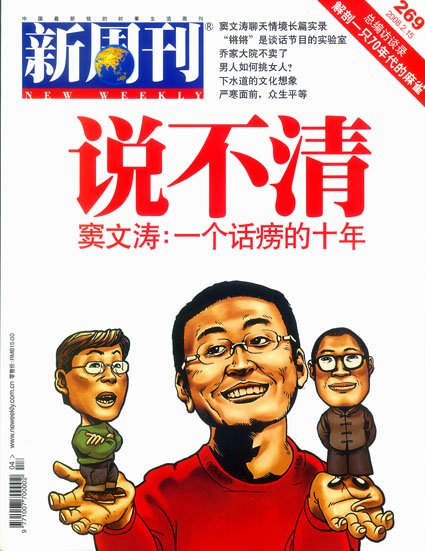 A special focus to commemorate the 10th anniversary of a wildly successful Chinese talk show – Behind the Headlines (锵锵三人行). As its Chinese name literally suggests, the show is about three speakers – a host and two guests - who sit around a small table with three glasses of water and talk about the latest everyday life happenings in the Chinese society.
Hailed as the first true Chinese talk show that strayed away from the stiff, formal, and newsroom format, Behind the Headlines has adopted a style resembling that of a chit-chat session among friends. It has touched on a spectrum of issues, from socio-economy, politics to gossips, as China undergoing rapid transformation. Thus it is regarded as oral records of a decade of societal changes. The show, recorded both in Beijing and Hong Kong, is broadcasted by the Hong Kong-based Pheonix Satellite Network to greater China and beyond. The speakers are informed of the "direction" for each episode upon arrival at the recording studio, but the show is largely improvised.

Editor's note: Behind the Headlines has a strong following among Chinese speaking communities around the world. The talk show presents a sharp contrast to the tone and language used in most Chinese public channels, many of which perpetually adhere to a "politically correct" lexicon.. Behind the Headlines, though not entirely no-holds-barred, has pooled talents from China, Hong Kong and Taiwan for frank discourse on issues that are at times controversial. However, the show's outreach within China is limited, partly because it is aired on a paid satellite network and not the free national channels, and partly because the screening hours are odd. Some Chinese have suggested that its schedule is kept well away from prime-time on purpose to confine its popularity to a minority, usually the elites and middle class in urban areas.
Utopia: Collective Imagination of Flourishing China
Urban China (城市中国)
Issue no. 25, Feb 15th 2008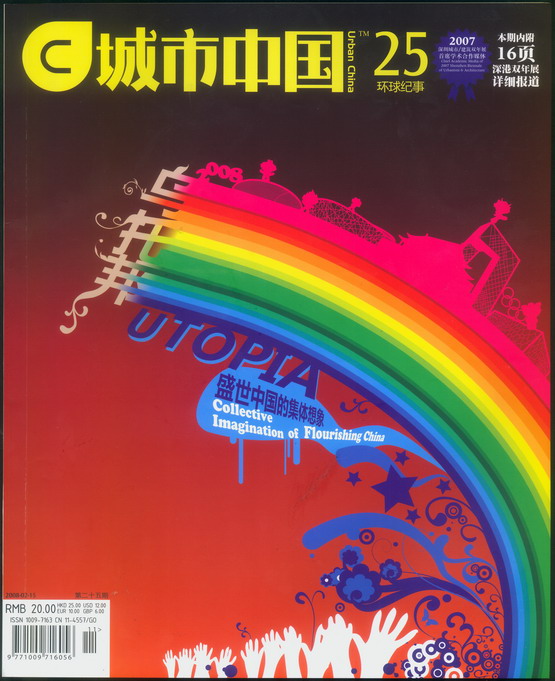 The magazine's editorial describes how the year 2008 is destined to be of historical significance to China's modernization. While the world may see 2008 as the "China Year", to the Chinese, it is more like the "Utopian Year", the editorial suggests. The magazine's latest issue explores the idea of how China has been chasing various forms of Utopia in its long history, from the pre-Qin dynasty of Taohuayuan (桃花源), through Mao Zedong's new China to the latest "Harmonious Society", as well as the contemporary digital community, artists' villages and modern rural-urban planning.
Its editorial says different interest groups may clash over different Utopian concepts, adding when one particular group pushes for the realization of its favored utopia through coercion, it is bound to create reactionary forces. Thus, compromises set in to blend personal aspirations, collective imaginations and national expectations into a sustainable model of co-existence. It argues that China's flourishing economy at present can act as a catalyst to realize that model.
Editor's note: This issue has defined Utopia not as an ultimate destination but the process of chasing an ideal. The on-going two legislative conventions - National People's Congress (NPC) and Chinese People's Political Consultative Conference (CPPCC) - can be seen as part of Chinese mechanism to reach its state of ideal. Xinhua has reported that a CPPCC spokesman had announced that more non-communist party members would be appointed as high-ranking officials (including ministers, governors, mayors and central agency chiefs). Does this herald a gradual shift from a one-party designed and driven set of ideals for China's development to a more inclusive model that gives precedence to economic growth, as suggested by the magazine's editorial?
Besieging IM
China Internet Weekly (互联网周刊)
From Industry, page 32 to 33, issue no. 417, Feb 20th 2008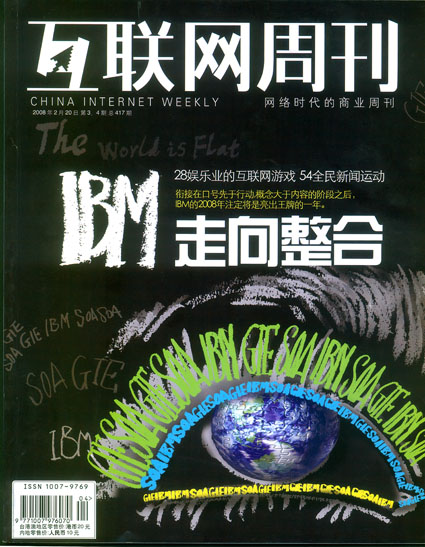 While graphic emotions and cartoon characters are making instant messaging (IM) increasingly entertaining, they are also proving to be robust platforms for advertisers. Unlike conventional online adverts, IM emoticons combine branding with popular cartoon characters, such as the MSN winks or QQ magic faces, thus making users themselves agents of advertising. It is estimated that the industry will create a value of some 300 to 400 million yuan this year.

Editor's note: Let's take IM advertising one step further...

Your friend types: "What's up?"
You type: "I'm hungry, did you eat yet?"
Instant messaging program interrupts: "Why not get a spicy, saucy, cheesy, DEEP CRUST PIZZA (cue high-res icon), located a short walk from both of you? (cue interactive map)"

It may be disconcerting to imagine eager little software bots dutifully recording and synthesizing our conversations in order to target us with ads, but the scenario is not far off.

Advertisers are gleefully surfing the wave of semantic web, simply put, web tools that can understand and create relationships between blog posts, chats, forums, and other online content. Though creepy and controversial at first, Google's use of keywords in your Gmail inbox to target you with adverts you're more likely to care about has now largely become acceptable. As the semantic web matures, advertisers will continue stuffing your mashups, your social bookmarking spaces, your chats, and of course, instant messages with ever-more-precise promotions based on contextual analysis. In China, a country where the saturation rate of messaging programs in professional environments is extremely high, one can only imagine how lucrative targeted, semantic, messaging adverts would be.

Foreign Exchange Certificates Gaining Value
Money Weekly (理财周刊)
From Collections, page 66 to 67, issue no. 351, Feb 18, 2008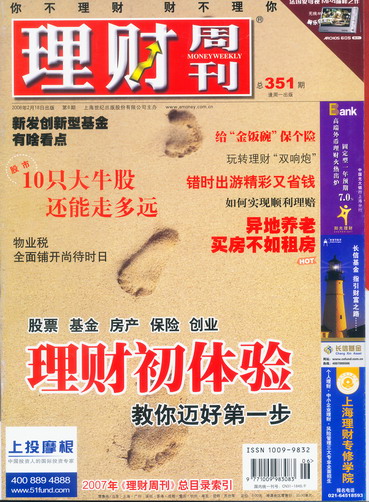 This issue's "Collections" examines Foreign Exchange Certificates (FEC), a yuan substitute once circulated by the Bank of China to foreigners, overseas Chinese, and citizens in Hongkong, Macau and Taiwan. The FEC includes two editions--the 1979 edition and the 1988 edition, and seven types according to their face values—one jiao, five jiao, one yuan, five yuan, ten yuan, fifty yuan, and one hundred yuan. China's central bank began removing the FEC in the mid 1990s and its circulation ended by June 30, 1996.
The magazine suggests that with its special historical background, attractive designs, and quality prints, the FEC has become valuable collectible. After 13 years of disappearance, the magazine says, these certificates have become scarce, thus enhancing their worth as the second most valuable financial treasure after the yuan. The notes with the most potential to appreciate include the one jiao certificate with double watermarks, and the 1988 edition's fifty yuan and one hundred yuan, the magazine suggests.
Editor's note: The FEC was introduced at a time when the Chinese planned economy was crumbling and needed a transitional solution to support foreign spending in China and domestic demand for imported goods. After 30 years of reform and opening up, currency controls, along with other legacies of the planned economy, remain while the various tools once used and phased out have become novelties. Beijing's monthly transportation passes and food ratio tickets are other examples of daily essentials-turned-collectibles. More examples will surface as China continues to reform and accelerate its growth; perhaps one day hukou-ben (household registration documents-- 户口本) and identity cards will become collectibles too. If so, many years down the road, don't be surprised when the hukou-ben of some famous Chinese turns up in an international auction market and cause a stir, much like a lock of Che Guevara's hair fetched 100,000 dollars in an auction last October.
Rethinking Waste Imports
China Fortune(中国财富)
Cover story, page 16 – 33, February 2008 issue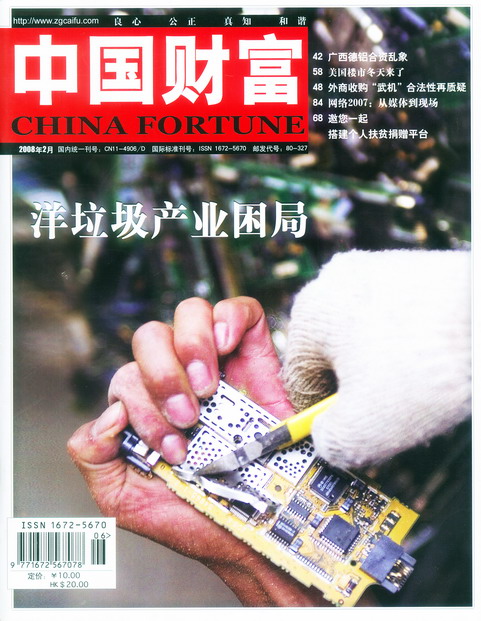 Imported solid waste, known as yang laji (foreign garbage) in China, has fueled the economic development of some Chinese coastal cities by providing jobs and recycled material for industrial use. Since the mid-1990s, however, the Chinese government has started drafting and amending laws to regulate and restrict waste imports after negative environmental, social and health impacts became apparent.
Despite that, there are still loopholes in existing laws allowing the continuous inflow of hazardous waste, either under the disguise of "recyclable material" or smuggling activities, prompting environmentalists and policy makers to call for a "total ban on foreign waste imports". A blanket ban, however, is unlikely considering the country's increasing demand for raw material. Developed countries too are using China as a cheap, and at times profitable, way for managing waste disposal, which is expensive in the western world due to stringent environmental protection laws.

Editor's note: Researchers from the Chinese Academy of Sciences have calculated that the environmental costs sustained in developing China are 7% higher than the world's average, and losses from environmental and ecological damages constitute 15% of the country's GDP. The pressing problems have jerked the Chinese government into action and over the past decade, its environment watchdong organ - the State Environmental Protection Administration (SEPA) has become more powerful. There are speculations that to further enhance the power and influence of SEPA, it might be promoted to ministry status during the coming administrative structural reforms.
The views posted here belong to the commentor, and are not representative of the Economic Observer
Briefs
The 3G-enabled Lenovo Mobile OPhone is likely to provide stiff competition to Apple's iPhone in the China market.

Source:

China Mobile
A 6.4-magnitude earthquake struck China's western Qinghai province earlier this morning.

China's tax bureau aims to collect an additional 100 billion in tax before the end of the ...
Interactive
Are state-owned enterprises playing too large a role in overseas acquisitions?
Tracking the global expansion of China's oil companies
Multimedia
A look at Nanjing local government's controversial urban reconstruction project