State Owned, Social Values & Suspension
Published: 2008-04-28
Thirty Years of Controversies
Southern People Weekly (南方人物周刊)
From cover story , issue no. 117, Apr. 21, 2008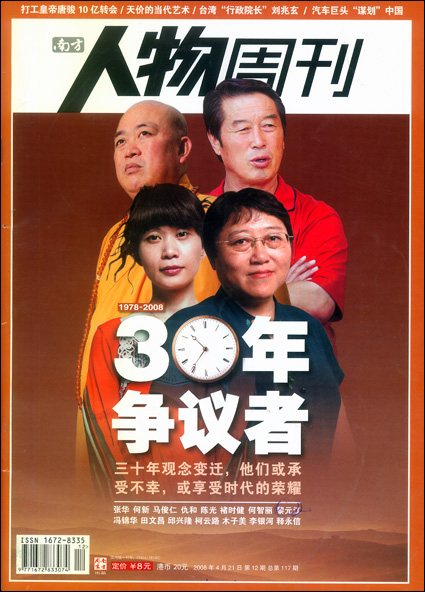 In the course of 30 years of reform and opening up, many Chinese have acted in ways that surprised society while they punctuated its transformations. As they exploded into the public conscience, some were loathed, some persecuted, some cheered—but all shared a common characteristic in sparking nationwide debate. The magazine picked 15 controversial figures from different backgrounds, including:

-- Zhang Hua, a university student who was drowned in 1982 while trying to save an elderly cleaner in a manure pit. His death triggered fierce debate on whether the life of an illiterate senior citizen was more valuable than an educated youth. Zhang was later glorified as a hero, while the one whom he failed to save was neglected.

-- He Zhili, a former world champion of table tennis that switched over to Japan. She was once a public enemy due to her frequent cheers of the Japanese word "よし" (meaning "good" in English) when representing Japan against Chinese player Deng Yaping in the 1994 Asia Games.

-- Li Yuanjiang, former chief editor of Guangzhou Daily, who turned the paper from a local Communist Party mouthpiece to the most lucrative paper in China, and was sentenced to 12 years in jail for bribery in 2004. Some called him a manipulative "lunatic journalist", but others considered him a sacrificial lamb under a changing economic system.

-- Tian Wenchang, a lawyer who was severely attacked by net users in 2001 for defending a mafia leader, as he believed a lawyer's responsibility was to protect the legal rights of his clients. This principle has since been written into law.

-- Qiu He, a government official who introduced intense reforms by bureaucratic power and won himself hats of "reformer" and "cruel official".

Editor's note: Looking back at the personalities and incidents that created waves in the public domain in past decades, one can't help to have mixed feelings. How many lies were behind the glorification of Zhang Hua? Were the attacks on He Zhili justifiable? Was Li Yuanjiang a genius or an eccentric? Did Tian Wenchang embarrass the legal profession or safeguard its principles? How would Qiu He's story end and be reflected upon in future? The answers to these questions too have undergone drastic changes in line with the tides of reform and opening-up. Chinese values systems are being reshaped as the country soldiering on towards globalization and a market-oriented economy. The world is no longer viewed as simply black or white; more shades of color have been introduced into the public's debates and judgments.

Closing the Salary Gap in State-Owned Enterprises
China Fortune (中国财富)
From cover Story, page 18 – 37, April 2008 issue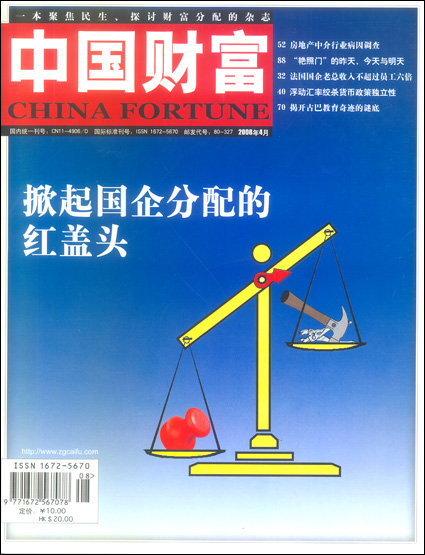 The gap between state-owned enterprises' (SOE) highest and lowest paid staff could be as much as 100 times, especially in monopolized industries such as oil and gas, according to the magazine's investigation. The salary gap was calculated based on open tax data, excluding grey income areas. Scholars believed the gap could only be closed if elements of "government bureaucracies and state appointed personnel system" gave way to market mechanisms.

The magazine also criticized SOEs for profiteering on public resources under a monopoly system, but retaining the profits for themselves. It brought up the case study of French SOEs, where staff salaries gap was on a ratio around one to between three and six times. It pointed out that Chinese officials had in 2003 conducted a study trip to France, a developed country with high government interference in the economy and were SOEs contributed to 15% of the country's GDP.

Editor's note: In economic terms, salary is an incentive mechanism. However, in the Chinese context, the public's concerns over salaries earned by SOE staff have been tinted by emotional and ideological conflicts; thus, the subject has been elevated to a sensitive spot tied to social justice, and could not be simply rationalized according to economic theories. One reason the issue has created such public outcry and hostility lies in how it has touched on a deadly flaw of the Revolution – who can lay claims to the trophy of victory? As China has accumulated certain level of wealth through 30 years of reform and opening-up, the distribution of wealth among various strata of society becomes an increasingly complex problem. If the social and wealth redistribution systems fail to be reformed accordingly, soreness over this issue would only intensify.

Parallel Universe – China Reflected in Global History
Urban China (城市中国)
issue no. 26, March 15, 2008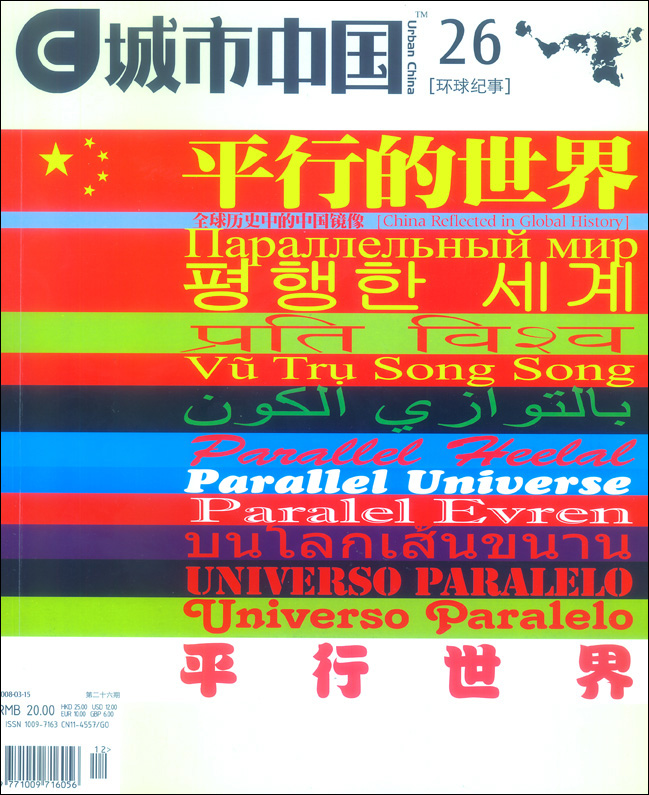 The theme for this issue originates from a hypothesis in Quantum Theory – that beyond each universe there is a corresponding one, mirroring its own image elsewhere. The magazine's editorial note asked if China's continuous reform under the banner of "Chinese characteristics" was something truly unique, or whether there existed parallel cases throughout world history. It said the issue intended to examine Chinese collective memories and re-interpret China's development process through mirrored images. In other words, it strives to explain domestic events through global parallels.

This issue traced, amongst others, the "globalization of socialism" through the USSR and China; the contrasts of two new cities – Shanghai and Dubai – that belong to two old civilizations once enriched by the Silk Route trade; the comparison between the Three Gorges Dam with the American Hoover Dam; the Olympics City of Beijing and London from an architectural perspective; the leisure city of Sanya (Hainan, China) verses Cabo San Lucas of Mexico that is built on the extravagant tastes of its frequenters; the People's Commune of China verse Isreal…and more.

Editor's note: The list of such parallel comparisons can be endless, but how to consolidate such experiences and lessons learned to avoid repeating history is another issue. For a long time, the Chinese prided themselves on being different from and above "elsewhere lands", and strove to move ahead according to their own way. The tide of globalization however has exerted pressure on it to play by "universal" rules.

The Fate of Taiwan's Cultural Magazine
China Newsweek (中国新闻周刊)
From Publication, page 70 – 71, issue no. 368, April 21, 2008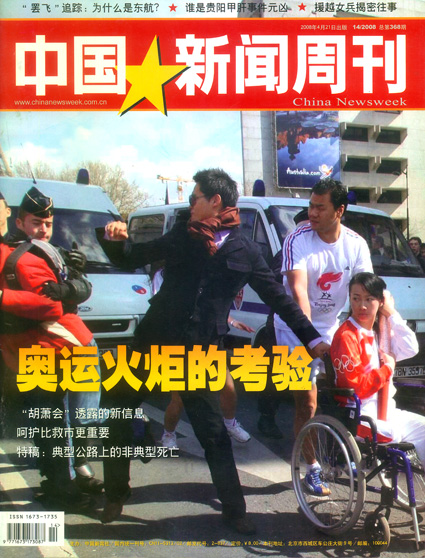 After eight years of building up a brand name and once rated as a "cultural magazine" with the highest circulation in Taiwan, Eslite Reader has announced to suspend publication by May. As a branding tool for the "designer" book store chain of Eslite, which some considered a cultural icon of Taiwan, the magazine has a cult followings beyond its shore, especially in South East Asia.

Though a well received magazine, its full color pages and quality layout to present content related to urban living, creativity, art, literature, and cultural issues have incurred high production costs and failed to be profitable. The writer believed the best years for selling cultural products in Taiwan had passed, as the once materially-rich Taiwanese consumers who look for spiritual fulfillment were now squeezed. The demise of money losing Eslite Reader (but value adding for brand name) was a natural course, the writer said, adding the present priority for Taiwanese would be struggling for economic development.

Editor's note: The suspension of Eslite Reader has invoked regret among Chinese-speaking literary circles. It again highlights the dilemma of the cultural industry in maintaining quality and unique identity verses higher gains by selling pop culture en masse. This is especially difficult in a society where cultural consumption is still relatively secondary to other economic needs. Similar failures to sustain Chinese sub-culture products catering for a small and specific crowd too have occurred in the music and movie industries, where musicians and directors who have graced world festivals and won international awards were struggling with funding or even drowning in debt.


The views posted here belong to the commentor, and are not representative of the Economic Observer
Briefs
The 3G-enabled Lenovo Mobile OPhone is likely to provide stiff competition to Apple's iPhone in the China market.

Source:

China Mobile
A 6.4-magnitude earthquake struck China's western Qinghai province earlier this morning.

China's tax bureau aims to collect an additional 100 billion in tax before the end of the ...
Interactive
Are state-owned enterprises playing too large a role in overseas acquisitions?
Tracking the global expansion of China's oil companies
Multimedia
A look at Nanjing local government's controversial urban reconstruction project