5.6-Magnitude Quake Rocks Sichuan
Published: 2009-06-30
A 5.6-magnitude earthquake struck Mianzhu city in China's southwestern Sichuan province at 2:03 am (Beijing Time), China's Earthquake Administration (CEA) reported on Tuesday.
The epicenter was located approximately 85km north of the provincial capital of Chengdu (31.43N 104.00E). Up until now, no casualties have been reported.
Mianzhu was one of the areas hardest-hit by the devastating Sichuan earthquake that struck on May 12 last year.
As of September 25 last year, the quake had killed 69,227 people and injured 374,643, with another 17,923 listed as missing, according to the latest official statistics.
Of the figure, the student death toll reached 5,335, according to data released by Sichuan provincial government in early May.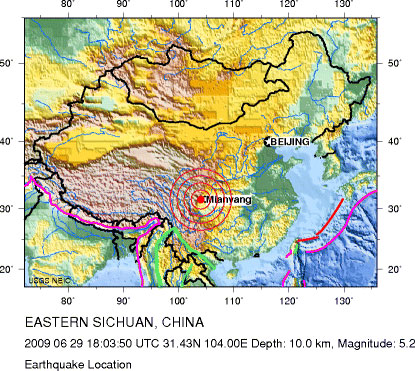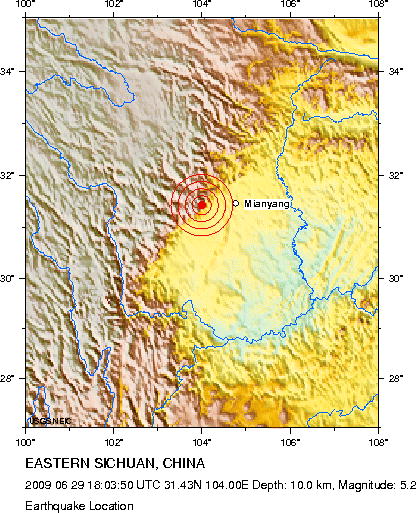 Links and Sources
Image:
USGS
China Earthquake Administration: Notice
The views posted here belong to the commentor, and are not representative of the Economic Observer
Briefs
The 3G-enabled Lenovo Mobile OPhone is likely to provide stiff competition to Apple's iPhone in the China market.

Source:

China Mobile
A 6.4-magnitude earthquake struck China's western Qinghai province earlier this morning.

China's tax bureau aims to collect an additional 100 billion in tax before the end of the ...
Interactive
Are state-owned enterprises playing too large a role in overseas acquisitions?
Tracking the global expansion of China's oil companies
Multimedia
A look at Nanjing local government's controversial urban reconstruction project