Urumuqi Death Toll Rises to 156
Published: 2009-07-07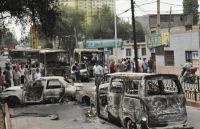 Another sixteen victims were reported killed in the violent clashes that erupted in Urumuqi on July 5, taking the total death toll up to 156, according to state news agency Xinhua reports on Tuesday.
Those killed included 129 men and 27 women, according to Xinhua who quoted Li Yi, head of the Communist Party of China Xinjiang regional committee's publicity department.
He added the number of those injured in the violent clashes had risen to 1,080. At present, local police have arrested 1,434 people, including 1,379 men and 55 women, in connection with the violence.
A day earlier, some 260 motor vehicles, 203 shops and 14 civilian homes were reported to be destroyed in the riots.
The views posted here belong to the commentor, and are not representative of the Economic Observer
Briefs
The 3G-enabled Lenovo Mobile OPhone is likely to provide stiff competition to Apple's iPhone in the China market.

Source:

China Mobile
A 6.4-magnitude earthquake struck China's western Qinghai province earlier this morning.

China's tax bureau aims to collect an additional 100 billion in tax before the end of the ...
Interactive
Are state-owned enterprises playing too large a role in overseas acquisitions?
Tracking the global expansion of China's oil companies
Multimedia
A look at Nanjing local government's controversial urban reconstruction project