China's Economic Zones: A Regional Round-up
Published: 2009-10-22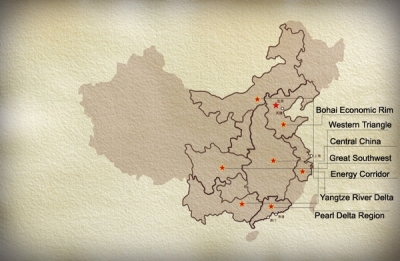 As part of last week's special issue marking the 60th anniversary of the founding of the PRC, we take a look at the important economic developments shaping the central and eastern regions of China.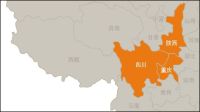 Western Triangle - Joining the Dots
By Zhang Yanlong
Nation, issue 439, October 12, 2009
Original article:[Chinese]

During the country's top political session held earlier this year, Chongqing proposed constructing a Western Triangle economic zone, connecting the cities of Chongqing, Xi'an and Chengdu and integrating the construction of this economic zone into the country's twelfth five-year plan.

As soon as the idea was put forward, it gained unanimous supports from Xi'an and Chengdu and the three local governments endeavored to put the idea into practice.
In early September, the three local governments signed a cooperation framework agreement and entrusted the National Development and Reform Commission (NDRC) with the task of drafting a development scenario for the planned economic zone.

They also face the challenge of improving their transport facilities. Plagued by mountain barriers, transportation in this region has been inconvenient for many years. At present, they're planning the construction of an express railway line to connect the three cities.

In terms of industry and resources, the three cities have strong complementarity. Take resources for instance, Shaanxi is rich in basic materials and mineral resources, which can be offered to Sichuan and Chongqing; Sichuan has huge hydroelectric power resources, which can also provide electricity to Chongqing.

Despite local governments efforts to bring the plan into fruition, they believe it's crucial to have the strategy acknowledged and supported by the central government.

At present, the zone occupies 220,000 square kilometers and has a population of 118 million. It contributed nearly 40% of western China's GDP.


Greater Southwest - Linking to ASEAN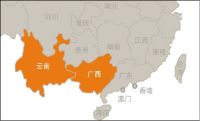 By Yan Yong
Nation, issue 439, October 12, 2009
Original article:[Chinese]

As the China-ASEAN free trade area gradually takes shape, Guangxi Zhuang Autonomous Region and Yunnan province, previously viewed as isolated and backward regions, have utilized their geographic advantage to develop their economies.

In 2008, the central government started treating the Beibu Gulf Economic Zone in Guangxi as a project of national strategic importance.

At present, a batch of large domestic companies are investing in the zone. For instance, PetroChina has constructed a large oil refinery in Qinzhou city. Wuhan Iron and Steel Corporation is also constructing a new steel production base in the port city of Fangchenggang.

Despite the global financial crisis, Beibu Gulf Economic Zone's gross domestic production (GDP) still grew by 15.5% in 2008. In the first half of this year, its GDP registered a year-on-year increase of 16.3%, 9.2 percentage points higher than the national average. In 2008, trade volumes between Guangxi and ASEAN countries amounted to nearly 4 billion US dollars.

Benefiting from the establishment of the Greater Mekong Economic Cooperation in 1992, Yunnan's border trade with ASEAN countries is developing rapidly.

In the first seven months of this year, the trade volume between Yunnan and ASEAN countries reached nearly 1.6 billion US dollars, 42.5% of the province's total trade volume.

In addition, due to the development of a Asean-Asia railway project, Yunnan is transforiming into an ASEAN-connected railway hub and also a logistics hub for the greater free trade area.

As the transportation facilities gradually improve, trade between Yunnan and ASEAN countries is likely to increase.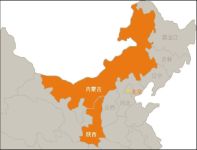 Limits to Growth in the Energy Corridor
By Yan Yong
Nation, issue 439, October 12, 2009
Original article:[Chinese]

About 30 years ago, Erdos was little more than a small regional center located in southwest Inner Mongolia with a population of 40,000. Today, it has become the richest city in mainland China with a per capita GDP exceeding that of even Beijing and Shanghai. This is thanks to the development of the city's cashmere, mutton and dairy processing industries.

Erdos is just one example of the many western cities whose road to prosperity lay in the development of their natural resources.

The coal reserves found in the Shaanxi and Inner Mongolia area account for 40% of the national total and many cities have based their economic development on coal processing, leading to an improvement in standards of living throughout the region.

However, these areas are having to deal with a deteriorating natural environment and the fact that their destined to exhaust their wealth of natural resources. Therefore an effort to establish an environmentally-sustainable development model which will involve shifting their economic focus to renewable energy.

Meanwhile, governments say that they are paying more attention to protecting the local environment and promoting urbanization.


The Rise of Central China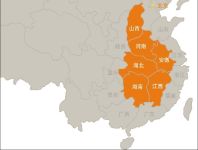 by Wang Yan'an
Nation, issue 439, October 12, 2009
Original article:[Chinese]

A new policy, known as the Plan to Promote the Rise of Central China, received in principle approval at a meeting of the State Council on September 23. The move is an indication that Central China, which until now has played a relatively minor role in China's "economic miracle," is now expected to step up and start delivering more to the country's economic development.

Central China is defined as being made up of six provinces: Shanxi, Anhui, Jiangxi, Henan, Hubei and Hunan.

According to the plan, the six provinces will stimulate their local economies by promoting the development of six "City Groups." The city groups will be centered on the following cities: Wuhan in Hubei, Changzhutan in Hunan, Wanjing in Anhui, Huangboyanghu in Jiangxi and Taiyuan in Shanxi. Henan's city group will be centered on Zhengzhou, but is also modeled on an earlier provincial development plan known as the "Central Plain City Group"established back in 2003.

Currently, the Wanjiang City Group plans to step into the industrial sectors that are being transferred out of the Yangzi River Delta Region. Henan's Central Plain City Group is trying hard to eliminate various transportation bottlenecks and other barriers that disrupt trade between the regions cities. The Changzhutan City Group is addressing a lack of local industrial chains as well as an inefficient administrative system.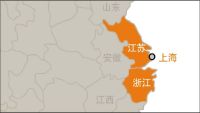 Transition in the Yangtze River Delta
By Chen Zhouxi
Nation, issue 439, October 12, 2009
Original article:[Chinese]

Though the amount of overseas orders dropped dramatically as a result of the global financial crisis, as of July this year, export numbers have been recovering. Still, the enterprises located in the Yangtze River Delta are still worried about their future and the task of upgrading industrial processes, vital for the survival of enterprises, has become increasingly urgent.

Local firms are learning how to do business in the domestic market and are upgrading their technology. The international market is no longer viewed as the sole target customers.

Zhejiang Province is planning to shift its core industries from traditional manufacturing to more high-tech enterprises, equipment manufacturing and service industries. Jiangsu has decided to revitalize 13 sectors including equipment manufacturing and new energy. At the same time, Shanghai is quickening the pace of its attempts to turn itself into an international finance hub.


Intergration of the Pearl Delta Region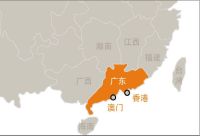 By Yang Xingyun
Nation, issue 439, October 12, 2009
Original article:[Chinese]

The Pearl Delta has long been viewed as the engine of Chinese economic growth, but the ongoing global crisis has caused many private enterprises to fail. In response, the Guangdong government plans to integrate local cities and develop closer economic ties between the region and the special administrative zones of both Hong Kong and Macao.

This will help to reduce the duplication of infrastructure construction and also allow sharing of human resources, scientific developments and the transport network.

However, this is only the first step in a more ambitious plan to shift the focus of the region's economy from manufacturing to a modern service economy.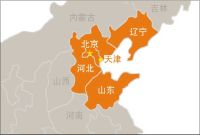 Bohai Economic Rim - The Third Force
By Xie Liangbing
Nation, issue 439, October 12, 2009
Original article:[Chinese]

Composed of sub-regional economic zones that include the Beijing-Tianjin-Hebei economic zone and the Shandong and Liaoning peninsulas, the Bohai Sea Rim economic zone is developing into the third of China's core regional economic areas, after the Pearl and Yangtze River Deltas.

This region accounts for nearly 20 percent of the country's population and nearly one third of China's GDP.

The region has not only managed to maintian its advantages in terms of steel, oil refining and other heavy industries but has also begun to attract many high-tech industries including pharmaceuticals and aircraft manufacturing. At present, the region has grown to be China's third large-scale regional manufacturing center.

Although the spectre of the global financial crisis has not yet withdrawn, the region has managed to maintain robust growth over the past two years. In the first six months of this year, the region registered GDP growth of 10.8% year-on-year, higher than the 7% and 9.2% that the Pearl and Yangtze river economic zones achieved.

Despite this, this region still needs to consider how to further enhance its regional integration.
The views posted here belong to the commentor, and are not representative of the Economic Observer
Briefs
MOF statistics revealed that the profits of China's SOEs dropped 17.6% in the first 9 months of the year, when compared with the same period last year.

Source:

Ministry of Finance
Draft revisions to China's securities registration rules will give foreign investors greater access to China's equity markets.

A look at the important economic developments shaping China's regions.
Interactive
Is the "advance of the state and retreat of private enterprise" really occuring?
Tracking the global expansion of China's oil companies
Multimedia
A look at Nanjing local government's controversial urban reconstruction project