Where Will China's Stock and Real Estate Markets Go from Here?
Published: 2009-09-03
News, cover, issue 433, August 24, 2009
Translated by Liu Peng
Original article: [Chinese]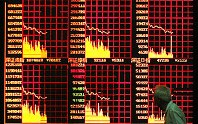 There's been a marked downturn in China's once-soaring stock markets since the beginning of August and the real estate sector is no longer looking so buoyant either.

Asset price gains often accompany an economy recovery, and for China, the rapid rise in both domestic stocks and housing prices have been the most prominent examples of renewed growth. The question is, does this sudden turn around indicate a reversal of fortune or is it simply a bump along the road to recovery?

From August 4th, China's stock market began to reverse the bullish gains it had made over the 10 months since things began to improve last October. As of August 28, the Shanghai and Shenzhen composite index had fallen by over 17 percent. Since then, markets have continued to slide, with the Shanghai index registering its worse daily fall in the past 15 months when it dropped a whopping 6.7% on August 31.

Despite taking a little longer to warm up - it wasn't until the economy had stabilized in March that the housing market really began to improve - the country's real estate sector has now also slowed, with transaction volumes contracting over the past couple of months.

Statistics revealed that the number of contracts for yet-to-be-completed residential housing and the number of second-hand housing transactions in Beijing fell by 2.8 percent and 6.05 percent respectively in the first half of August when compared to July.

But it's not just the volume of transactions that are declining, there are also indications that housing prices may soon start to slide too.

According to Li Wenjie, president of Beijing Centaline, a well-known property developer, "The price has yet to respond to the market change."

He added that after transaction volumes had remained stagnant for a period, house prices would stop rising and house buyers would pause to consider which way the market was headed. "As a result, property developers will eventually lower house prices."

The big question is, which sector will be next to feel the slow down?

The prime candidate is the automobile industry, which until recently has, along with the real estate sector, acted as one of the main engines of domestic economic growth.

According to a report jointly released by the National Bureau of Statistics and Sinotrust, a well-known consulting firm, the automobile industry climate index, a comprehensive indicator of the development of the domestic auto market, declined to 96.9 in the second quarter, 1.6 points down on the first quarter results.

The Money Factor

In the first seven months of this year, the three industries mentioned above all witnessed rapid growth, beneficiaries of both the huge amount of liquidity injected into the market under the country's "moderately-loose" monetary policy and also the large inflow of hot money into China.

Chinese banks extended a record 7.73 trillion yuan of new loans in the first seven months, 4.89 trillion yuan higher than the amount lent during the same period last year and already 2.73 trillion yuan above the government's target for lending over the whole year.

"The so-called 'moderately-loose monetary policy' is really extremely loose," said Peng Xingyun, a researcher at the China Academy of Social Sciences.

Not all of the huge amount of new loans flowed into the real economy, some were diverted to more speculative investments, fueling a the boom in the country's stock and real estate markets.

The floor area of commercial housing sold in the first seven months registered a year-on-year increase of 37.1% and sales revenues are up 60.4% from a year earlier. At the same time, China's auto market was booming too. In the first seven months of the year, auto production and sales had increased by 20.23% and 23.38% respectively when compared to the figures from a year earlier.

Furthermore, the fact that China's stock and real estate markets seemed to be the first signs of growth any where in the world, a large amount of speculative funds or hot money found its way into China's asset markets.

Another factor that led to strong growth in both markets was the decision of a large number of individual investors to withdraw their bank savings and take a chance by investing in either real estate or the stock market.

From February to July, the number of new trading accounts opened by individuals was somewhere between 1 and 2 million every month. Furthermore, resident deposits in China registered their first decline in the past two years when deposits dropped by 19.2 billion yuan in July, an indication that people were drawing on savings to invest in stocks and real estate.

All of the new money flowing into these industries led to the appearance that they were on a one-way road to recovery.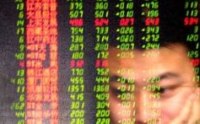 Subtle Fine-tuning

In early July however, the situation began to change, regulators talked of "fine-tuning" monetary policy which led to funds retreating from both markets.

"Because everyone knows that the recent market frenzy has been backed by the huge amount of liquidity, inflationary expectations and record prices being paid for land at auctions, as soon as there is the slightest hint of stir in the market, funds immediately began retreat" said Fan Xiaochong, vice president of Sunshine 100 Real Estate Group.

Despite the central government's repetition of the mantra that they would maintain a moderately-loose monetary policy, changes to the level of supervision applied to how new loans were spent, represented a tightening of sorts.

China Banking Regulatory Commission (CBRC) issued two circulars in July requiring banks to ascertain that new loans are channeled into the real economy.

In early August, China's central bank said it would consider using market measures to implement a dynamic fine-tuning of its monetary policy over the next six months.

"The fine-tuning remark greatly affected people's attitude," said Wang Xiaohui, macro-analyst in Guojin Securities.

"Everyone knows that the recent asset bubbles were a creation of the excess liquidity sloshing around the system, so other funds were encouraged to take a stake in the market. However, after this phrase of "dynamic fine tuning" began to be used, expectations that liquidity would remain began to change, and funds began to withdraw from the market," Wang added.

A well-known domestic economist who requested to be anonymous said "China has never been able to fine-tuned its policy, whenever they refer to so-called "fine-tuning" it always indicates a larger adjustment."

These concerns have led to a increased fears that growth could drop off again and more and more people are beginning to consider the likelihood of a W-shaped recovery.

What Next?

Where are China's stock and real estate markets headed? Will they continue to fall or is a rebound likely?

In the short term, there are two factors that will continue to keep stock prices down. The first is the above-mentioned gradual "fine-tuning" of the country's monetary policy that is likely to take place over the following months. The other factor is that stocks are still considered to be over-valued.

Aside from the reduction in new loans, Xiang Zhiqun, chief investment officer at Morgan Stanley's Huaxin Funds Company, believes that the recent spate of initial public offerings (IPOs), refinancing and the liberalization of some non-tradable shares has led to an increase in the amount of stocks that has drained liquidity from the stock market,therefore he thinks that it's unlikely that there will be a sharp rise in prices anytime soon.

As to future trends in the real estate market, there is no firm consensus on where the market is headed and a heated debate is taking place. On the one side, some believe that demand in the real estate market has almost depleted, so transaction volumes and prices will continue to decline.

However, another camp argues that supply is likely to fall short of demand in the future and that house prices are thus likely to continue to rise.
The views posted here belong to the commentor, and are not representative of the Economic Observer
Interactive
Tracking the global expansion of China's oil companies
Multimedia
A look at Nanjing local government's controversial urban reconstruction project