China's Looming Inflation
Published: 2010-05-07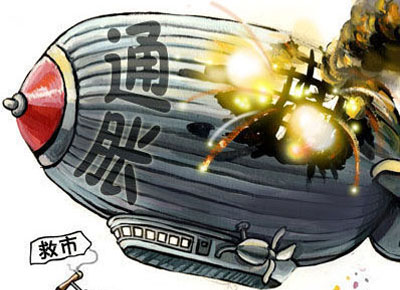 通胀:Inflation
With increased costs for labor, industrial materials and agricultural products, inflation is becoming increasingly apparent in China.
Data provided by the National Bureau of Statistics shows that as of April 20 the price of rice had increased by 0.07 percent in ten days and the price of flour had risen by 1.5 percent in the same period.
While the price of vegetable oil was only 10.64 yuan per kilogram in March, it had risen to10.81 yuan per kilogram by April 20.
According to the sales statistics of large-scale retail companies, the accumulation of food commodities has increased to 25.2 percent in the first quarter of this year, up by 18.3 percentage points from last year's first quarter, according to data released on the website of the Ministry of Industry and Information Technology.
The price of vegetables rose 47.7 percent in the first three months of this year compared with the same period last year.
According to Shenzhen News, the average price of snacks in Shenzhen increased by one yuan per serving during the past month and corn juice has risen from 4.0 yuan per cup to 5.0 yuan per cup, thanks to the inflated prices of agricultural products as well as logistical expenses.
A recent survey conducted by Xinhua News agency shows that the risk of inflation is the number one item of concern among Chinese people.
Another factor triggering looming inflation is the increase of minimum wages across the country.
Since April 1, the minimum wage of Guangzhou has been raised to 1100 yuan a month, up 19.8 percent; Zhejiang Province's minimum wage has also been increased to 1100 yuan.
Meanwhile, the Beijing government plans to increase the minimum wage of workers to over 880 yuan as of July, according to Gui Sheng, vice director of Beijing's Ministry of Human Resources and Social Security. Currently the minimum wage is just 800 yuan per month.
To curb potential inflation, the People's Bank of China, raised the cash reserve requirement ratio of deposit-taking financial institutions by 0.5 percentage points on May 2.This is the third time the central bank has raised the deposit reserve requirement ratio of commercial banks, pushing it to 17 percent.
Many experts have pessimistic views on the future of commodity prices. They predict that, with a deflated price of bulk commodities and an increased price of resources, it is very likely that China's Consumer Price Index will continue to go up in the second and third quarter of this year.
The international price of crude oil increased to 86 US dollars per barrel on April 30, strengthening inflationary pressure. It has even been predicted that the barrel price will increase to around 100 US dollars later this year.
Xie Guozhong, a famous Chinese economist, said: "Although the official CPI only increased by 2.2 percent in the first quarter of this year, it will soon reach double-digits."
As the National Bureau of Statistics is about to release May's CPI next Tuesday, it is widely believed that severe inflation is just around the corner.
This article was edited by Rose Scobie
Source
The Ministry of Industry and Information Technology
The National Bureau of Statistics
Shenzhen News
Xinhua News Agency
Image
The views posted here belong to the commentor, and are not representative of the Economic Observer
Interactive
Tracking the global expansion of China's oil companies
Multimedia
A look at Nanjing local government's controversial urban reconstruction project