New Lending in July Eased to 355.9 Billion Yuan
Published: 2009-08-12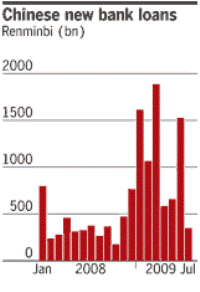 New yuan-denominated loans in July eased to 355.9 billion yuan (52.06 billion US dollars), sharply down from the 1.53 trillion yuan (223.8 billion US dollars) issued in June, China's central bank said yesterday in a statement posted on its website.

The increase pushed up the total new loans issued in the first seven months of the year to 7.73 trillion yuan, 4.89 trillion yuan higher than the amount lent during the same period last year and already 2.73 trillion yuan above the government's target for lending over the whole year.

Analysts held that the huge surge in new loans in the first half of the year wasn't likely to extend over the following five months, despite the central bank frequently reiterating its stance of maintaining a moderately loose monetary policy.

Earlier this month, the central bank said that it would use market tools to guide "appropriate" lending growth during the second half of the year.

In the statement, the central bank also disclosed the increase in domestic deposits and money supply

The new yuan-denominated deposits in July slowed to nearly 400 billion yuan (58.5 billion US dollars), sharply down from over 2 trillion yuan (292.6 billion US dollars) in June.

In detail, deposits for residents and enterprises respectively decreased by 19.2 billion yuan (2.8 billion US dollars) and 45 billion yuan (6.58 billion US dollars) from June and fiscal deposits were up 372.6 billion yuan (54.6 billion US dollars) over the same period.

The country's broad measure of money supply (M2), covering cash in circulation and all kinds of deposits, rose 28.42 percent from a year earlier to 57.3 trillion yuan at the end of July.

During the same period, the narrow money supply (M1), including cash in circulation plus corporate current deposits, was up 26.37 percent to 19.59 trillion yuan.
1 US Dollar = 6.8352 Yuan

Links and Sources
People's Bank of China: Report (Chinese)
Economic Observer: Original Report (Chinese)
Financial Times: Graph
The views posted here belong to the commentor, and are not representative of the Economic Observer
Briefs
The 3G-enabled Lenovo Mobile OPhone is likely to provide stiff competition to Apple's iPhone in the China market.

Source:

China Mobile
A 6.4-magnitude earthquake struck China's western Qinghai province earlier this morning.

China's tax bureau aims to collect an additional 100 billion in tax before the end of the ...
Interactive
Are state-owned enterprises playing too large a role in overseas acquisitions?
Tracking the global expansion of China's oil companies
Multimedia
A look at Nanjing local government's controversial urban reconstruction project