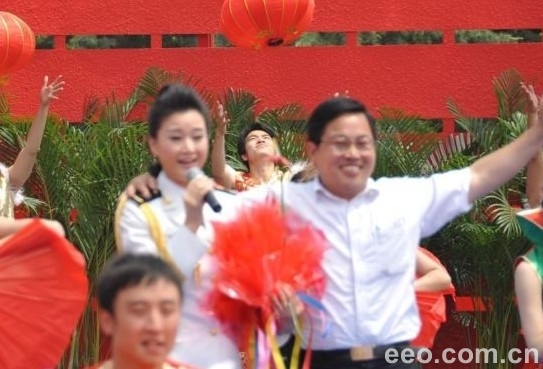 The Farce of a Public Servant Dismissed for Hugging a Star
By Ye Kuangzheng (叶匡政), Ye Kuangzheng Beijing-based poet, scholar and commentator.
Economic Observer Online
A lowly cadre in Puyang (濮阳), Henan was administratively detained and dismissed from his position after he rushed to the stage and forcibly hugged singer Song Zuying (宋祖英) at the show "We Sing Patriotic Songs Together" (爱国歌曲大家唱). According to a local official, one of "the leaders" sitting in the audience was "very unhappy" with the way the man behaved.
Interactions with stars are natural. Administrative detention for the cadre involved is much too severe a punishment and can be seen as an abuse of the law given that he didn't act dangerously. It is also ridiculous that a public servant is dismissed because of a hug with a star instead of for more understandable reasons of negligence or error.
The dismissal of this official by the Puyang government indicates the casual attitude they take towards the appointment and dismissal of public servants.
The farce also showed that the "awareness of the leader" (长官意识) is still more influential than the "awareness of the law" (法律意识)in many parts of China. The cadre is dismissed not only to satisfy the leader but also to save face for the bureaucracy.
Original Article: [Chinese]
"Government-only Food" - the Achilles' Heel for Food Safety
By Yang Tao (杨涛), an EO reporter
Economic Observer Online
China's "government-only food" is farmed and prepared especially for officials. This special food supply system has been around since the 1960s. So long as it remains, China's food safety is unlikely to be sufficient. "Government-only food" goes through special checks to guarantee it's healthy, uncontaminated and safe.
With these privileges, officials seldom know the feelings of most citizens who eat swill-cooked oil and illegal food supplements.
These officials have no incentive to punish illegal food producers. Besides, some officials may even collude with these producers and protect their profits.
Original article: [Chinese]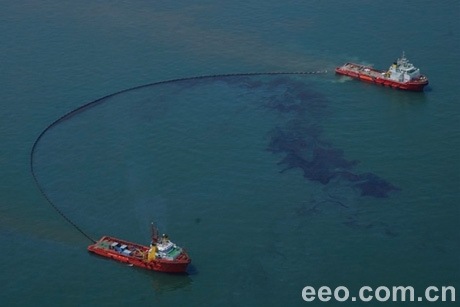 Information Disclosure and CNOOC's Oil Spill
By Lu Ning(鲁宁), a commentator from Oriental Morning Post
Economic Observer Online
The details of the China National Offshore Oil Corporation's spill, such as its causes, the pollution and extent, are still largely unknown to the public due to limited information disclosure.
Information disclosure in the wake of the BP oil spill, was much "freer" than reporting after China's recent oil spill.
CNOOC's oil spill coincided with the 90th anniversary of the founding of China's Communist Party (CPC). If the incident had been promptly disclosed, it would have broken a taboo, but news travels fast today via the internet and micro blogs, and CNOOC's attempt to block the information is a relic of the past.
We have heard a lot of empty talk about corporate responsibility from CNOOC, but corporate responsibility isn't just an abstract concept. Pollution at sea can have catastrophic consequences; the company should inform the fishery industry in the oil spill area as well as their consumers. As a giant state-owned enterprise, CNOOC's failure to reveal information about the spill has tarnished the image of all its stakeholders, including "the CPC and the government".
You can't wrap fire in paper. In today's information age, there is no concealing the truth. Hopefully CNOOC and other centrally-controlled SOEs will learn their lesson.
Original article: [Chinese]
Wuhan's Various Excuses For Taxing E-Commerce
Nation, Page 15
By Wang Lei (汪雷), senior editor with the Economic Observer Online
Taxation of online retailer, My 1 Percent, has become a hot topic in China's internet sector. The National Tax Bureau in Wuhan, where the website in based, had previously said that they would only tax online retailers from the two top tiers of China's main online marketplace taobao.com. Later the bureau said it had taxed "My 1 Percent" because the company also owned physical shops, but then just said, "all transactions that have passed the tax threshold must be taxed".
Wuhan tax authorities had previously told the EO that they were collecting statistics for online stores according to tax requirements. Those stores from taobao.com's two top tiers were to be taxed at 3% of their sales. Wuhan will be the first city in China to tax e-commerce.
This episode has shown the lack of stability and continuity at the Wuhan National Tax Bureau. Government departments are responsible for informing taxpayers in advance, and for explaining the rules and standards, so they have enough time to do some adjustment.
Policies at some other Chinese government department also lack stability and continuity, for example the National Development and Reform Commission's policy of imposing price limits and the Ministry of Commerce's export tax rebate policy. These have caused unpredictable risks for entrepreneurs and the relevant departments need to pay attention to the issues.
Original Article: [Chinese]
Government Can Beat Inflation with Red Envelopes
By Qi Yue (启越) , an editor at the Economic Observer
Nation, page 15
Meat prices continued to increase in late June, according to data from the Ministry of Commerce. The wholesale price of pork has increased by 30% since the beginning of the year, and has risen 68% over the last twelve months. Analysts are worried about whether the price of pigs will now spike as they did in 2007.
Looking at the present situation; a rise in the cost of breeding, the tighter supply of live pigs, and faster inflation for live pigs than pork, it seems likely that pork prices will continue to rise. In a month's time, it's quite possible that the Consumer Price Index (CPI) will have grown by more than 6%. This has increased pressure on the government to mitigate the effects of inflation.
It's hard to achieve that with the current monetary policies. There should be a new approach to inflation management. New monetary and fiscal policies should be introduced. For example, one possible solution is to connect government subsidies with the inflation rate, and to issue "red envelopes" (红包cash payments) directly to middle- and low-income families. Some cities such as Hong Kong and Macao have tried this before, and it was very helpful for low-income people.
Moreover, the new approach shouldn't be limited to direct anti-inflation payments from the government, there also ought to be major action on tax cuts and reform of the way that income is allocated.
Original article: [Chinese]

Lowering the Import Tariff on Fuel Paves the Way for Broader Reform of Oil Pricing
By Jiang Lei (姜雷) a reporter with the EO's Corporation section
Nation, page 15
China lowered its import tariff for gasoline, diesel, aviation kerosene and fuel oil from July 1, a move that was warmly welcomed by the general public. The move also indicates that China is considering broader reform of its domestic fuel pricing mechanism so that it better reflects movements in international oil prices.
China used to control oil prices mainly through direct government regulation, but now it is attempting to use tax policy to influence prices.
Under China's current domestic oil pricing mechanism, adopted in 2008, international price fluctuations are taken into account only if they vary by more than 4 percent over 22 consecutive working days.
This mechanism has been criticized by both the consumers and the oil companies. Consumers say the mechanism is neither standardized nor transparent. Oil companies say the price shifts are often inadequate and delayed which lead to losses.
According to media reports, possible features of the new-look pricing mechanism include: a system that is adjusted every 10 rather than 22 days and a reduction of the 4 percent figure. The ability to set prices would also be delegated to the three big oil companies to a certain degree.
We are also hoping that more entities, including private enterprises will be allowed into the market to encourage more market competition. Only by doing this can we make the pricing of oil truly market-based.
Original article: [Chinese]
Natural Gas Imports, No Need to Hurry
By Yu Shihe (余似禾), an energy market analyst
Nation, page 16
China last month failed to sign a natural gas supply contract with Russia because of a disagreement over prices. That disappointed many Chinese, but there's a reason why China should be eager to pay such a high price for Russia's gas.
Demand for natural gas will slump if its selling price is much higher than that proposed by the government. If China agrees to buy natural gas at a high price and sell it domestically at a low price, then energy companies may suffer heavy losses.
It has been agreed that the three main Chinese petroleum companies can import 80 million tons of liquefied natural gas every year, while Chinese natural gas production may reach 150 billion cubic meters in 2015.
Xu Bo, senior engineer at the Economic and Technology Institution, says that in 2030 China will be able to produce 600 billion cubic meters of natural gas while the demand at that time will be no more than 450 billion cubic meters.
It would have been perfect for the natural gas contract to be signed during President Hu Jintao's visit to Russia, but there's no need to play up for the occasion. We should be more patient.
Original article: [Chinese]
The Wrong Way to Solve the Problem
By Yi Beiwang (依北王)
Economic Observer Online
In May this year, the well-respected economic magazine, Century Weekly published an in-depth investigation into the abuse of China's family planning policies by local authorities in Hunan Province. According to the article, the local family planning agency in Gaoping and Longhui County, near the city of Shaoyang, took custody of one of Yang Libing (杨里兵) and Zhou Heying (周和英) children and then allowed the girl to be sold into adoption abroad. The authorities justified their move to remove the child from her parents on the grounds that the couple had infringed on China's family planning regulations.
The controversy caused headlines around the country and led to further questions being asked about the financial incentives that existed for orphanages to increase the number of children they looked after.
On June 22, the story of Yang and Zhou and their attempts to get their daughter back took a strange turn.
The couple have been detained by local police for 15 days on suspicion of involvement in prostitution. Many people suspect that the charge of "involvement in prostitution" is simply an attempt by local authorities to "solve" the situation.
The article that exposed the case of the removed child and also exposed other cases of children being forcibly removed from their parents and sent to an orphanage was called "Orphans surnamed Shao" or邵氏弃儿 Shào Shì qì'ér in Chinese – which has since become a popular short-hand expression to refer to the scandal.
According to the article, many of the children were forced to move to Shaoyang orphanage after being separated from their family by the Shaoyang family planning department. The article also says that the owners of the orphanage sought more children in an effort to boost the amount of subsidies they received. The Century Weekly article also accused the managers of the orphanage of going so far as to purchase children from human traffickers and then profit by offering them up for adoption via foreign adoption agencies.
The article took it's title from the fact that all the children that passed through the orphanage had their surname changed to "Shao".
There are a few reasons why people suspect that he local government have simply detained the couple on trumped up charges in an attempt to shut them up.
Firstly, on the day that Yang and Zhou planned to return to their village from Shaoyang, a man who claimed to be a parent of a daughter who had also been taken away by the family planning department contacted them and said he wanted to meet them. Later this man persuaded Yang and Zhou to accompany him to a bathing house where they could "relax." It was here that they were picked up by the police though the mystery man had already disappeared. A subsequent search for his details revealed that he had used a fake name.
Secondly, immediately after the three entered the private room at the bathing house, the police entered the room and arrested the couple, while the man who had arranged the meeting, who was in the same room at the time they were detained, somehow managed to escape.
Despite a special investigation being launched by the Shaoyang government in May after publication of the original article, has yet to announce the result of its investigation or any disciplinary measures against those accused of wrongdoing. However, in contrast the parents of the child can be picked up on a whim by the police.
Although we can't be sure that the Shaoyang government has only detained Yang and Zhou in an effort to remove them from the public eye, the government should be obliged to respond to these questions.
The Shaoyang government is only digging itself into a deeper hole if it targets the victims in an attempt to cover up the crisis instead of punishing the original crime and assisting the families that suffered at their hands.
Original Article: [Chinese]