Editorial
Briefs
The introduction of China's first stock index futures exchange moved a step closer yesterday when Chinese investors began lodging applications to set up trading accounts on the new board.
China's CPI registered a year-on-year increase of 1.5 percent in January, the National Bureau of Statistics announced Thursday.

A digital book tracing the economic developments that have shaped China over the past year...
Interactive
Who leaked your private information?
Tracking the global expansion of China's oil companies
Multimedia
A look at Nanjing local government's controversial urban reconstruction project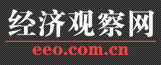 EEO.COM.CN The Economic Observer Online
Bldg 7A, Xinghua Dongli, Dongcheng District
Beijing 100013
Phone: +86 (10) 6420 9024
Copyright The Economic Observer Online 2001-2011