China Poll: Leaving Town
Published: 2010-09-09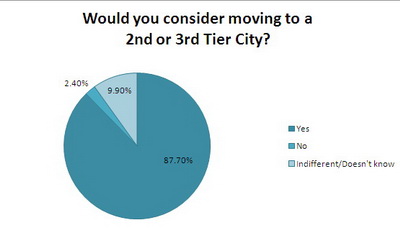 Last week, the China Youth Daily Center of Social Research surveyed 1,161 residents of a 1st tier city.

The newspaper asked the participants - Would you consider moving to a 2nd or 3rd Tier City?

Of the participants who identified themselves as belonging to the "Ant Tribe" or 蚁族 (Yizu) - 87.7% said they would be willing to consider leaving the big metropolises for second- or third-tier regional cities. Only 2.4% of these "ants" said that they wouldn't consider leaving China's big coastal cities.

Of all the participants who said yes:

67% expect to find a better job
56.7% do not like the high-pressure work environment of 1st tier cities
52.9% are students who want to go home
76.7% expect improved healthcare and education in 2nd and 3rd Tier Cities
53.1% want a fuller social and cultural life
30.2% expect the competition for jobs to be fairer


The Economic Observer covered the topic of recent university graduates shunning the big cities for alternative opportunites and a slower pace of life in an article back in early July.

In that article we quoted from an earlier China Youth Daily survey that found:
Of the 7,761 college graduates from 31 provinces surveyed in 2009, 34.2 percent said they would move to provincial capital cities or well-developed small cities as their first choice, with prefecture-level cities as their second choice. Only 24.75 of those surveyed wished to stay in big cities like Beijing and Shanghai.
Links and Sources
China Youth Daily: 若重择就业地 87.7%蚁族考虑去二三线城市
The Economic Observer: College Graduates Desert Big Cities
China Real Time Report: China's Graduates: An Ant's Life
New York Times - Schott's Vocab: The Ant Tribe
CNNGo: China's growing postgrad 'ant tribes'
Reuters: China's "ant tribe" poses policy challenge for Beijing
The views posted here belong to the commentor, and are not representative of the Economic Observer
Highlights from this month's edition: Talking Bubbles with Andy Xie
Interactive
Should China Start Collecting an Inheritance Tax?
Tracking the global expansion of China's oil companies
Multimedia
A look at Nanjing local government's controversial urban reconstruction project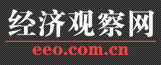 EEO.COM.CN The Economic Observer Online
Bldg 7A, Xinghua Dongli, Dongcheng District
Beijing 100013
Phone: +86 (10) 6420 9024
Copyright The Economic Observer Online 2001-2011