Billionaire Gome Founder to Face Beijing Court
Published: 2009-12-16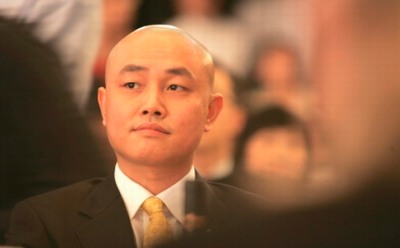 Cover, Issue 447, December 7, 2009
Translated by Liu Peng
Original Article: [Chinese]

Huang Guangyu, founder and former chairman of Gome Group, China's largest consumer electronics retailer, and the man who just last year was considered China's richest person, is to be charged with offering bribes and engaging in insider trading according to information leaked to the Economic Observer.

Huang's family has hired a high-profile legal team to represent both the billionaire and his wife Du Juan who have both spent the past 12 months in detention.

According to media reports that emerged after the original Chinese-language version of this article was first published, Yang Zhaodong, one of Huang Guangyu defense lawyers, revealed that a Beijing court had set a hearing date for December 25. EO journalist Lin Li contacted Yang after news of the trial date spread and reported on December 12 that according to her conversation with the lawyer, the case had still not been sent to the court and the exact date of the hearing is hard to predict.

A Beijing Trial

The EO learned that the second branch of the Beijing Municipal People's Procuratorate was in charge of investigating and collecting evidence related to Huang's alleged crimes, and that the Beijing Second Intermediate People's Court is likely to be the court which will try the case.

"Relevant authorities have asked all the judges and others involved in the case, along with those who will take part in the trial, not to leak detailed information about the case to the public," a judge close to the case told the EO.
At present, the prosecutor has made been in touch with the court in regards to criminal charges being laid, the above judge added.

The EO also learned that, in early October, on the grounds of inadequate evidence, local prosecutors had once again sent Huang's case back to the police for further investigation.

In line with the country's criminal law, during the period of review and examination, the prosecutor can only refer cases back to police a maximum of two times.

However, according to legal procedure, charges in any such case should be brought within between one and one and a half months of the completion of the investigation.

Therefore, Huang is likely to be charged before the end of this year, but whether the case will make it to court depends on whether the court will accept the case. A source close to the court said "generally speaking, the court doesn't accept any cases after November 15 in order not to affect their clearance rate."

High-Profile Legal Team

The high-profile defense team assembled to represent Huang and his wife is comprised of Qian Lieyang, a senior partner with the Dacheng Law Firm, his colleague Xu Xilong and Yang Zhaodong, a partner with King & Capital, the EO learned.

In an interview with the EO, Yang Zhaodong confirmed that he would represent Huang Guangyu. Yang is a standing member of the Criminal Affairs Committee, the All China Lawyers Association and has acted as a defense lawyer in over twenty major criminal trials.

The EO also learned that Xu Xilong would represent Huang's wife.

Xu asked a fellow lawyer to tell the EO that he was unavailable to receive any interviews and that he wouldn't be able to reveal any details about the case until the trial had concluded.

Xu also represented the recently executed Yang Yanming, former general manager of the Beijing branch of China's Galaxy Securities and the first securities trader to be sentenced to death for graft and embezzling public funds back in 2007. In addition, Xu also acted as a defense lawyer for Fuxi Investment Holding Company, which was involved in the Shanghai pension fund scandal.

Qian Lieyang represented Liu Xiaoqing, a well-known actress, who was charged with tax evasion in 2003, he was also chosen as one of China's top ten criminal defense lawyers.

According to the EO's sources, both lawyers signed confidentiality agreements with the prosecutor and the court that prevents them from revealing detailed information related to Huang's case to the media before the court hearing.

The EO learned that the Beijing Deking Law firm will also take part in the trial and it was likely that a defense lawyer from the firm will represent Zhou Yafei, the former Chief Financial Officer at Gome.

Possible Sentence

After Huang Guangyu was detained by police on suspicion of being involved in "economic crimes" on November 23 last year, several high-level officials have been deposed due to their apparent connection to Huang's case.

Early this year, it was announced that both Zheng Shaodong, who was at the time serving as an assistant minister of Public Security, and Xiang Huizhu, a vice director of the Economic Crime Investigation Bureau at the Ministry of Public Security, were both placed under investigation.

In April, at the same time that The Times was reporting that Huang Guangyu had attempted suicide while in custody, Chen Shaoji, chairman of the Guangdong Provincial Committee of Chinese People's Political Consultative Conference, was also removed from his position and investigated in connection with economic matters related to the Huang case. This was followed by the news that Xu Zongheng, the mayor of Shenzhen, was also being investigated on suspicion of serious violations of party discipline.

In October, Sun Haiting, an official from the Inspection Bureau of the State Administration of Taxation was also detained in order to "assist" with the investigation into Huang's case.

In addition, Guo Jingyi, an official in the department of Treaty and Law at the Ministry of Commerce was also interrogated by the party discipline department in August last year, on suspicion of involvement with Huang's case.

In 2006, Guo helped Gome to successfully list on the Hong Kong stock exchange. A source who participated in Gome's listing preparation recalled that during the party that followed the listing, an excited Huang Guangyu held up three fingers to the people around him and said "This time, I gave Guo this much."

In view of the number of extremely high-ranking officials who appear to be some how involved with Huang's case, if the court does rules that Huang did offer bribes to these officials, it's likely that he'll be sentenced to over ten years in prison.

The investigation into Huang began when the China Securities Regulatory Commission (CSRC) began looking into accusations that Beijing Pengrun Investment Company, of which Huang Guangyu was the boss, had manipulate the price of listed firm Sanlian Commercial Corporate, a Shandong-based electric appliances retailer, and Beijing Centergate Technology Holdings (BCTH), a conglomerate that invests in high-tech products, real estate, finance and other industries.

Legal experts say legal proceedings will focus on whether the offense is considered personal or corporate behavior. And this will have an impact on the severity of punishment.

If the court finds that Huang's alleged insider trading was personal misconduct, according to the Criminal Law, he would be sentenced to fixed-term imprisonment of between five and ten years and also be fined no less than double, but no more than five times, the illegal gains he pocketed.

On the other hand, if the court finds that the company was responsible for Huang's alleged transgressions, Gome will be fined, and the persons who are directly in charge and the other persons who are directly responsible for the crime will be sentenced to prison for no more than five years.

It's a similar situation with the bribery charges, if the court interprets any alleged misconduct as being of a personal nature, Huang will likely be sentenced to no less than ten years in prison, with a possible maximum sentence of life imprisonment, his private property could also be seized.

If Gome is found responsible for such a crime, the company would be fined and the persons who are directly in charge would be sentenced to prison sentences of no more than five years or criminal detention.

Links and Sources
Economic Observer: Billionaire Gome Founder Suspected of Numerous Financial Crimes
Economic Observer: 黄光裕案尚未送交法院 开庭时间暂不明
Times Online: Suicide attempt
Times Online: Further Details
The views posted here belong to the commentor, and are not representative of the Economic Observer
Briefs
China's CPI returned to positive growth in November with food prices up 3.2 percent year-on-year in November.
Signs of what Hu Shuli's next media project will look like emerged on her new Sun Yat-Sen University-hosted website on Monday.

Source:

Sun Yat-Sen University

A look at the recent growth in the role of government and state-owned enterprises in a ran...
Interactive
Do you think prices are going up?
Tracking the global expansion of China's oil companies
Multimedia
A look at Nanjing local government's controversial urban reconstruction project