B-shares Surge on Hot Money Flows and Rumors of Merger
Published: 2010-11-03
China Business News
November 3, 2010
Translated by Zhang Chao
Original Article: [Chinese]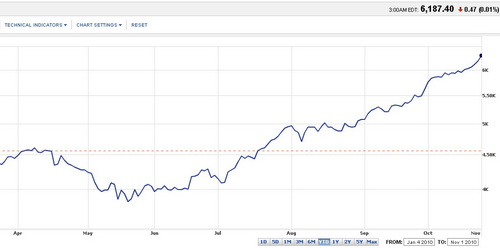 image: The Shenzhen Stock Exchange B-share Index Apr-Nov 2010

The Shanghai Stock Exchange B-share Index hit 304.31 points yesterday, its highest level since Mar 2008 and an increase of 47.13 percent on the low registered in May.
Although the A-share index didn't touch bottom until July, A-share gains have not been as impressive, rising only 28.29 percent.

The Shenzhen Stock Exchange B-share Index has also surged over recent months, reaching a high of 6,329.46 points on Tuesday, not far off its historical peak of 6,489.53 points.

Unlike A-shares which are traded in RMB and are largely closed to foreign investment, B-shares refer to those traded in either US dollars (Shanghai) or HK dollars (Shenzhen). The trading volume on the B-share market is tiny compared to the main boards of the Shanghai and Shenzhen stock exchanges and the number of companies issuing B-shares is also very small when compared to the A-share market.

According to Fan Wei, senior researcher at Hongyuan Securities, most of the capital entering the B-share market may be hot money from abroad. He argues that international capital is attracted to exchanges in emerging markets, and as one of the BRIC countries and given the relatively low valuation of its stocks, China is especially attractive.

According to Liu Dezhong, chief economist at Minmetals Securities Company, the explosive popularity of B-shares is due to rumors that the establishment of an international board in China might result in changes to the convertibility of shares on the currently restricted B-share market. Liu also believes that the strengthening of the Chinese currency has attracted overseas interest in investing in B-shares.

Fan Wei added, "According to my calculations, following China's National Day Holidays [at the start of October], some unidentifiable capital entered the market. This is because while fund positions did not change that much, trading volume reached a new high. We cannot rule out hot money coming from abroad as the source of this inflow."
Regarding the sustainability of the B-share market, Liu Dezhong thinks that B-shares will maintain their recent strength in the short term.

Links and Sources
China Securities Journal: Rumor of Merger with A-Shares Triggers B-Shares Surge
Shenzhen Stock Exchange: Image
The views posted here belong to the commentor, and are not representative of the Economic Observer
A Chinese translation of the Durants' The Story of Civilization, Mr Playboy and interview ...
Interactive
77 percent of retrunee graduates land a job in less than 3 months
Tracking the global expansion of China's oil companies
Multimedia
A look at Nanjing local government's controversial urban reconstruction project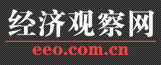 EEO.COM.CN The Economic Observer Online
Bldg 7A, Xinghua Dongli, Dongcheng District
Beijing 100013
Phone: +86 (10) 6420 9024
Copyright The Economic Observer Online 2001-2011