Lights on or off?
Published: 2010-08-20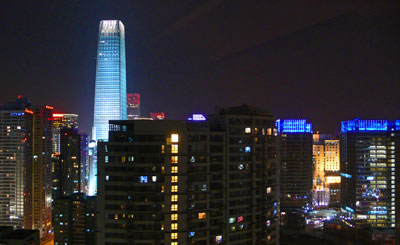 The China World Trade Center 3, Beijing's Tallest Building
Looking out the window from the Cloud 9 bar atop Shanghai's Jinmao tower I could not quite wrap my head around the fact that I was not in an airplane. I thought the visual experience of witnessing a toy-size city could only be had on an aircraft, or the Peter Pan's Flight ride at Disneyland. The contentment I felt while sipping my 10 dollar martini in the world's highest bar and marveling at the urban sprawl below was almost enough to erase my memories of what I had witnessed earlier in my China trip, women begging for money while holding their child with one arm, migrant workers sleeping on sidewalks and street hawkers hastily packing up their goods at the sounds of police sirens.
Like in any country that has embraced capitalism, the contrast between the wealthy and the impoverished in China is stark. As the income gap grows and Chinese citizens become more exposed to this inequality, they become less eager to put up with it for the sake of a harmonious society. One of the main points of contention is the high cost of home ownership.
China is in the midst of a property bubble. Minxin Pei, an adjunct senior associate at the Carnegie Endowment for International Peace, believes two main culprits are to blame, local governments who intentionally drive up land prices because they depend on the real estate sector for over 40 percent of their financial revenue and greedy state-owned enterprises who use cheap credit from China's banking system to purchase high-priced land and invest in luxury housing units.
A third factor expanding the bubble is speculation; property is the de facto investment choice for rich Chinese. Former Morgan Stanley star chief Asia-Pacific economist attributes this choice to the fact that many investors in China have never experienced a housing bubble and trust that the government will not allow property prices to fall. He also writes that property has become a "safe haven" for speculators because they no longer trust a depreciating dollar and are nervous about rising inflation.
Middle-class and low-income citizens are dealing with the results of these actions. Unable to afford a home of their own and egged on by rumors circulating such as the purchasing of an entire block of south-facing apartments in central Beijing by a coal boss from Shanxi province, citizens have begun to take action.
On August 4th, the National Bureau of Statistics (NBS) released data showing that the area of unsold residential apartments at the end of June was 191.82 million square meters, up 6.4% on the same period last year. When this data was released, the NBS failed to release figures in relation to vacancy rates, an important real estate bubble indicator. In response, Sina.com, a news and entertainment portal, launched a nationwide investigation into the housing market of over 100 Chinese cities. Online netizens submitted photos of dark apartment windows to highlight the vacancy rate in cities. The website researched 100 Shanghai property projects and based on information submitted by volunteers found that 51.23 percent of flats were unlit, in Beijing 65.6 percent of apartments polled were dark and in Hainan, China's fastest growing province, the rate was over 70 percent. Instead of making these empty apartments more affordable developers have chosen to turn on the lights to give the appearance that people live there.
The central government began to implement policy in April in attempts to slow the skyrocketing housing prices including stepping up its investigation of the financing of developers, increasing the size of down payments for loans granted to second and third-home buyers, and cutting the discount offered on home buyer interest rates. These policies have been effective at slowing the rate of housing price growth, but prices are still rising. Further action to quell speculation was taken last week when the China Banking Regulatory Commission suggested that commercial banks in major cities stop offering loans to third-home buyers.
Despite these policy actions, real estate investment continues to climb and in the first seven months of this year, real estate construction investment was up 37.2 percent from the same period last year, totaling 2.38 trillion yuan. The government is not blind to the actions of local governments; four government ministries issued a notice last week stating that they planned to conduct a joint-audit of the debt owed by local government financing vehicles. A local banking supervisory agency official stated, "The purpose of the new investigation is to let central ministries, bankers and local governments get together to address the risk of the bad debts." While this is a step in the right direction, the government needs to take bold steps to alter local government dependency on the property market for financial revenue, or else real estate investment will continue to increase which means the construction of more empty apartments mocking the citizens who cannot afford them.
The tallest building in Beijing opened its doors this week. Perhaps officials will stop and think about how many empty apartment buildings they are looking down upon while they are up there enjoying the view.

Image: 365 China Photo: One-A-Day
The views posted here belong to the commentor, and are not representative of the Economic Observer
Interactive
Tracking the global expansion of China's oil companies
Multimedia
A look at Nanjing local government's controversial urban reconstruction project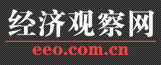 EEO.COM.CN The Economic Observer Online
Bldg 7A, Xinghua Dongli, Dongcheng District
Beijing 100013
Phone: +86 (10) 6420 9024
Copyright The Economic Observer Online 2001-2011