Central Bank Denies Plan to Release 500 Yuan Note
Published: 2009-07-17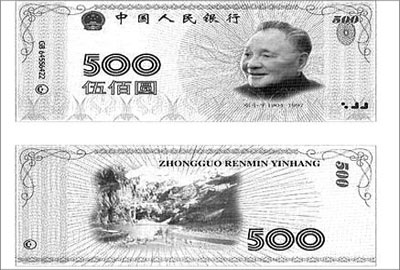 The Fuzhou Branch of the People's Bank of China strenously denied rumors that a new 500 yuan bank note will be released in November this year.

Rumors of the new bank note, which were encouraged by fears of inflation, first appeared on a Fuzhou-based website. The netizen who pasted the news claimed that the new note also added an image of the purported new note, bearing a portrait of Deng Xiaoping, to the website.

Wei Guoqi, a senior official at the People's Bank of China, declared "it's not true,"going?on to reveal that no formal notice about introduction of?any new bank notes had been received.

Links and Sources
www.ce.cn: 银行表示:发行"500元面值人民币"是谣言
The views posted here belong to the commentor, and are not representative of the Economic Observer
Briefs
The 3G-enabled Lenovo Mobile OPhone is likely to provide stiff competition to Apple's iPhone in the China market.

Source:

China Mobile
A 6.4-magnitude earthquake struck China's western Qinghai province earlier this morning.

China's tax bureau aims to collect an additional 100 billion in tax before the end of the ...
Interactive
Are state-owned enterprises playing too large a role in overseas acquisitions?
Tracking the global expansion of China's oil companies
Multimedia
A look at Nanjing local government's controversial urban reconstruction project