44.7% of Chinese Feel Happy
Published: 2011-01-12
CCTV recently released the results of its survey on the economic livelihood of Chinese citizens。The survey was recently completed in 2010 and involved 80 thousand people.
It shows that 44.7 percent of those surveyed feel happy or very happy; 11.1 percent believe they are unhappy or very unhappy.
Another survey related to the same topic that was conducted from 2006-2009 by China Economic Weekly shows that happiness is correlated to family income.
Correlation Between Family Income and Happiness in 2009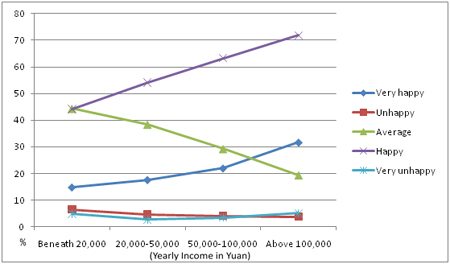 But a high income level does not necessarily equal happiness. While low income families tend to have a lower sense of happiness, the proportion of respondents who felt "unhappy" or "very unhappy" among the wealthiest is much higher than those with medium or high income levels which indicates that the effects of income on happiness may lessen once people reach a certain level of income.
Percent of Income Devoted to Expenses by Happiness Level in 2007
This article was edited by Rose Scobie
Links and Sources
Xinhua Net: 央视民调称我国44.7%民众感觉幸福
The views posted here belong to the commentor, and are not representative of the Economic Observer
The top stories of 2010 displayed through slideshows, timelines, buzz words, maps, graphs,...
Interactive
A recent CCTV survey shows that 44.7% of Chinese citizens are happy, and 11.1% believe they are unha...
Translations of popular Chinese phrases that reveal something about 2010
Multimedia
Take a look back at some of the most important news events that helped shape China in 2010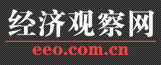 EEO.COM.CN The Economic Observer Online
Bldg 7A, Xinghua Dongli, Dongcheng District
Beijing 100013
Phone: +86 (10) 6420 9024
Copyright The Economic Observer Online 2001-2011