Shanghai Fire Leaves Behind Trail of Unanswered Questions
Published: 2010-11-17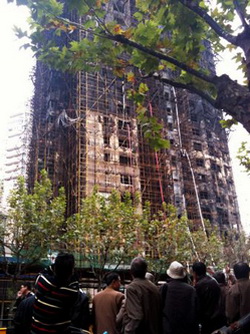 On Monday, a 28-story apartment building in Shanghai erupted in flames in the city's worst fire disaster in the new millennium. Seventy were injured and the current death toll stands at 53.
After the flames were extinguished, the Shanghai Municipal government held a press conference near the scene of the fire.
Shanghai Fire Bureau Chief Chen Fei (陈飞) issued a statement attributing the cause of the fire to combustion. He further stated that the fire was exacerbated by the presence of nylon netting, bamboo scaffolding and other flammable materials and Monday's heavy winds. Investigations are still pending but the government now has eight suspects in custody.

Yet despite the magnitude of the fire and the public demand for answers, Shanghai officials were keen to evade media questions concerning the disaster.

In preparation for the World Expo, Shanghai Fire Department spent in excess of 15 million yuan on aerial ladders from Sweden. But when asked why the ladders were not used during the fire, Chen Fei remained silent.

Chen also refused to explain why the fire took over four hours to put out, and questions about building construction and evidence against the suspects were likewise met with silence.

Additionally, compensation for the victims has not been addressed. Donations from the public are pouring in. But local and national officials have yet to offer legal reparations to survivors and the families of victims.

Government reticence has encouraged the spread of unofficial reports. There is speculation that responsibility for the fire implicates at least one well-known Shanghai official.

Caijing editor Luo Changping (罗昌平) forwarded a rumor on his Sina mircroblog that "the legal representative for the Shanghai Jiayi Decoratio Corporation, the company responsible for the renovations, is Huang Peixin, the wife of Stephen Cheung, head of Shanghai's Jingan district."

According to the information that Luo forwarded,the renovation project was subcontracted out by the company and eventually landed in the hands of a small, temporary construction crew.

Many questions remain, and considering the scale of the tragedy, the conviction of eight temporary-contract construction workers is unlikely to pacify public outrage.

Sources
Sina Microblog: Luo Changping
Economic Observer Online: Officials Avoid Answering Questions at Press Conference (Chinese)
Ku6: Economic Observer Online Video - Who Caused the Fire?
The views posted here belong to the commentor, and are not representative of the Economic Observer
Highlights from the Autumn edition of the EO Quarterly
Interactive
According to a recent survey the answer is overwhelmingly yes.
Tracking the global expansion of China's oil companies
Multimedia
A look at Nanjing local government's controversial urban reconstruction project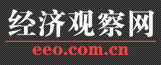 EEO.COM.CN The Economic Observer Online
Bldg 7A, Xinghua Dongli, Dongcheng District
Beijing 100013
Phone: +86 (10) 6420 9024
Copyright The Economic Observer Online 2001-2011