Chinese Tourists Start their Global Conquest
Published: 2010-10-15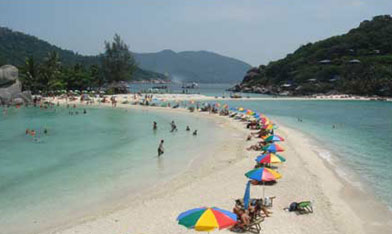 Nangyuan
Last week while lying on the white sand beach between the small archipelago, Nang Yuan, off the east coast of Thailand I looked out at the sea and sighed contentedly, feeling at peace in the middle of nowhere—then the Chinese tour group arrived. A swarm of 150 Chinese people armed with SLRs descended upon my paradise, shattering my tranquil world. They soon filled out all the sets of umbrellas and beach chair rentals and slathered on sunscreen before wading into the shallow water to see the fish.
Although there were signs up which stated feeding fish is forbidden, granted in English, one couple took a bag of bread into the sea and fed the fish. When their fun was over, they simply let go of the plastic bag.
Perhaps it is time for China's Spiritual Civilization Steering Committee to launch another campaign to improve etiquette among Chinese tourists. I would recommend that the government broadcast an informational cartoon in airports to make sure that Chinese travelers know just how harmful littering is to the environment and how offensive it can be to many people abroad. The video should probably also include a clip of how to treat servers as I witnessed a Chinese tourist yelling at the bar staff, "Mango smoothie!" from their beach chair over 30 feet away from the bar.
Although my initial reaction to witnessing manners that I had become accustomed to in Beijing while on holiday abroad was condescension, I had to remind myself that insensitive tourists exist everywhere, and as an American who once "backpacked" across Europe while probably being obnoxious and loudly voicing my superpower opinions, I really am not one to judge.
It seems that the rest of the globe will soon share the type of experience I had this past October holiday as more and more countries strive to lure mainland tourists to help their struggling economies.
In August the United Kingdom's Prime Minister, David Cameron gave a speech stressing the need to improve tourism in which he stated, "Currently we only have 0.5 per cent of the market share of Chinese tourists. If we could increase that to just 2.5 per cent this could add over half a billion pounds of spending to our economy and some sources suggest this could mean as many as 10,000 new jobs." And in a recent China Daily article called, "Greece Beckons Chinese Tourists", the director of the Greek National Tourism Organization's Beijing office is quoted saying, "I have to say, during Chinese national holidays, sometimes all you see in the streets of cities and islands in Greece are Chinese tourists. And we are very pleased with this fact."
I guess some litter here and there is negligible in the face of a possible lifesaver in the sea of economic downturn. Perhaps as Chinese tourists conquer the world they will teach people in other countries a thing or two. Because who hasn't wanted to yell out to a server who refuses to give you the time of day, "MANGO SMOOTHIE!!!"
The views posted here belong to the commentor, and are not representative of the Economic Observer
Interactive
The China Population Communication Center asks women about contraception
Tracking the global expansion of China's oil companies
Multimedia
A look at Nanjing local government's controversial urban reconstruction project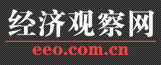 EEO.COM.CN The Economic Observer Online
Bldg 7A, Xinghua Dongli, Dongcheng District
Beijing 100013
Phone: +86 (10) 6420 9024
Copyright The Economic Observer Online 2001-2011