The EO Quarterly - Winter 2010/2011
Published: 2011-01-26
The EO Quarterly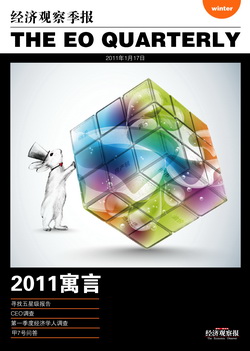 [Cover]
A Selection of the Predictions for 2011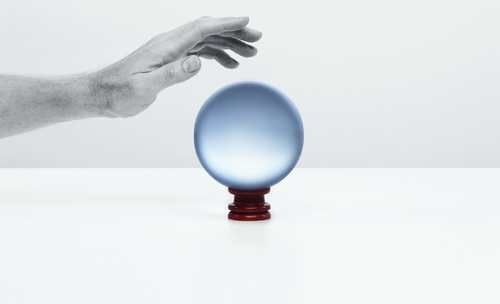 Rampant Inflation?
p.12
Likelihood: 0%
Sun Jianfang (孙建芳)
Prices are on the rise and further inflation is on everyone's mind.
The CPI rose to 5.1% in November of last year.
Prices will continue to rise, but inflation will not spin out of control.
The central government has already set the inflation target at 4%.
If price increases are moderate and the CPI does not see a significant increase, then the government will not need to worry about inflation.

Domestic Price of Oil Adjusted to Match International Market Prices
p.14
Likelihood: 10%
Zhang Xiangdong
The end of 2010 saw a final price adjustment for gas and oil.
Oil prices, like other commodities, have been impacted by inflation despite government control.
China currently has a 53 percent dependency on foreign oil and domestic demand is growing. Adjusting domestic prices according to the international market would bring risks from abroad to the domestic market.
According to an expert from the China Information Center, domestic prices will conform, via inflation and other factors, to prices in the international market.
But domestic prices have never conformed entirely to international market prices and they are unlikely to do so in the future.

Pilot Property Tax
p.15
Likelihood: 100%
Xi Si (席斯)
The end of 2010 saw preparations for the "Property Tax Readjustment."
Property tax proposals from Chongqing and Shanghai have already been approved by the National Development and Reform Commission (NDRC).
The main function of property taxes alone is not to curb real estate prices but to generate revenue for local governments.
Taxes alone will not be effective in stabilizing property prices.
But property taxes will be the main source of income for local governments in the 12th Five Year Plan.
According to the Shanghai proposal, taxes will be calculated based on area, and the policies will apply to new purchases as well as existing property. It's hard to gauge what impact this will have on property shares.
But property taxes themselves will impact the majority of homeowners and prospective buyers.

Currency, Trade War Escalates
p.17
Likelihood: 60%
Zhang Bin (张斌)
After the Financial Crisis, the focus of the international communities has been the trade imbalances between various countries.
China's main worry is the United States, which has begun to alter its trade policies and make demands on the exchange rate. But the likelihood of a full-scale trade war erupting is small.
But 2011 will see additional measures aimed at "correcting trade imbalances," pressure on RMB to appreciate and pressure to ease domestic taxes on imported goods.
2011 will see substantial changes in the currency exchange rate.

The Next European Debt Crisis: Portugal
p.18
Likelihood: 80%
Zhang Feifei (张斐斐)
Jacob Kirkegaard of the Peterson Research Institute believes that Portugal did not undergo the necessary economic structuring before joining the EU. Financially, the country has little competitive edge.
Portugal's weak economy is a long-term problem, and the outlook is not good. Portugal's 2010 GDP growth rate was 1.3 percent, 1.9 percent lower than the EU average.
In the coming years, Portugal may be facing a shrinking economy. The large deficit also means that the banks are under immense pressure.
In 2011, Portugal's 3 largest banks must refinance €9 billion in debts, and over €10 Billion in 2012.
Portugal may look for a bailout from the EU and the IMF, but the bigger question is how Portugal's crisis will impact on Spain.

Jiangsu Number One?
p.20
Likelihood: 30%
Chen Zhe (陈哲)
Jiangsu has occupied the number two spot behind Guangdong in terms of the size of provincial GDP for many years now, but now threatens to take first place in the coming year. Jiangsu's GDP was 2.97 trillion in the first 3 quarters of last year.
But unlike the economic powerhouse Guangdong, Jiangsu's GDP growth is largely government driven. The area still lags behind Guangdong, Beijing, and Shanghai in real development.
Even if Jiangsu's GDP exceeds Guangdong, it is unlikely to become a true leader in the Chinese economy.

A-Share Market Dips then Rebounds
p.24
Likelihood: 50%
Huang Liming (黄利明)
Over the course of 2010, China's A-share market retreated by about 13%.
With CPI and housing prices unstable, the outlook for the A-share market is not good.
In the next three months, with policy reforms underway, the domestic markets are likely to experience turbulence.
Investors are paying more and more attention to small and medium sized enterprises, but they these are unlikely to fulfil expectations.
The real companies to watch are still state-owned enterprises.

Price of Gold Continues to Surge
p.29
Likelihood: 80%
Ouyang Xiaohong (欧阳晓红)
Gold prices surged for most of 2010 and flatlined around Christmas.
Many Business insiders expect of Gold in 2011 to exceed 1500 dollars per share.
Following news in late December that China is raising interest rates, the price of gold fell 2.64%; silver fell 4.26%. But most analysts expect gold prices to bounce back.
Walter de Wet expects gold prices to rise to over 1500 dollars per share; JP Morgan expects gold to break 1600 dollars per share.
Despite predictions, investors should beware. Remember that in 2008, gold prices fell to 681 dollars from 1034 dollars per share.

FOCUS

2010 Fourth Quarter CEO Survey: Predictions for 2011
p.30
Ge Hongda(盖虹大)

The Economic Observer surveyed 119 CEOs of Enterprises on their predictions for 2011. The following is a sample of their responses: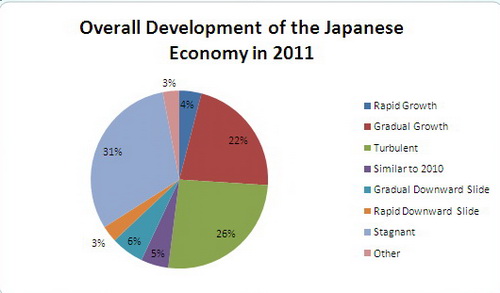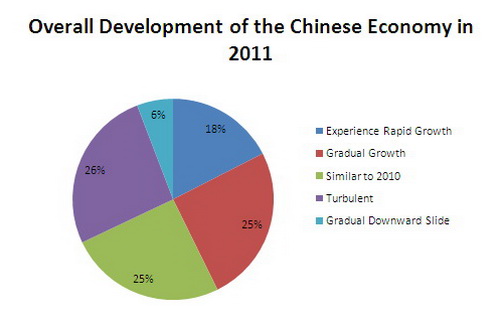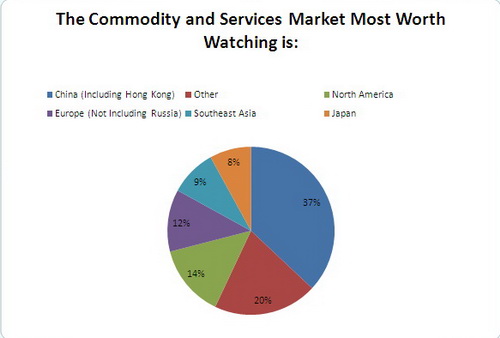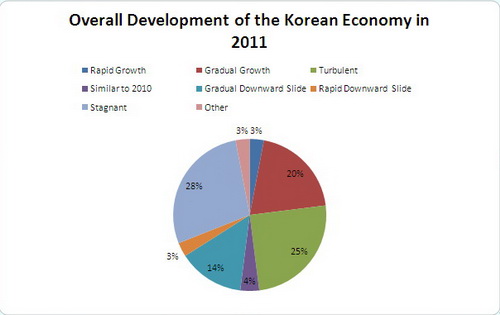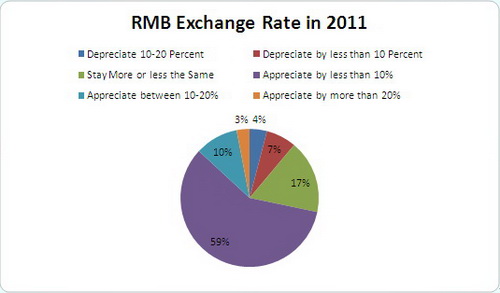 INDUSTRY:
The "Merger Craze"
p.33
Yang Yang (杨阳)
2010 was the year of mergers. From January 1st to December 28, China saw 1,863 mergers and acquisitions transactions.
Domestic Mergers: Most of the mergers involved small domestic companies being bought out by larger ones in the housing, energy, and manufacturing sectors.
Cross-Borders Mergers: More Chinese companies are being merged into overseas companies than visa versa. 2010 saw 131 Chinese companies merged overseas, representing a total of 62.8 Billion US dollars, 3.2 times the 2009 figure.
Mixed Mergers: 2010 saw a number of mixed mergers, including Huadian Power Corporation Ltd's acquisition of 3 companies worth a total of 1.59 billion yuan.
In 2010, China reported the 2nd largest merger volume in the world.

SURVEY:
From the EO's 1st Quarter Survey of Top Economists
p.40
The Economic Observer surveyed 56 top Chinese economists on their predictions for 2011. The following is a sample of their responses: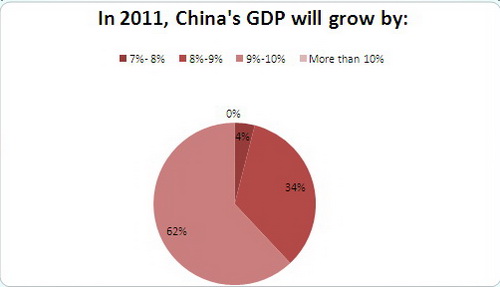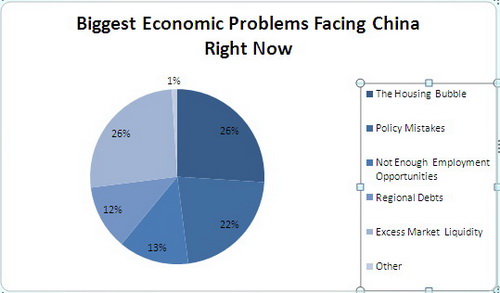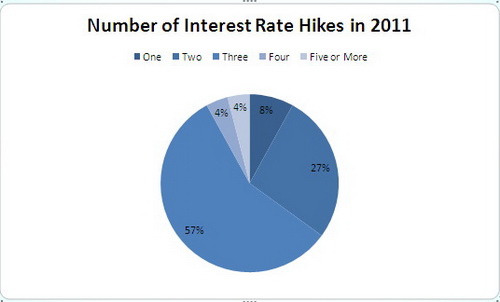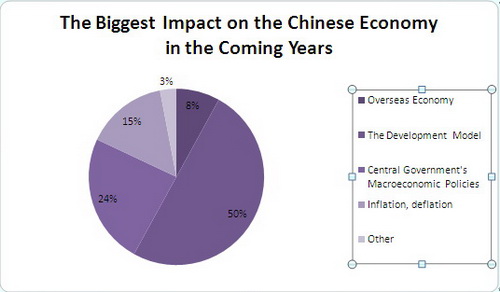 Also in the EO Quarterly:

Chasing High Interest Rates
p.36
Chen Zhouxi (陈周锡)

Can Finance Management Outsmart the CPI Increase?
p.38
Hu Rongping (胡蓉萍)

Experts on Dealing with Inflation
p.44
Various experts

The views posted here belong to the commentor, and are not representative of the Economic Observer
Interactive
A recent CCTV survey shows that 44.7% of Chinese citizens are happy, and 11.1% believe they are unha...
Translations of popular Chinese phrases that reveal something about 2010
Multimedia
Take a look back at some of the most important news events that helped shape China in 2010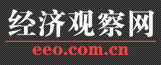 EEO.COM.CN The Economic Observer Online
Bldg 7A, Xinghua Dongli, Dongcheng District
Beijing 100013
Phone: +86 (10) 6420 9024
Copyright The Economic Observer Online 2001-2011