Issue Wrap No. 498, Dec 13, 2010
Published: 2010-12-13
Highlights from the EO print edition, Issue Wrap No. 498, Dec 13, 2010


Chinese Government to Reduce Tax
News, Cover
~ The Chinese government will greatly reduce the tax burdens of individuals as well as companies in the upcoming 12th Five-Year Plan.
~ The personal income tax reform project will be published as early as the beginning of next year. The reform will not raise the threshold of taxation as previously expected, but will reduce the current nine tax levels to between six and seven. This means, the first level of the tax ratio of personal income tax will be lifted from 500 yuan to 2,000 yuan, thus enabling people to pay signifigantly lower taxes.
~ However, although it has been determined that people with medium and low income will be required to pay less tax in the coming five years, opinions on how to tax wealthy Chinese are still split among Chinese officials.
~ Additionally, sales tax will be eliminated and the value added tax rate will be reduced.
Original article: [Chinese]


China's Jewelry Processing Sector Under Investigation

News, cover

~ Due to the recent incident in which an 18k gold necklace made by the Hong Kong jewelry brand, Chow Sang Sang, was found to have less gold content than claimed, the EO has conducted an investigation into Shuibei, a jewelry processing base located in Shenzhen.
~ The investigation shows, although it is possible for processing companies to reduce the gold content of jewelry products, the jewelry industry relies more on jewelry companies themselves to intensify supervision on their product quality. Additionally, as there is no pricing system for jade ware, it is easy for customers to buy jade at an unreasonably high price.
~ The EO has also found that although CPI has been increasing, the processing fees in the jewelery sector have not increased due to sector competition, which has put more pressure on jewelry processors to make profits. Due to this environment, some of them are considering shifting from the processing sector to establishing their own brands.
Original article:
[
Chinese
]
Shake-up of Personnel at the Ministry of Industry and Information Technology

News, page 4

~ On December 9th, at a meeting of the Ministry of Industry and Information Technology (MIIT), it was announced by a party official that Miao Wei would replace Li Yizhong as the party secretary of the department, however, Li will still remain the minister in charge of the central ministry.
~ Over the last three years, Li Yizhong has been tested by various incidents such as the controversy surrounding the attempt to introduce the "Green Dam" anti-virus program, the contaminated milk scandal, the recent very public spat between Tencent and Qihoo 360 and a myriad of issues related to the introduction of the iPhone into China. In the past, Li Yizhong has taken a philosophical approach, in one interview with the a journalis from the Xinhua News Agency he noted the need to "bend to your troubles and bear hardship without complaint."
~ Like Li Yizhong, the new party secretary Miao Wei is also an engineer. Miao used to work in the auto industry and has experience at managing both companies and government departments.
~ Miao Wei is also known to be a supporter of China's push to establish a green auto industry and he has also proposed speeding up the adoption of energy-efficient technology the industrial sector.
Original article:
[
Chinese
]

China's Taxation System Big Shift

News, page 5

~ China has made plans to conduct its second tax reform during the 12th Five-Year Plan period. The first one occurred in 1994.
~The reform will reduce the number of China's tax items from 19 to 10 and all remaining items will be divided to three categories: taxes on commodities and services, taxes concerning personal income and social security, and property transaction taxes.
~ Sales tax will be merged into a value added tax (VAT). The former was the biggest local tax item. To make up for the financial loss local governments may suffer, the central government is considering adjusting the ratio amount of VAT that is allocated to the central government and its local subsidiaries. Additionally, the property tax will be one of the major local tax items in the future.
Original article:
[
Chinese
]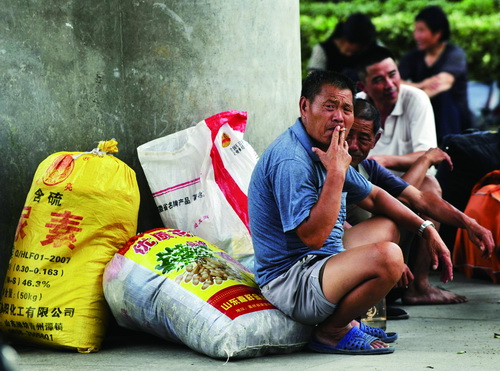 Labor Shortage Increasingly Common in Central China

Nation, page 12

~ Cities in central China including Hefei and Wuhan are suffering from severe labor shortages.
~ According to a survey of 66 companies conducted by the Department of Human Resources in Hefei, the shortage of workers has reached 32,000, and recent excess demand has reached 17,800.
~ With the arrival of large companies like Foxconn, demand for workers in China's central-regions has skyrocketed but the supply has not kept up.
~ Companies generally seek workers in the 18-35 age group but younger workers prefer large cities and coastal regions.
~ The current generation of migrant workers has higher demands about work-environment and living standards, and considers proximity to leisurely pursuits a top priority.
~ According to Cai Chuang, the director of the CASS Institute of Population and Labor Economics, by 2015, the supply of rural labor will be insufficient to accommodate the rising demand for low-end labor in China's cities.
~ The available labor supply directly influences corporate investment. Companies sprout up wherever there is labor.
~ Places like Hefei, Wuhan, and Ganzhou are investing in affordable housing and business cooperatives to attract workers.
Original article:
[
Chinese
]
A New Model for Rare-Earth Mining in Ganzhou

Nation, page 14

~ As a major center for rare-earth metals production in Southern China, Ganzhou, a city in Jiangxi province, has been criticized for its low efficiency and polluting ways. In many ways Ganzhou is typical of example of rare-earth development in China.
~ A number of local governments are battling over rare-earth mining rights, and even more governments are looking to gain mining rights, which has placed greater pressure on Ganzhou. Meanwhile, there is a lot of illegal rare-earth metal mining going on.
~ Rare-earth mining seriously pollutes the local environment and the tension between environmental concerns and economic development appears difficult to solve, even if new technology is used.
~ All these problems have led Ganzhou to pursue a new rare-earths strategy. They will collaborate with the Bao Steel Group to develop high-end products, focusing particularly on downstream products, "downstream product is the key point," an individual familiar with the situation told our reporter.
Original article:
[
Chinese
]

Joint-stock Banks Win Out over State-owned Banks in Financing Ability

Market, page 18

~ The Economic Observer has co-conducted an analysis with Wind Info (Wind 资讯) on the financing competency of Chinese banks
~ China Merchant Bank, CITIC Bank and China Minsheng Bank occupied the first three places in the single item of financing competency, while their state-owned counterparts have all been edged out of the top 15 list.
~ CITIC Bank and Hangzhou Bank have led the list of the top 10 on investment capability and Ningbo Bank, with average annual profits of 3.75 percent of its financing products, ranked No. 1 in terms of ?extra earning ratio?.
~ However, the analysis shows, state-owned banks are a better service provider than their city-level commercial counterparts.
Original article:
[
Chinese
]

Three Million Insurance Salespeople Lack Social Security
Market, page 21
~ There are three million insurance salespeople not covered by the social security system, but despite arguments over this situation, the issue has not been solved as its solution involves the reform of the administration system of the insurance industry.
~ Changing the identity of three million insurance salespeople from agent to staff with full social security is not an easy thing, and it would cost a lot of money - affecting company profits.
~ But a senior agent with the China Life Insurance Company said that he hopes his company establishes an insurance and housing fund, which would encourage staff recruitment.
~ Much dispute has centered on the system of sales agents. Labelling all salespeople as staff may not be the best solution, as it affects the mobility of talent, one executive with Ping An Insurance claimed.
Original article: [Chinese]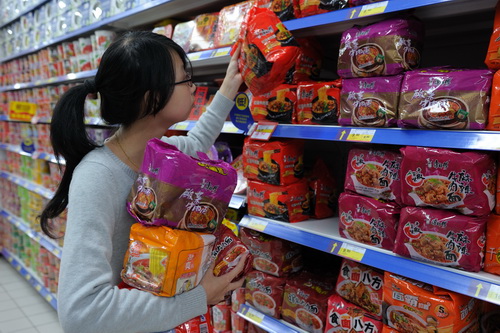 Carrefour Refuses to Raise Prices, Instant Noodle Maker Stops Supply
Corporation, page 29
~ November 1st of this year, the brand Master Kong raised the retail price of its entire line of instant noodles by 10 percent.
~ Carrefour, unhappy with the decision, refused to comply with the price hike.
~ Both parties refused to back down, and Master Kong has stopped supply to Carrefour for over a month.
~ Since 2007, suppliers have increased the price of instant noodles several times. Large chains, Carrefour especially, have generally refused to comply and offered as a buffer increased marketing efforts.
~ Because of Carrefour's dominance in the food retail market, suppliers have had little choice but to agree.
~ But the market has changed.
~ RT sales outstripped those of Carrefour this year while Master Kong increased its market share to nearly 70 percent.
~ The two sides however, are expected to reach an agreement during renegotiation.
Original article: [Chinese]

The views posted here belong to the commentor, and are not representative of the Economic Observer
"I do not think there is a problem with our climate"
Interactive
Many people are willing to leech off the wealthly and powerful
Tracking the global expansion of China's oil companies
Multimedia
City Streets Flooded for the 7th Time in 11 Years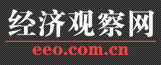 EEO.COM.CN The Economic Observer Online
Bldg 7A, Xinghua Dongli, Dongcheng District
Beijing 100013
Phone: +86 (10) 6420 9024
Copyright The Economic Observer Online 2001-2011